Stress can cause your body to produce free radicals that attack collagen, the protein that allows your skin to stay young and beautiful, cautions Dr Sachin Pawar, MD head-medical and technical affairs, India cluster, Procter & Gamble Health Limited.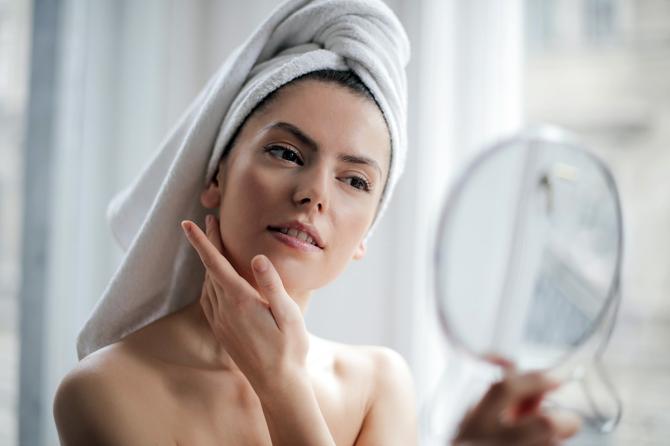 The secret to a healthy body lies in your diet and lifestyle -- basically what you eat and your daily routine.
If your lifestyle is healthy, it also reflects on your skin and hair.
With the excitement of the holiday season over, now is the time for us to prioritise and invest in a healthy beauty regimen.
Here are four simple ways in which you can care for your skin and hair.
1. Build a good sleep habit
This is the perfect time to resolve to develop a proper sleep hygiene.
Good sleep not only keeps you well rested, but is also beneficial to nourish your hair and skin.
When you sleep, your body boosts blood flow to the skin, preventing it from sagging and giving a healthy glow.
Lack of sleep can also cause hair loss, breakage, damage, and affects hair growth.
7 to 8 hours of sleep every day can help you develop a natural, radiant complexion.
2. Vitamin E intake is vital
Good make-up may help you conceal your flaws and even make you look glamorous and perfect. But if you don't invest in a balanced and healthy diet, your skin will end up looking dull and dry.
For a solution that works from the inside to renew your look on the outside, include a daily dose of Vitamin E.
Sunflower oil, leafy greens like spinach and broccoli, nuts like almonds and peanuts are great sources of Vitamin E.
The natural antioxidants work at the cellular level to repair, restore, and revive your cells, thus, protecting your skin from damage and supporting the microcirculation and oxygenation of the scalp.
Its anti-inflammatory properties can protect your skin from the harsh effects of the sun. And better yet, it's a natural remedy that is simple to incorporate into any lifestyle.
3. Sun and heat safety
External stresses cause your body to produce free radicals that attack collagen, the protein that allows your skin to stay young and beautiful.
This imbalance caused by free radicals is known as oxidative stress.
It damages and weakens your skin cells, which leaves your skin looking tired and worn out.
Having a skincare routine becomes even more important during this time.
Likewise, hair damage -- hair that is thin, brittle, dull, or flat -- can result from many factors, including environmental factors like UV radiation and pollution.
Make sure you prep your tresses with a good heat protectant.
The key to having strong and glossy hair is combining good hair care with healthy habits.
4. Hydrate and nourish your body
Drink lots of water. The more hydrated you stay, the fewer wrinkles and improved complexion you'll see.
Drinking enough water can help you combat a variety of skin issues and give you glowing skin.
A hydrated body also results in hair growth as it reduces dryness in the scalp and promotes the growth of hair from the roots.
Other than the usage of topical hair and skincare products, let's not forget the importance of nourishment to your body.
A healthy body and mind requires you to consume a daily dose of nutrients, including vitamins and minerals.