Arthi Raghuram, founder of Deyga Organics tells you how to get rid of dirt and impurities and to nourish your skin for that healthy glow.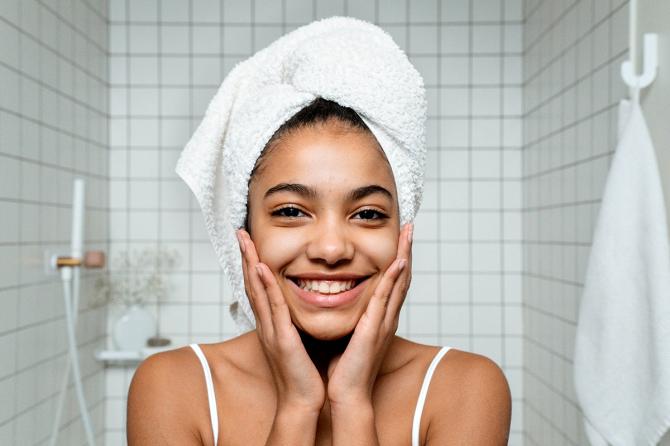 With the change in weather, our skin and body requires additional attention.
Due to constant exposure to pollutants, idle lifestyle, and pressure, it is a challenge to keep one's skin cheerful and bright.
However, irrespective of your skin type and texture, you must ensure to follow clean and hygienic skincare habits, along with the right nutrition to prevent skin problems.
You may have heard a lot about 'body detox'; what about 'skin detox'?
Detox is the method of making the body clear of certain toxins and unhealthy elements that might create harm to the body.
This is important to improve immunity and stop short-term and long-term health difficulties. Likewise, skin detox can be described as the method of purifying the skin and getting rid of the dirt that might break it.
This can improve skin tone, texture, and overall well-being by strengthening skin endurance giving you a younger-looking skin by reducing marks of ageing.
The most significant measure in detoxing the skin is the daily skincare habit of cleansing, toning, healing, and moisturising.
This should be practiced twice a day, one in the morning before putting on makeup, and then in the evening before going to bed.
It will provide the skin to heal and breathe overnight rather than being hindered by dirt or makeup. It's simplest to do this while in the bath as it performs cleaning easier.
Here are the 5 simple ways to detox your skin at home:
1. Cleanse
Keep your face clean, dirt, oils, makeup will close the pores and damage the skin and make the acne, blackheads, and whiteheads worse.
Wet the skin with lukewarm water to clear up the pores, use the cleanser and massage it into the skin in an upward, circular motion.
Some products will serve great if you leave them on for a minute to allow them to dissolve dust, makeup, and get immersed into the pores.
2. Tone
Some minutes after cleansing, the toner is applied to repair the skin's normal pH levels, which were apparently formed during cleansing.
By restoring the skin to its natural pH, also gives it more resistance to bacteria and micro-organisms.
Use a toner that suits the skin kind. This is necessary for people who have oily skin kind.
3. Exfoliate
Exfoliation is necessary as it can assist get rid of dead skin cells and dirt lodged in the pores.
You can opt for natural exfoliators at home or go for dermatologically examined exfoliation skincare products.
However, do not go overboard with the method as it can occur in dry skin creating it to irritate and itch.
4. Do not skip sunscreen
UVA and UVB rays are very harmful to the skin as they can improve aging, make wrinkles, and put the skin at danger of developing infections.
Using sunscreen can give the skin some strength from these harmful rays. Make sure you practice it daily notwithstanding the place or weather.
5. Hydrate skin
Hydration is necessary for the skin as well as the body. Dehydrated skin is more likely to breakouts and skin damage due to dryness.
To avoid this, always remember to stay hydrated.
Along with drinking water, you should also use a good moisturiser to keep the skin plump. '
It is important to know the needs of the skin to be able to take good care of it.
Management of a healthy diet is a crucial step towards skin detox.
Add foods such as berries, nuts, citrus fruits, cucumber, and broccoli to the diet which are rich in antioxidants, fibre, and other necessary nutrients that will keep your skin supple and healthy.