'Men think dancehall is only twerking!'
'The most difficult part of the dance is the style.'
'People usually look at the steps and think, "Yeah! I can do this. Of course, anyone can do steps, but that style? Nah!"'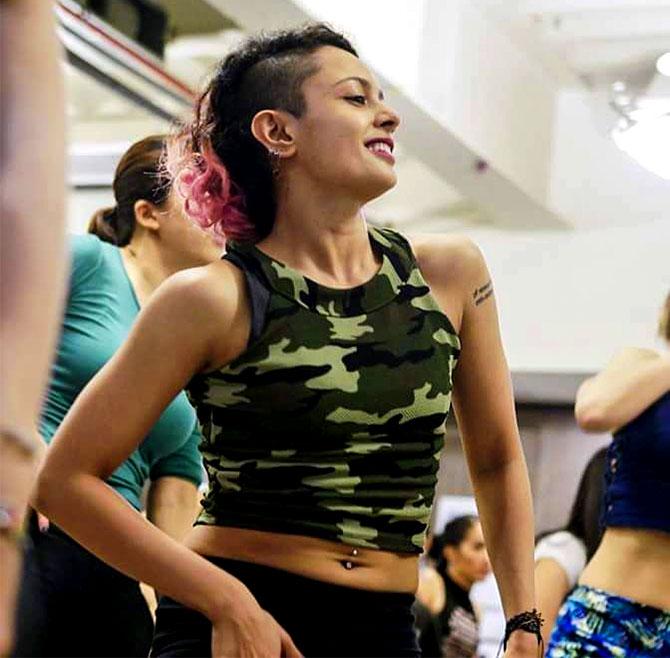 IMAGE: Jahnavi Sheriff's moves, during a dance workout, are thrilling to watch. Photograph: Kind courtesy Jahnavi Sheriff/Facebook
What does it take for a 23-year-old dancer and choreographer to spread her love for a new form of dance in a cosmopolitan urban space like Mumbai?
Loads of sweat and hard work discovers Rediff.com's Anita Aikara as she chats with Jahnavi Sheriff, who is trying to popularise the Jamaican form, dancehall, in the city.
Dancehall, like the 1970s music of the same name, is a very energetic style with fast rhythms.
Earlier this year, Jahnavi bagged fourth place at Asia's first dancehall competition in Taipei, Taiwan.
She remembers how she got introduced to dance and describes her colourful experiences teaching dancehall in Mumbai and its challenges.
At what age were you introduced to dance?
I was four. My base is Bharata Natyam. I was trained at Kalakshetra (the legendary college of dance in Chennai).
Then?
I went to the Broadway Dance Centre, New York City, for a year.
While I was there, I had to take two compulsory ballet classes and three to four diversity classes (including contemporary, jazz, etc).
That's how I got introduced to the basics of ballet, jazz and contemporary.
I have travelled to France and Taiwan to learn more.
Every time I (hear that ) a Jamaican (dancer) is coming to teach, I see if it's affordable and then attend the class -- going to Jamaica is too expensive, but I will go there someday.
I have also tried my hand at a few street/funk styles.
I love trying new things -- it's an exciting feeling.
It makes me better at what I do.
Getting introduced to dancehall:
I got introduced to dancehall in 2013 at the Broadway Dance Centre.
Little did I know that I'd fall in love with it and it would change the way I dance and change me in a positive way too.
Participation in Asian's first dancehall competition:
The first Asian Dancehall King and Queen Competition was held in Taipei this year.
I was really scared and I almost wanted to back out.
I was like 'What the hell am I doing, even trying to compete against these people!' Because they were all really good -- most have them have competed and won titles before.
(In the run-up to the competition) I practiced a lot.
I'm very obsessed with my training sessions -- my afternoons were and are meant for training.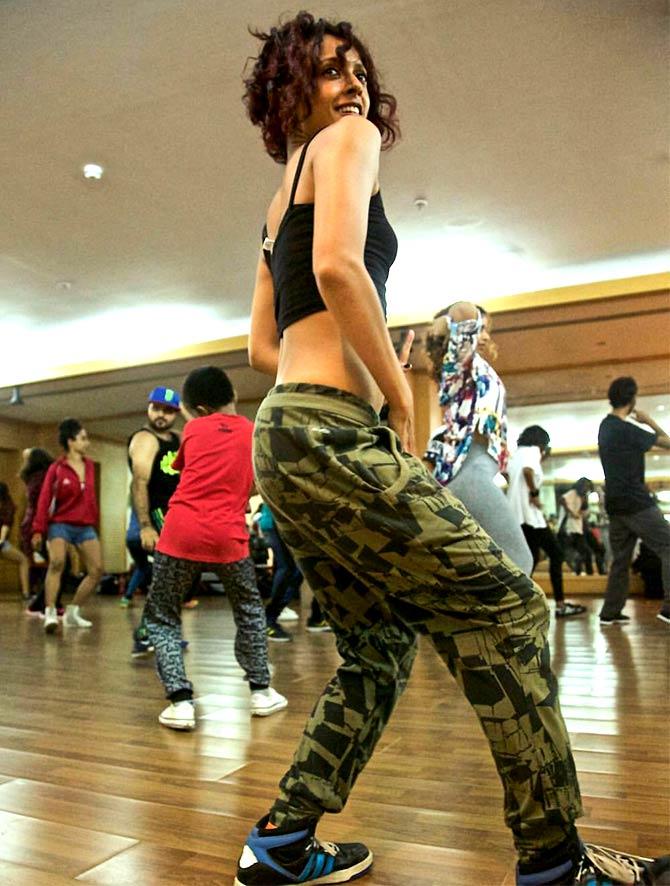 IMAGE: Her feet are a treat to watch.
When did you start teaching dance?
I have been teaching dance for four years now -- however, I'm still learning and I'll forever be learning.
I am teaching, so that I can spread a little awareness of the (dancehall) form here.
VIDEO: What's dancehall dancing? Watch Jahnavi's dancehall steps to Jamaican artist Mavado's Blood Moon!

What were the challenges you faced when you started teaching?
When I was a newbie, I had just one or two students.
I was scared to teach this form and was so used to working with professionals.
But I'm happy I had those two students. I think they made me a better teacher.
Also the pay is always difficult in the beginning.
How are you spreading the love for dancehall in India?
I conduct workshops and teach at academies.
I try and do a few videos on social media and upload from wherever I travel (in and out of India).
I even upload my practice videos despite the fact that I am still getting the hang of doing videos.
I do a few showcases here and there -- at colleges and events -- if invited.
This year my crewmate Rashmi Jathan and I invited Chad GLOBAL BOB Torrington, a Jamaican dancehall dancer and teacher to Mumbai.
VIDEO: Watch Jahnavi dance to Ed Sheeran's Shape of You
What's the most difficult part of dancehall?
It's the style.
People usually look at the steps and think, 'Yeah! I can do this.' Of course, anyone can do steps, but that style? Nah!
What's the fun part?
The fun part is that you feel free. :)
Do you create your own moves for your students?
No, I don't.
I feel I have more time to go before I do that.
Right now, I want to grasp, learn and understand the culture every time I travel outside India (and some day Jamaica).
Maybe one day when I'm established I may travel to Jamaica.
What is the enthusiasm level when it comes to learning dancehall in Mumbai?
It's good and bad as well.
Good because women show up, bad because men think it's only twerking.
Thank God for my videos and the routines I do in class!
I'm finally starting to have more men, which I've been wanting since a long time.
I have a few male dancers, who are really good, in my class.
When they upload a video of them dancing, it helps.
So hopefully a balance and shift in mentality (is expected soon).
VIDEO: Jahnavi Sheriff conducts a dancehall workshop.
All videos: Kind courtesy Jahnavi Sheriff