Food blogger Vishaka Rautela shares an easy and quick way to surprise guests on Christmas.
What's your favourite Christmas recipe? Tell us!
Move over chocolate and plum cakes, try the Banana Walnut Cake for Christmas this year.
Food blogger Vishaka Rautela says she was inspired to try the recipe from soulandspicebox.
Here's the recipe of Banana Walnut Cake: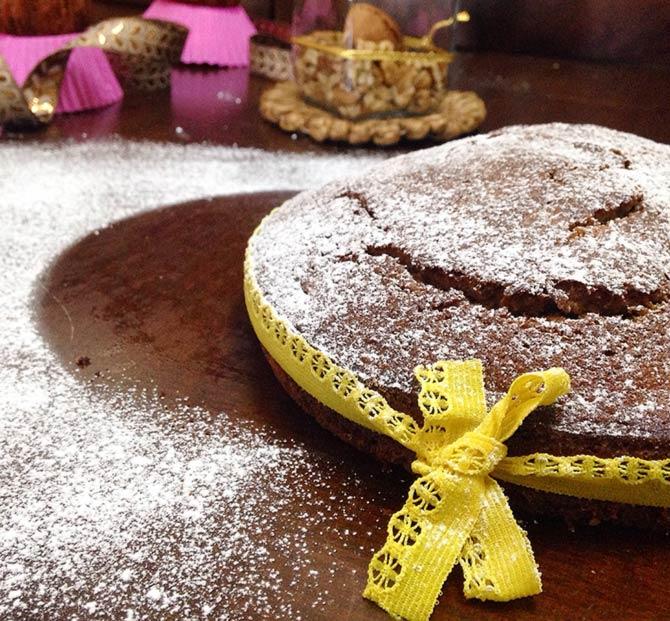 Ingredients
1 1/2 cup all purpose flour
2 tsp baking powder
1 tsp cinnamon
3/4 cup oil
2 ripe bananas mashed
1/4 cup walnuts chopped
1/4 cup peanut butter chips
1 cup brown sugar
2 eggs
2 tsp vanilla extract
A pinch of salt
Method
Pre heat the oven to 180 degree Celsius and place a baking tray in the centre rack of the oven.
Sift the flour, baking powder, cinnamon and salt.
In a large bowl, whip the eggs and brown sugar till you get a smooth batter.
Gradually add oil and keep beating the batter using a hand blender.
Add the mashed bananas and extract to the batter. Whip the batter for one minute.
Gradually add the dry ingredients and fold it in. Don't over beat the batter.
Add chopped walnuts and peanut butter chips and mix it well to ensure they are well coated.
Pour the batter into the cake tin and bake in a pre-heated oven at 180 C for 30 minutes or till a toothpick comes out clean.
Sprinkle icing sugar on top and serve.
Photo: Vishaka Rautela
What's your favourite Christmas recipe? Tell us!
Simply e-mail your recipes to getahead@rediff.co.in (subject line: Xmas recipe) with your name, hometown and any interesting details about the origin of the recipe, along with a photograph of the recipe, if possible. We'll publish the best preparations right here on Rediff.com and India Abroad.
ALSO SEE