Rediff reader and food blogger Nidhi Sharma sent us this mouthwatering cake recipe.
Do you have a recipe to share? Email it to us!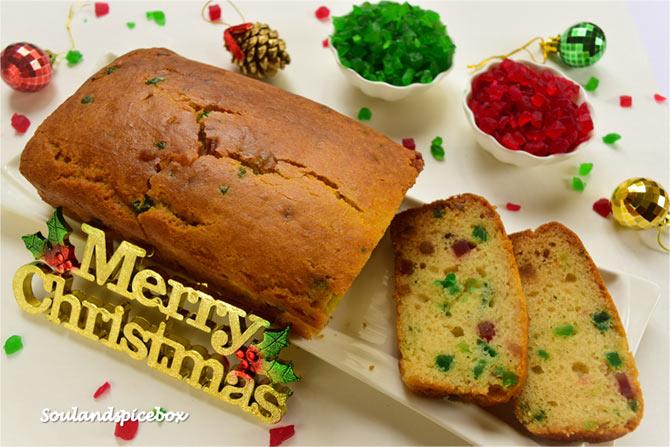 When I was younger, Christmas was never complete without a good ol' Tutti Frutti Cake. This year, I wanted to make an eggless version of the recipe, says Nidhi.
Here's the recipe:
Ingredients
1 and 1/2 cups (200 gm) all purpose flour/ maida
1 cup (250 ml) plain curd
3/4 cup (165 gm) granulated sugar
1/2 tsp baking soda
1 1/4 tsp baking powder
1/2 cup (150 ml) cooking oil
1 1/2 tsp vanilla essence
1/2 cup tutti frutti
1/2 tsp cinnamon
1 tbsp milk
Method
Sieve flour twice and keep aside.
Add tutti frutti and cinnamon and gently whisk it with a fork. This will ensure that the tooti frutti does not sink to the bottom.
Beat sugar and curd with a hand blender until sugar completely dissolves.
Add baking powder, baking soda and mix well. Leave it aside for five minutes and you can see the bubbles appearing.
Add vanilla essence, cooking oil and beat it for two minutes.
Slowly add flour mixture 2 tbsp at a time and blend it with the wet ingredients. Beat it well with a whisk until thick and creamy.
Preheat oven to 200 degree C for 10 minutes.
Grease a butter paper, lay it in the cake tin or loaf pan and pour the batter in the tin and keep it ready.
Bake in preheated oven at 200 degree C for 10 minutes, then reduce temperature to 180 deg C and bake it for 30 to 35 minutes or till a fork inserted into the centre of the cake comes out clean.
Brush the top of the cake with 1 tbsp milk 10 minutes before the ending time to get a nice polishing glaze.
Allow the cake to cool down for 10 minutes, then invert and remove the butter paper.
Cut slices and enjoy with a hot cup of tea, coffee or cocoa.
Photo: soulandspicebox.com
What's your favourite Christmas recipe? Tell us!
Simply e-mail your recipes to getahead@rediff.co.in (subject line: Xmas recipe) with your name, hometown and any interesting details about the origin of the recipe, along with a photograph of the recipe, if possible. We'll publish the best preparations right here on Rediff.com and India Abroad.
ALSO SEE