If you love potatoes, better try this dish!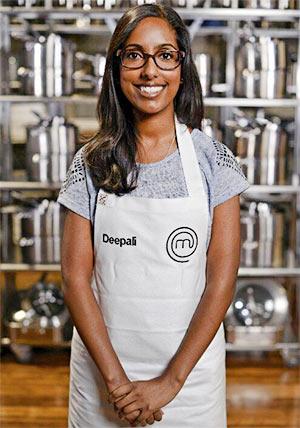 Photograph: Kind Courtesy Global Bay Dental Clinic /Facebook
You cannot go wrong with cooking potatoes.
And that's exactly what worked in the favour of chef Deepali Behar, an Indian contestant and a dentist by profession on MasterChef Australia Season 6.
She made her entry to the top 24 with this delicious Potato Curry recipe.
An ardent lover of food, chef Deepali brought Gujarati flavours on world television.
Here's a full-meal recipe for Peas Pulao, Potato Curry, Dhokla, Rotli and Raita.
Ingredients
For Potato Curry
2 tbsp olive oil
1 tbsp butter
6 fresh curry leaves
2 tsp black mustard seeds
8 small royal blue potatoes (peeled and cut into 3 cm cubes)
2 tsp salt
1/4 tsp ground turmeric
1/2 tsp ground coriander
1/2 tsp ground cumin
1/2 tsp garam masala
1/4 cup freshly chopped coriander
For Dhokla
1 cup semolina
1/2 cup chickpea flour
1 cup plain yoghurt
1 pinch turmeric powder
1 tsp freshly minced garlic
1 tsp freshly minced ginger
1 tsp freshly minced green chilli
3 tbsp oil
1 tsp Eno
2 tsp sesame seeds
1/2 tsp chilli powder
1 tsp black mustard seeds
6 fresh curry leaves
For Peas Pulao
1 tbsp ghee or butter
1/2 red onion (finely chopped)
1 tsp cumin seeds
1/2 cup fresh or frozen baby peas
1 1/2 cup baasmati rice (rinsed well)
2 tsp salt
For Raita
1 cup plain yoghurt
1/4 large cucumber (grated and squeezed to remove moisture)
1/4 red onion (finely chopped)
1/4 tsp cumin powder
1/4 cup freshly chopped coriander
1/2 tsp salt
For Rotli
1 cup whole wheat atta flour
1 tbsp olive oil
1 tbsp butter
Salt to taste
Method
For Potato Curry
Heat oil and butter in a saucepan over medium heat.
Add mustard seeds and curry leaves and fry until fragrant (for one or two minutes)
Add potatoes, salt and all the spices except garam masala.
Add two cup of water. Cover and allow to simmer over medium to low heat for about 20 minutes, until potatoes are tender but not falling apart.
Add the garam masala and fresh coriander. Set aside.
For Dhokla
Oil a 20 cm cake tin.
Place inside a steamer basket set in a saucepan or wok filled with three cups of water and a small piece of lemon. Keep it aside.
Combine semolina, chickpea flour, plain yoghurt, salt, turmeric powder, minced garlic, ginger and green chillies in a bowl.
Add Eno and stir to combine. Pour this mixture into the prepared cake tin.
Sprinkle a teaspoon of sesame seeds and chilli powder. Cover the saucepan or wok and place over medium to high heat.
Steam this dhokla until cooked for about 20 minutes.
Remove from the heat and when cool enough to handle, turn out onto a board and cut into eight portions.
Heat oil in a small pan. Add mustard seeds, remaining sesame seeds and curry leaves and fry until fragrant for one to two minutes.
Pour over the portioned dhokla and set aside.
For Peas Pulao
Heat ghee in a saucepan set over medium heat.
Add the chopped onion and cumin seeds. Cook until onion has softened (for about three minutes)
Add peas, rice, salt and three cups water and bring to a boil.
Reduce heat to low, cover and allow to simmer until all the water has been absorbed for about 12 minutes. Set aside.
For Raita
Combine all the ingredients except the coriander in a bowl.
Once done, sprinkle with chopped coriander and set aside.
For Rotli
Place oil and flour in a bowl. Mix to combine.
Add enough warm water (about half a cup) to make a soft dough.
Divide the dough into eight balls. Flatten each ball, and on a floured bench, roll into a circle 3 mm thick.
Heat a frypan over medium heat.
Cook rotli -- a few at a time in the pan -- until slightly puffed and, golden brown for about two to three minutes each side.
Dab each rotli with a little butter.
Sprinkle with salt to taste and keep it aside.
ALSO SEE
Recipe: How to make Prawn Okra Curry
Recipe: How to make Butter Quail
Have an interesting recipe to share?
Write in to us at getahead@rediff.co.in (subject: Recipe) with your name, hometown and any interesting details about the origin of the recipe, along with a photograph if possible.
We'll publish the best preparations right here on Rediff.com and in India Abroad.