Impress your loved one with these romantic recipes.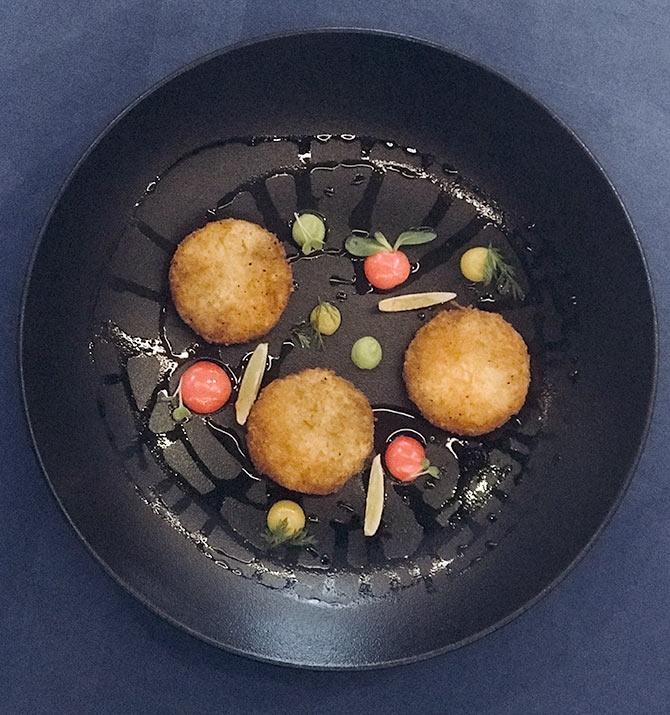 Love Bugs (vermicelli crusted yoghurt patties with strawberry coulis)
Ingredients:
150 gm hung curd
20 gm cumin powder
5 gm fresh green chilli
10 gm icing sugar
50 gm fresh coriander
2 gm mint Leaves
60 gm vermicelli
80 gm strawberry
150 ml oil
Salt to taste
Method:
Take hung curd and add Indian spices to it. Knead it well. Make flat patties of it.
Crumb it with vermicelli and deep fry till gets golden brown colour. Serve hot with mint and strawberry coulis.
---
Fiery Love (chargrilled barbeque paneer)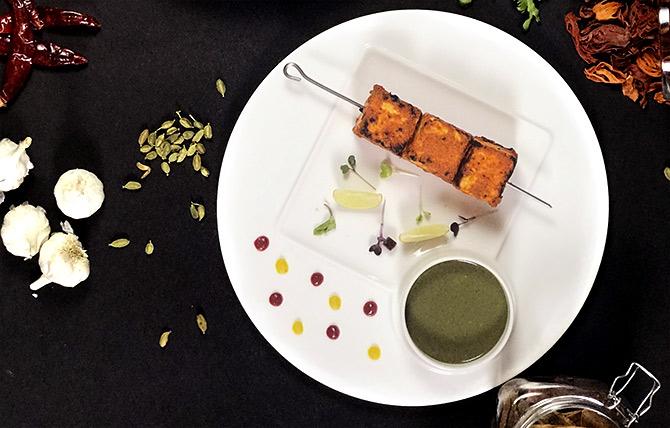 Ingredients:
150 gm paneer
120 gm hung curd
2 gm chaat masala
50 gm fresh coriander
2 gm garam masala powder
2 gm green chilli, chopped
80 gm Amul cheese
3 gm degghi mirch powder
15 ml mustard oil
80 gm fresh mint
Salt to taste
Method:
Make red tandoori marination by mixing hung curd with the above Indian spices, Amul cheese and mustard oil.
Cut paneer into cubes and marinate them. Keep aside for around 3 to 4 hours.
Cook the marinated paneer in the tandoor for 10- 12 minutes. Assemble the paneer as shown in picture. Serve hot with the mint chutney.
---
Mix and Match (pine nut and wild mushroom stuffed chicken roulade with exotic vegetables)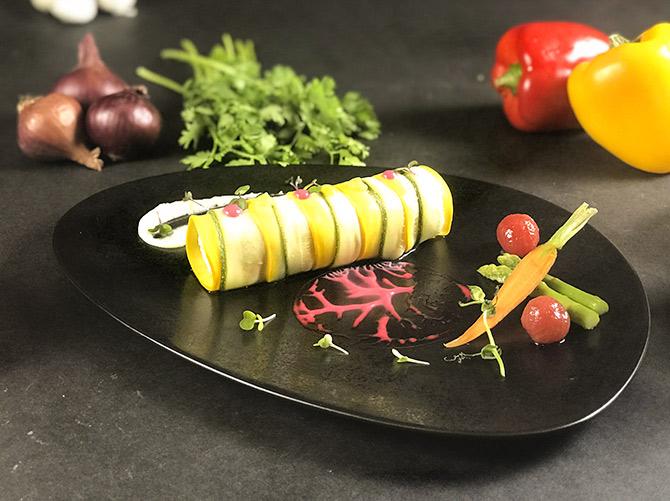 Ingredients
150 gm chicken breast
20 gm pine nuts
10 gm black fungus
10 gm white fungus
10 gm shitake
20 gm garlic
Salt to taste
2 gm black pepper
3 gm thyme
20 gm butter
30 gm fresh cream
40 ml olive oil
5 ml truffle oil
2 cherry tomato
1 baby carrot
2 asparagus
2 gm green zucchini
2 gm yellow squash
Method:
Take chicken breast and marinate it with thyme, salt and pepper. Make the mixture for stuffing of mushroom and pine nuts.
Make chicken roulade and pan sear it. Take out ribbons of zucchini, blanch them and roll it over the roulade.
Saute asparagus, baby carrot and cherry tomatoes. Assemble as shown in picture and garnish with micro greens.
---
Cupid's Desire (vanilla beans panna cotta)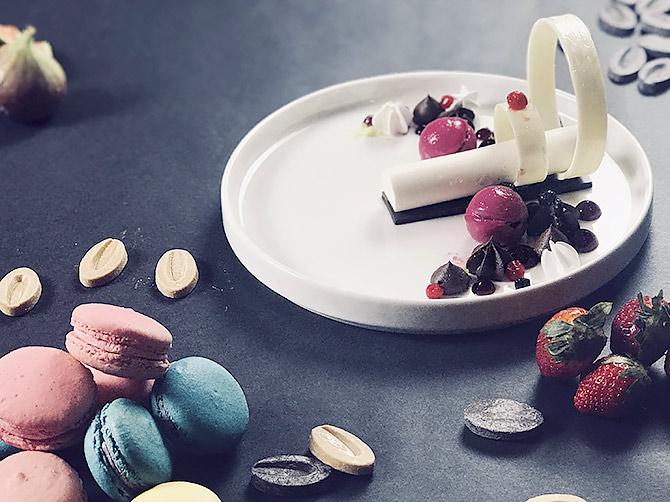 Ingredients:
100 ml fresh cream
15 gm castor sugar
100 gm white chocolate
15 ml water
5 gm gelatine
5 gm raspberry
5 gm blueberries
Method:
Soak the gelatine in water. Keep aside for 5-10 minutes.
Heat the fresh cream with castor sugar, and then add the soaked gelatin. Keep aside for 10 minutes.
Melt the white chocolate and make a cylindrical pipe.
Pipe the mixture in the white chocolate roller, and keep in chiller for 30-35 minutes.
Garnish it with chocolate curls, raspberry and blueberry as shown in picture.
---
Avinash Kumar is the executive chef of Novotel Imagica Khopoli.
---