Reshma Aslam tells you how to bake these sweet treats.
Who doesn't love cakes?
And why buy them when you can make them at home.
Here are some easy recipes for you to try.
Choco Lava Cake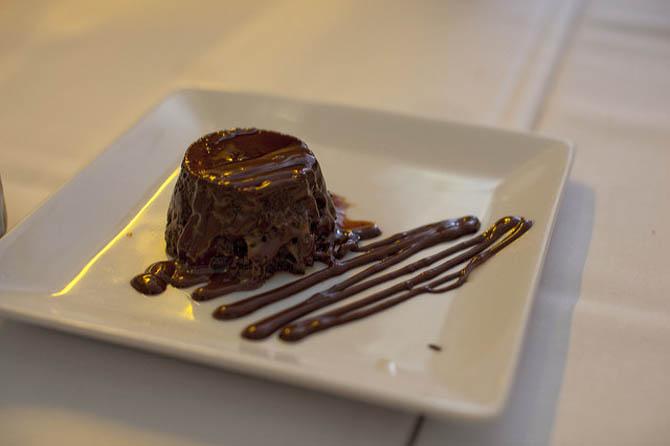 Photograph: tomcensani/Creative Commons
Ingredients
125 gm dark chocolate
125 gm unsalted butter
2 tbsp all purpose flour
25 gm icing sugar
2 eggs
1 tbsp cocoa powder
1/2 tbsp vanilla essence
Few cup cakes mould
Method
In a bowl, beat eggs and sugar till the sugar dissolves.
Add vanilla essence.
Heat a pan, add butter and chocolate. Let it melt over low flame. Keep it aside.
When cool, add beaten eggs and sugar mix.
Add maida, mix it well.
Preheat oven for five minutes at 220 degrees.
Now pour the mixture in the greased moulds and bake for 8 to 10 minutes at 200 degrees.
Remove it from the oven and let it stand for sometime before serving.
Always serve this cake warm.
Red Velvet Cupcakes
Photograph: april/Creative Commons
Ingredients
For cup cakes
100 gm all purpose flour (maida)
10 gm cocoa powder
1/2 tsp vanilla essence
100 gm powdered sugar (powder it and then measure)
50 gm unsalted butter
50 ml milk
1 tbsp vinegar
1/2 tsp red food colour (P4R)
1 tsp baking powder
1/4 tsp baking soda
For cream cheese frosting
100 gm cream cheese
75 gm unsalted butter
50 gm icing sugar
50 gm whipped cream
1/2 tsp vanilla essence
Method
For cup cakes
In a bowl, beat the sugar and eggs for a smooth mix. Say for about 4 to 5 minutes.
Add vanilla essence.
In a cup of milk, add vinegar and keep aside for it to curdle. Mix well. Buttermilk is ready.
Add this buttermilk to the sugar and eggs mix.
Put maida, cocoa powder, baking powder and baking soda together in a sieve.
Sift it three times.
Add this mixture to the eggs and buttermilk batter.
Add colour. Mix well with a spatula.
Grease cup cake moulds and pour around 1/2 tbsp batter in each (adjust quantity according to the size of the mould)
Bake it at 180 degrees for 20 minutes.
Keep the cupcakes aside.
Decorate the cupcakes with cream cheese frosting.
For cream cheese frosting
Beat butter and sugar in a bowl till you get a smooth mix.
Add cream cheese till it becomes soft.
Add vanilla essence.
Whip the whipped cream and then add it.
Pipe it into piping bag and decorate the cupcakes.
Sizzling Chocolate Brownie
Photograph: Reshma Aslam
Ingredients
100 gm dark chocolate
120 gm unsalted butter (Nutralite)
50 gm all purpose flour (maida)
25 gm cocoa powder
200 gm castor sugar
1/2 tsp vanilla essence
3 eggs
25 gm walnuts chopped
1 tbsp choco chips (dark)
1 tbsp choco chips (white)
Square cake mould
Method
Sift maida and cocoa powder together.
Heat a pan. Add butter and chocolate and let it melt on low flame.
When you get a smooth consistency, add castor sugar.
When sugar dissolves completely, a whisked eggs and turn off the flame.
Beat well the contents with a whisk. Add vanilla essence and beat well again.
Add maida and mix it well.
Grease a square cake mould and add the batter to it.
Garnish with walnuts and choco chips.
Preheat oven for 220 degrees for five minutes.
Bake at 180 degrees for 30 minutes.
Remove it from oven and let it cool down.
Cut into small square shapes using a sharp knife.
Sizzling chocolate brownie is ready to be served.
ALSO SEE
Strawberry love: 4 easy dessert recipes
Special recipes to impress your love!
Love recipes: Chocolate Golgappas and Wine Rice
Recipes: Choco Souffle, Strawberry Lassi Ice Cream
Recipes: Candy Crush and Strawberry Basil Mocktail
You can send us your favourite recipes too.
Write in to us at getahead@rediff.co.in (subject: Favourite Recipes) with your name, hometown and any interesting details about the origin of the recipe, along with a photograph if possible.
We'll publish the best preparations right here on Rediff.com and in India Abroad.