Chef Ranveer Brar of Zee Khana Khazana tells you how you can delight your loved one this Valentine's Day.
Here's the recipe for Almond Butter Cupcakes with Strawberry Frosting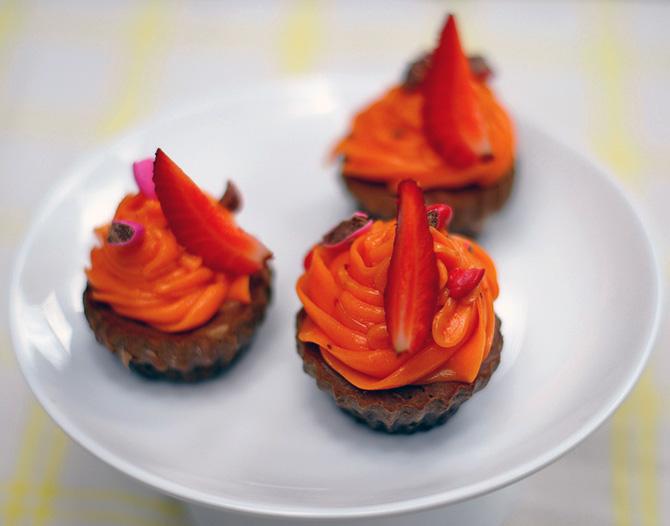 Serves: Two
Baking time: 10 to 12 minutes
Preparation time: 20 minutes
Equipment required
Mixing bowl, silicon cupcake, cup cake moulds, electic whisk, piping bag, star nozzle
Ingredients
For the batter
3 eggs
3/4 cup icing sugar
1/4 cup almond butter
3 tsp cocoa powder
2 cups refined flour
For the frosting
1 cup hard butter
1/2 cup icing sugar
1/4 cup strawberry sauce
1 tsp vanilla essence
For garnish
1 strawberry
A few crushed colourful chocolates
Method
In a bowl add eggs, icing sugar, creamy almond butter, cocoa powder, refined flour and beat with the electric whisk.
Fill the silicon cupcake moulds with the prepared batter.
Preheat oven at 170 degree celsius and bake the cupcakes for 10 to 12 minutes.
Remove them from the oven and keep them aside for 10 to 12 minutes to cool.
To prepare frosting, in an electric whisk add hard butter, icing sugar, strawberry sauce, vanilla essence and beat well.
Cut the tip of the piping bag and fix a star nozzle in it. Fill in the prepared frosting.
Remove the cupcakes from the silicon moulds and decorate with the frosting.
Chop strawberry wedges and place them on the frosting.
Top up with the crushed colourful chocolates and serve.
Photo: Zee Khana Khazana
ALSO SEE
ALSO SEE
Valentine's Day special recipes for your loved one
Surprise your loved one with an awesome Valentine's Gift from Rediff!