This Valentine's Day, how about cooking an amazing meal for your partner?
Regardless of how young or old you are, starry-eyed or not, there's something about Valentine's Day that makes you want to do something special for the one that makes your heart sing.
It doesn't have to be an expensive gift or a six-course dinner at a five-star hotel. In fact, it is the small gestures that really make a difference, not the amount of money spent.
So this VDay cook up a special meal and create memories to cherish forever. Here are five easy-to-make recipes to help you woo your partner the old-fashioned way!
First up is the recipe of Hummus: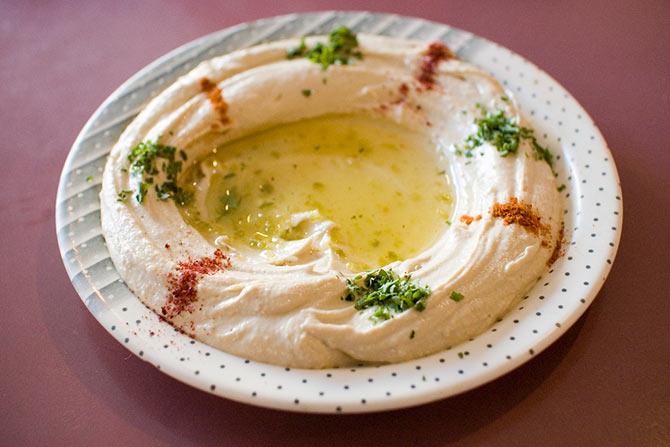 Ingredients
200 gm chickpeas
2 garlic cloves (crushed)
4 tbsp tahini
1 tbsp olive oil
1/3 cup lemon juice
A pinch paprika
Salt to taste
Method
Wash the chickpeas thoroughly and soak overnight.
Pressure cook them without salt till they mash easily with your fingers.
Remove them from the pressure cooker and while still hot, grind them with 1/3 cup of water at low speed for 4 minutes.
Add salt and garlic. Gradually, add tahini. If tahini is not available (you'll get it at gourmet food stores), just make your own paste by grinding sesame seeds with a little water.
Add the lemon juice and mix thoroughly. Check seasoning.
Serve with pita bread or warm Focaccia. You may also break them into big pieces and grill in the oven for a few minutes to make it crispy.
Photograph: Paul Goyette/Creative Commons
---
Mozzarella and Tomato Bites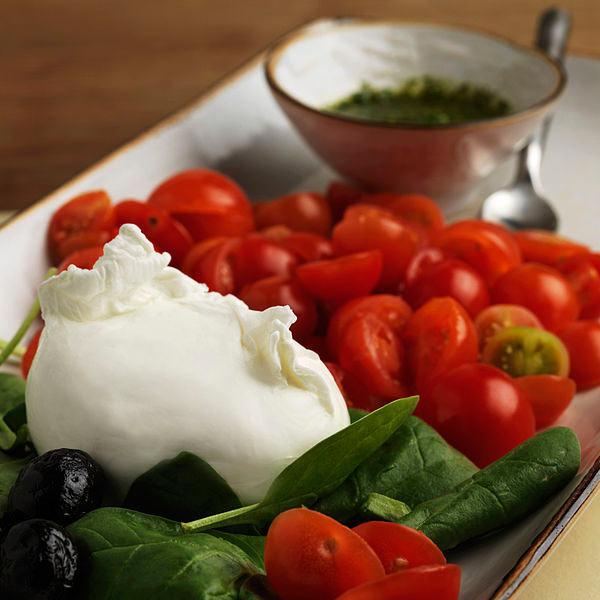 Ingredients
100 gm mozzarella cheese
2 tomatoes
A few toothpicks
Extra virgin olive oil to drizzle
10-15 black olives

2 tsp basil pesto
Method
Cut the mozzarella into bite sized cubes. They should not be larger than the size of half an olive.
Deseed tomatoes and dice into the same size as the cheese pieces.
In a toothpick, insert a piece of mozzarella cheese, a tomato dice and an olive. Repeat with all the pieces.
Arrange in a platter and drizzle with extra virgin olive oil. Brush a little pesto on top of each.
Serve with a glass of wine.
Photograph: SirNico/Wikimedia Commons
---
Salad with Honey Mustard Dressing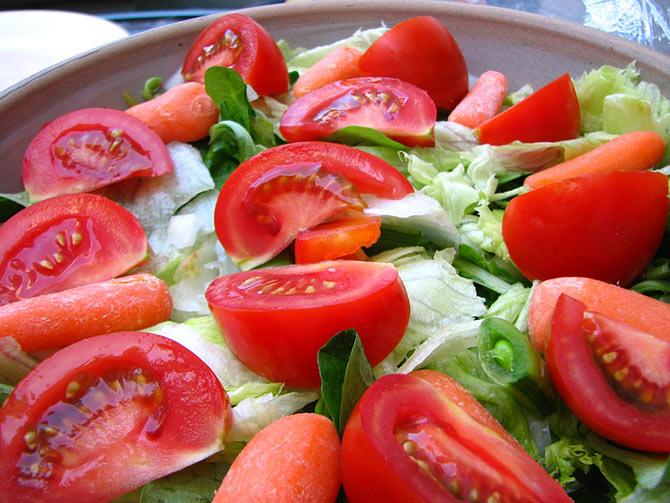 Ingredients
A bunch of salad leaves (Mix of lettuce, iceberg lettuce and arugula; You could also use packaged salad leaves to avoid wastage)
50 gm cherry tomatoes halved
2 tbsp extra virgin olive oil
1 tsp honey
2/3 tsp mustard
Salt and pepper to taste
Method
Wash the leaves thoroughly.
Pat dry. Always store the leaves in a chiller so they don't become limp.
In a bowl, whisk together the olive oil, mustard and honey until emulsified.
Sprinkle in salt and pepper. Mix well.
Add cherry tomatoes to the salad leaves and generously drizzle the dressing on top.
Toss and serve as an accompaniment to your meal.
Photograph: Alexa Clark/Creative Commons
---
Chicken Stroganoff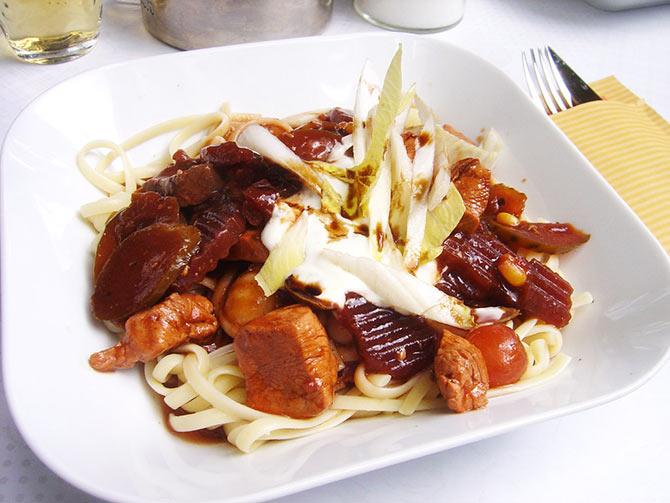 Ingredients
200 gm boneless chicken
200 gm mushrooms
1 small capsicum finely sliced
1 onion finely chopped
4 garlic cloves crushed
2 tbsp oil
1 1/2 tbsp all-purpose flour
3/4 cup cream
2 tbsp tomato puree
1 tbsp tomato ketchup
Salt, pepper, chilli powder to taste
Method
Cut the boneless chicken into small pieces or strips. Marinate with salt, pepper and chilli powder for half an hour.
In a thick bottomed pan, heat 1 tbsp oil or butter. Add onions and fry till lightly brown.
Wash mushrooms thoroughly and cut each into two.
Add to the onions and saute for a minute or two.
Remove the onions and mushrooms from the dish and keep aside.
Add 1 tbsp oil to the pan and sauté the chicken on medium heat till browned from both sides.
Add 1 1/2 cup water. Cook on medium heat for 15 minutes.
Remove 1/2 cup stock from the pan and cool. Add flour and stir so that no lumps are formed.
In the pan with the chicken and remaining stock, add onions, mushroom, salt, pepper, chilli powder, tomato puree, ketchup and garlic. Allow it to come to a boil.
Add flour mixture while stirring continuously. Before it comes to a boil, take it off the heat.
Add cream or milk. Stir well and put it back on fire.
Add capsicum. Cook on low heat for a minute and remove from fire.
Serve hot with sticky rice or garlic bread.
You may also serve it atop a bed of fettuccini or fusilli.
Photograph: JaBB/Creative Commons
---
Truffle with Strawberry Coulis
Ingredients
100 gm fresh strawberries
A pinch nutmeg
1 tsp sugar
Juice of half a lemon
2 cups vanilla ice-cream
Small plain vanilla cake
4 marie biscuits
Method
Wash the strawberries thoroughly and chop roughly.
Heat a thick bottomed pan, add strawberries and two tablespoons of water. Cook on medium heat stirring frequently.
Add sugar to caramelise. Keep adding water to ensure that the mixture never dries up.
Cook for 6 to 8 minutes till the strawberries become pulpy. Mash them with the back of the spoon.
Add juice of half a lemon and a pinch of nutmeg. Taste. Adjust seasoning to obtain balance of sweet and sour.
Crumble the vanilla cake and divide it in two separate bowls. Press them down well.
Drizzle the watery part of the coulis in each of the bowls and allow it to soak. Press down further and chill in the refrigerator till it's time to serve.
Before serving, add a layer of crushed Marie biscuits on the soaked cake.
Add slightly melted Vanilla ice cream and top with the freshly made strawberry coulis.
Photograph: Manidis Roberts/Creative Commons
ALSO SEE
Valentine's Day special recipes for your loved one
Surprise your loved one with an awesome Valentine's Gift from Rediff!