Ginger and tulsi flavoured tea is passe. Exotic ingredients are now finding their way into the kettle.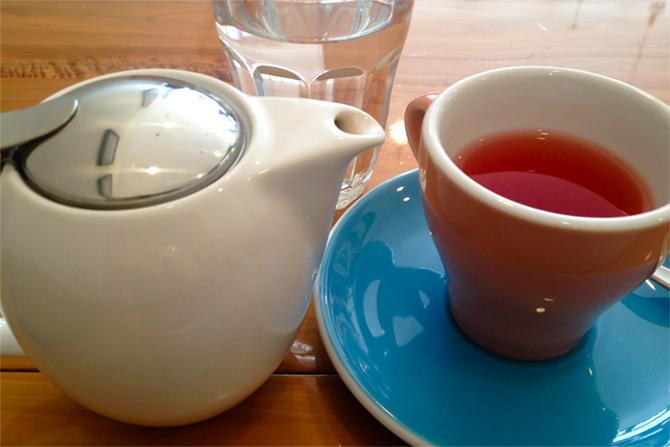 Lemongrass-infused tea popsicles, anyone?
Or an aromatic brew made with farm fresh raspberries, finished off with a dash of cinnamon honey?
Tea enthusiasts are now experimenting with fruity, floral and herbal infusions to add an element of fun to your cuppa.
"Infusions are like ice-breakers for people who are just beginning their tea journey," says Radhika Batra Shah, Mumbai-based tea sommelier and owner of Radhikas Fine Teas and Whatnots. She curates nearly 40 such blends a year -- be it for tea ceremonies, weddings or parties.

There are no rules when it comes to infusions.
Pick and choose ingredients that catch your fancy and let your imagination run wild. For instance, who would have thought that turmeric could be used in tea, but American cookbook author and columnist Martha Rose Shulman did just that. "I loved the results when I added a small amount to a lemon infusion to a coconut and ginger tea," she wrote in The New York Times.
Tea sommeliers encourage you to experiment, as long as you use real fruits, dried flowers and herbs, while steering clear of essential oils and artificial flavours.
"People think that using Moroccan mint oil or a peach flavour in the infusion is the real thing, but it's not. It won't have the same effect on the body or the palate as fresh ingredients would," says Anamika Singh, owner, Anandini Himalaya Tea, which brings single-source teas straight from the garden to your teapot. Among the various infusions that Singh brews at her tea boutique in Delhi, the "first flush" with lavender flower and lemongrass, and the green tea with rose petal and mint are very popular.

Light on the palate, these infusions -- served hot or cold -- are ideal for the summer and are being increasingly savoured post-meals.
"They act as perfect digestives and hence are had post-lunch or dinner," says Anupam Banerjee, executive chef, The Ritz-Carlton, Bengaluru. He personally favours a chilled concoction made with Dilmah tea, known for its smoky flavour and infused with fresh raspberries.
"Such infusions have immense health benefits: they are great for the skin, have calming and anti-ageing benefits and are a great source of antioxidants," Shah concurs, "We also have a great Organic Thai Butterfly Blue Pea infusion that is now being used a lot for its charming blue colour -- especially in dessert recipes and popsicles. It's ideal to have this infusion post-dinner or after a hectic day."
However, not all teas lend themselves well to infusions.
According to Lakshmi Poovaiah, manager, Emperor Lounge, The Taj Mahal Hotel, Delhi, the use of natural flavours depends on the oxidisation level of the tea. "For instance, you just don't touch a white tea. It is not oxidised and is delicate and aromatic on its own. But you can use strong flavours like white berries with oxidised black teas, while a semi-oxidised one like a Maharaja Oolong would take up the flavours of ginger and cardamom well," says Poovaiah.
She suggests pairing these infusions with something subtle -- may be a biscotti or a medallion.
Recipes:
Ruby Rose Tea
Recipe by Lakshmi Poovaiah, manager, Emperor Lounge, The Taj Mahal Hotel, Delhi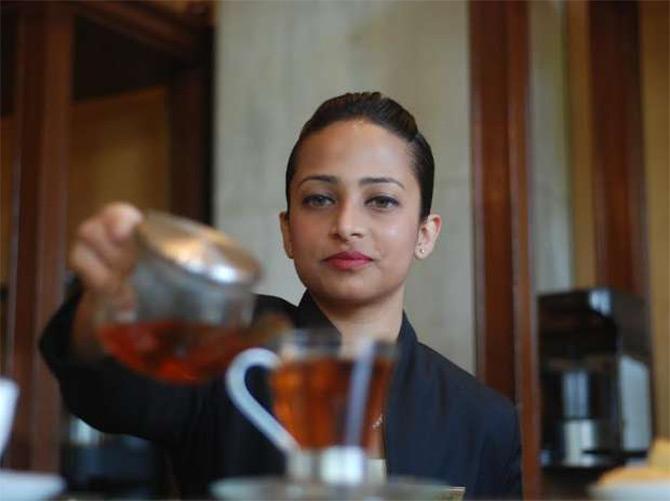 IMAGE: Lakshmi Poovaiah Photograph: Dalip Kumar
Ingredients
1 to 2 tsp of ruby rose tea (Oolong tea leaves infused with dried rose petals)

1 pot of water

Teapot with strainer

Honey or other sweetener (optional)
Method
Put 2 tsp of the ruby rose tea in the strainer of the teapot.

Bring water to boil at about 100 degrees and pour it in a slow, steady motion over the infused tea, so that the water extracts most of the flavour.

Once the pot is filled 3/4 th, ensure that the strainer is immersed as well so that the leaves can brew in the hot water to bring out the best flavour of the dried petals.

Brew for about four to five minutes. Preferably, pour this into a transparent cup so that the beautiful salmon pink colour is visible.

Add honey or any other flavourless sweetener according to your taste.
---
Darjeeling Black Rose Petal
Recipe by Radhika Batra Shah, tea sommelier and stylist, founder of Radhikas Fine Teas and Whatnots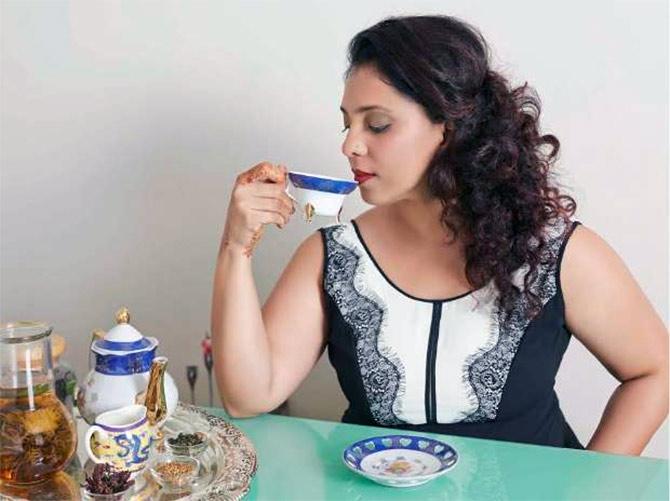 IMAGE: Radhika Batra Shah Photograph courtesy: Radhikas Fine Teas and Whatnots
Ingredients
A pinch of full-bodied Darjeeling Black leaf from the gardens of Sivitar (Darjeeling), blended with organic rose flecks

Fresh water
Method
Take a pinch of the leaf in your favourite cup.

Get fresh water to a roaring boil. Pour this water over the leaf and let it steep, covered for three to five minutes.

Strain and sip away. This brew, which emanates the aroma of a rose, aids digestion and acts as an antidepressant, with calming benefits.

Don't throw away the leaves as you can brew them two to three times more.
---
Mango and Green Tea Infusion
Recipe by Anamika Singh, director, Anandini Himalaya Tea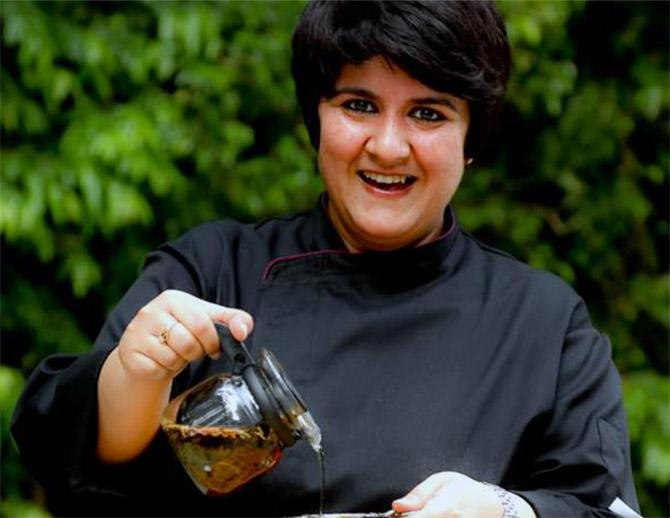 IMAGE: Anamika Singh Photograph Courtesy: Anandini Himalaya Tea
Ingredients
1 tsp classic green tea

4 pieces of raw mango

3 tsp sugar syrup

A pinch of salt

Mint leaves

1 cup crushed ice

50 ml water

1 tsp powdered sugar
Method
Heat water to a point when it starts bubbling. Remove from fire; add the tea leaves and cover.

Allow it to steep for 10 minutes. Strain and keep aside to cool.




Now roast the mangoes over fire till the skin becomes brown in patches. Allow them to cool.

Remove the skin of the mangoes and take out the pulp in a bowl.

Add mint leaves, sugar syrup, a pinch of salt and 50 ml of the infused green tea. Mix well.

In a plate, mix the sugar and salt. Rim the glass with this mixture.

Add crushed ice to the glass, pour in the raw mango and green tea infusion.

Top it with a sprig of mint and serve chilled.
Lead photograph courtesy: Judit Klein/Creative Commons