Priya Bala of Folomojo.com hits the road!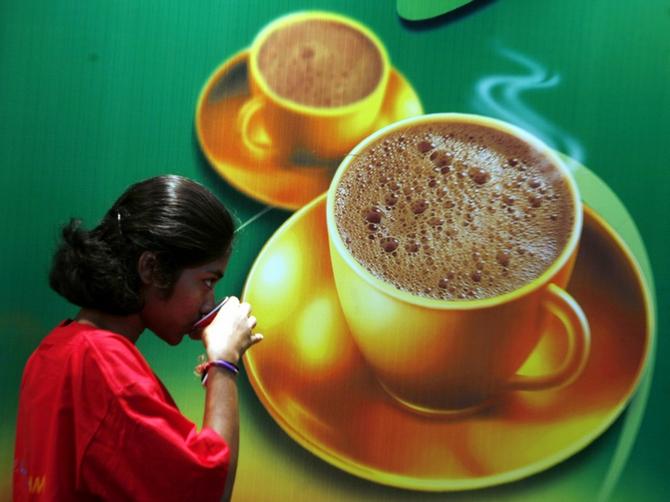 Few things unite a country as diverse as India as food.
And so Priya Bala decided to help us with a food map of Tamil Nadu.
Ready?
Let's go!
Vadacurry in Chennai
We start our culinary adventure in Chennai, a city famous for its idli shops and military messes, besides kotthu (kotthu parota) and thengai-manga-pattani sundal which is an essential part of an outing to Marina Beach.
But there's one dish that features in a typical Chennai saying 'Gamalakdi giri giri Saidapettai vada curry' and also become the title of a recent movie.
That's vadacurry. No long culinary history backs this popular breakfast dish.
It could well be that an eatery wondering what to do with the left over masal vadai thought this one up.
Crumbled bits of masal vadai are dropped into a tasty gravy that's got a big hit of garam masala.
You eat it with idli or set dosai and feel utterly content.
---
Idli in Kanchipuram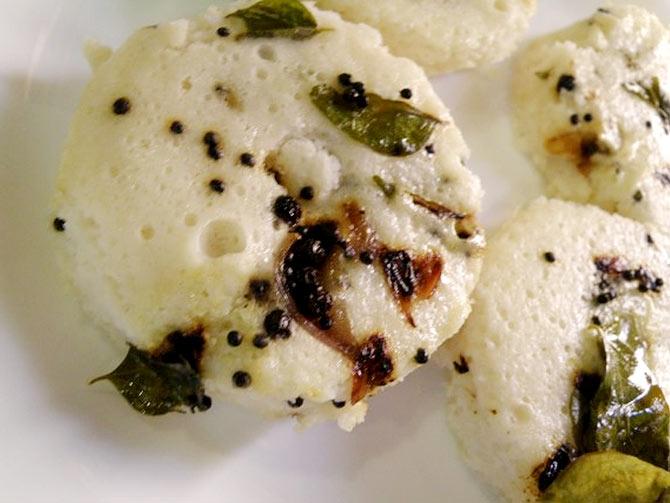 In the silk-weaving town that gives this item its name, it's known as koil idli.
That's because Kanchipuram idli originates from the Sri Varadaraja Perumal Koil, or temple, there.
Spiked with whole pepper, cumin, curry leaves, dried ginger and asafoetida, the traditional way is to steam the idlis in mandharai leaves.
Besides the temple kitchen, vegetarian eateries in Kanchipuram like Kanaga Vilas and Sri Krishna Vilas make their own versions of this idli, each claiming it to be the real thing.
---
Makkan Peda in Arcot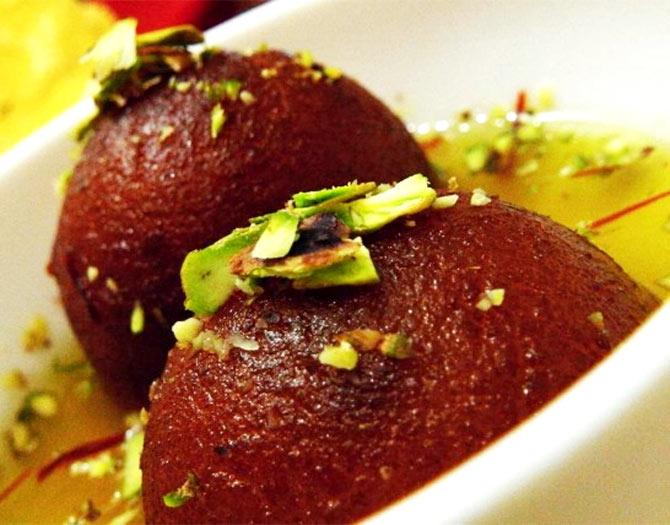 There's no chance that you'll pass through Arcot in Vellore District and not hear about its famous sweet, the makkan peda.
The story goes that it was the likes of the Nawab of Arcot who first dined on these syrup-soaked sweets.
They were later taken up by the sweet-makers of the town.
One of the most popular makers of this sweet is the Arcot Chettiyar Sweet Stall that's well over 150 years old.
The makkan peda looks like a gulab jamun but tastes nothing like it.
A rich dough casing of maida and khoya holds a mixture dried fruits and nuts inside.
These little balls are deep-fried and then soaked in syrup to become the treat that is makkan peda.
---
Biryani in Ambur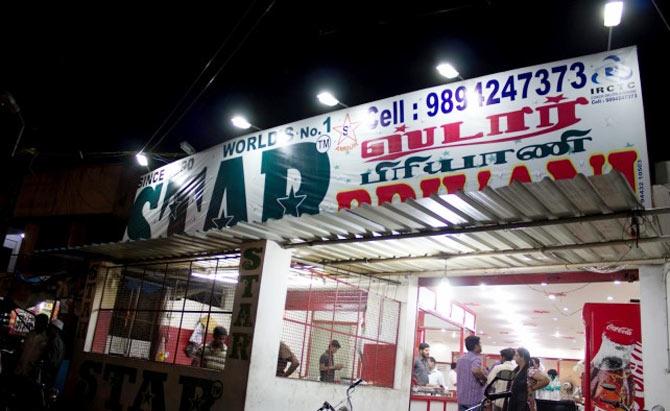 Ambur is a nondescript town on the Chennai-Bangalore highway and most people would never have heard of it, but for the fact that the word 'biryani' has become attached to it.
Food history has it that one Muslim family in the area started making and selling biryanis in the late 19th century.
It grew to be a bigger family business, giving way to Rahamaniya and, now, Star, Ambur's best biryani maker.
Lots of imitators have sprung up since, but the mutton biryani at Star in Ambur is something special.
---
Chocolates in Ooty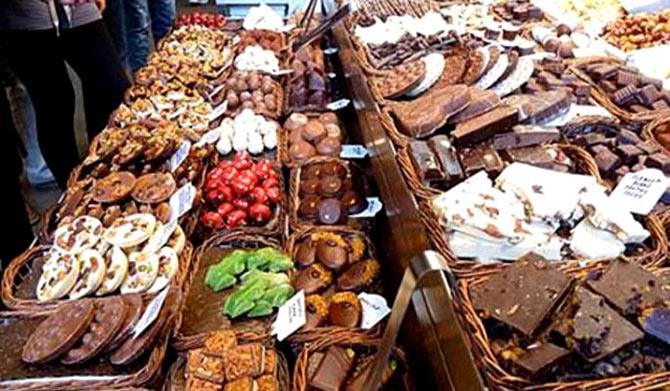 Perhaps it's the weather that makes Ooty, set high in the Nilgiris range, ideal for chocolate-making.
Despite the popularity of the locally produced chocolates, the business is still a cottage industry.
Dark, milk, white, fruit- and nut-studded, it's a huge choice. Tourists never leave without a box of Ooty chocolates.
---
Coconut buns in Coimbatore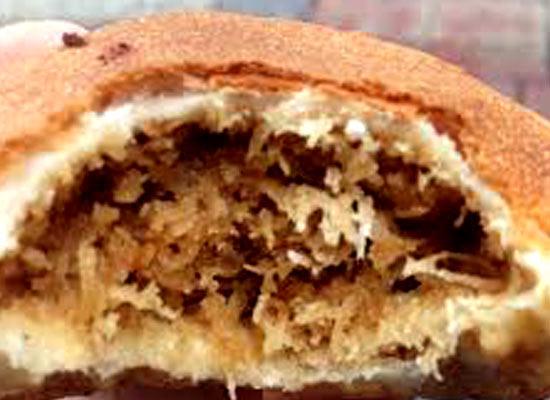 ---
The affluent textile city of Coimbatore has a profusion of very good bakeries.
They sell an array of goodies, but none is more famous than the coconut bun.
Decades ago, a slice of sweet, warm coconut bun and a glass of tea is what the textile mill workers turned to for a pick-me-up.
Now, everyone in Coimbatore enjoys this teatime treat.
KR Bakes is an old bakery that has quite a reputation for its coconut buns.
---
Degree kaapi in Kumbakonam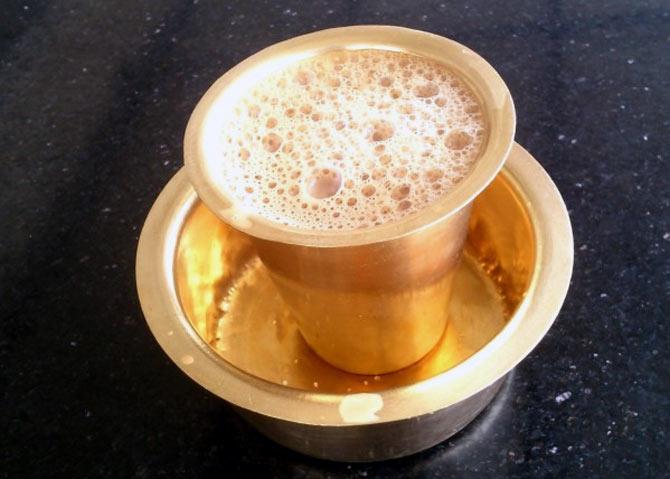 The true coffee aficionado in TN will look askance at instant coffee and even the pricey, foam-topped cuppa from Starbucks.
It's got to be filter coffee, brewed in the double filter the traditional way, combined with frothy milk and served sweetened in a dabara-tumbler set.
Nowhere is the coffee better than in Thanjavur district and the town of Kumbakonam rightfully stakes a claim for the best.
The 'degree' apparently refers to the creaminess of the milk, measured by a lactometer.
Highways across the state are dotted with 'Kumbakonam degree kaapi' stalls, but the real thing is in the temple town.
---
Murukku in Manapparai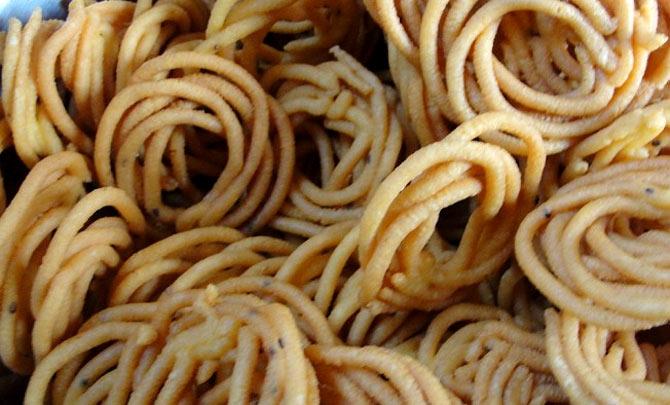 Manapparai is a small town, nestling in a fertile patch on the Madurai-Trichy highway.
Whether you drive through or travel by bus, there'll be no escaping the murukku vendors of Manapparai.
The place is famous for its crunchy, lightly spiced murukku, a perfect any-time snack.
What makes it special? The water of Manapparai, say the locals.
---
Thalappakatti Biriyani Dindigul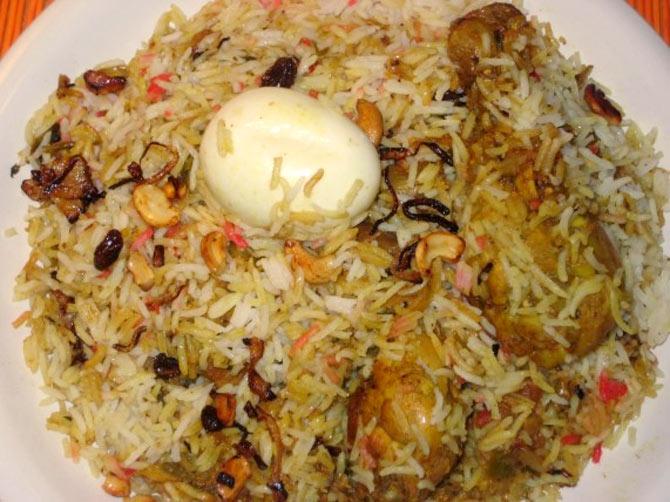 Like all good things, this dish has spawned imitations aplenty.
In fact, the makers of the original Dindigul Thalappakatti biriyani have been fighting tough legal battles to protect their brand name.
The story goes that a certain Nagasamy Naidu, who started the business in the 1950s, always wore a 'thalapa' or turban; hence the name of the biryani.
It is made from a particular type of seeraga samba rice and the meat of goats from the big markets in Paramathi and Kannivadi.
---
Jigarthanda in Madurai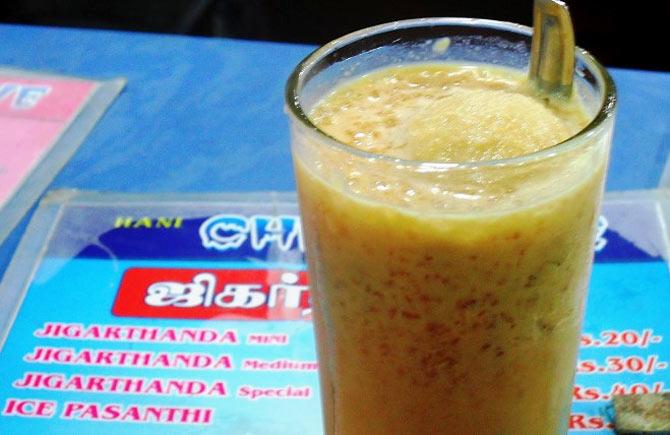 The signature drink of the city that revolves around the Meenakshi temple is jigarthanda and does just that -- cooling the very being in the scorching temperatures that prevail there.
It is believed the Muslim settlers carrying Mughal culinary inspirations brought this sweet, cold drink to Madurai.
Jigarthanda stalls abound in the bustling city, particularly around the temple, and the best, everyone agrees, is at Famous Jigarthanda.
These milky drinks contain almond tree resin -- now more commonly substituted with China grass jelly– thickened milk, nannari sherbet and a dollop of ice cream.
'Special' versions can have a serving of basundi topping things off.
---
Ennai Parota in Virudhunagar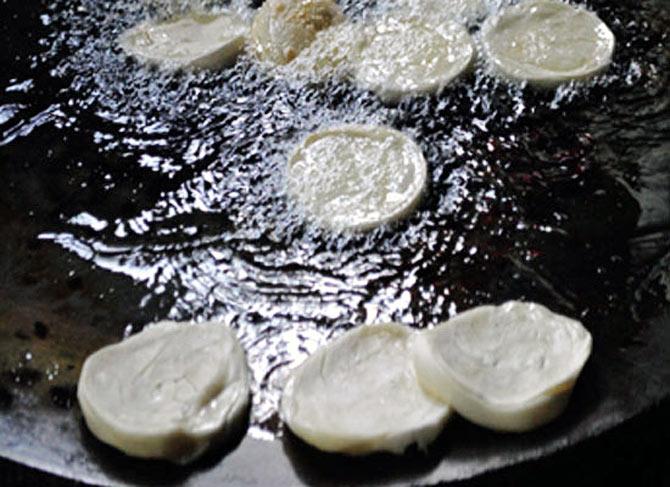 Madurai is the parota capital of the region.
But about 50 km south is Virudhunagar, which takes the parota to another, artery-clogging level that makes it the popular dish it is.
The parotas which are shaped from coils of dough, already soaked in oil, are then fried in a shallow tava, till crisp and flaky.
Waiting crowds at the Burma Kadai then tear or crumble the ennai parota, pour over a river of gravy and tuck in, not forgetting to burp afterwards.
---
Kara Sev in Sattur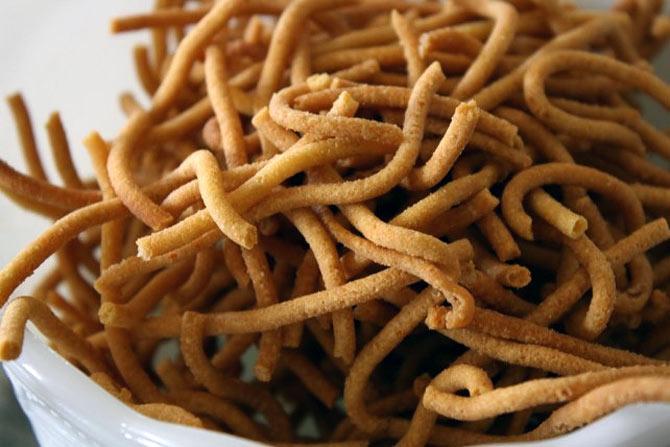 Also in Virudhunagar district is the dusty town of Sattur, which finds itself on the food map of the region, thanks to a delightful, spicy snack it produces by the ton.
Sattur is famous for its kara sev, crisp-fried strands made of gram flour and rice flour, seasoned with chilli and garlic.
The Shanmuga Nadar Mittai Kadai here has been making kara sev for a century and more.
It's the perfect thing to munch on with a cup of hot tea.
---
Palgova in Srivilliputhur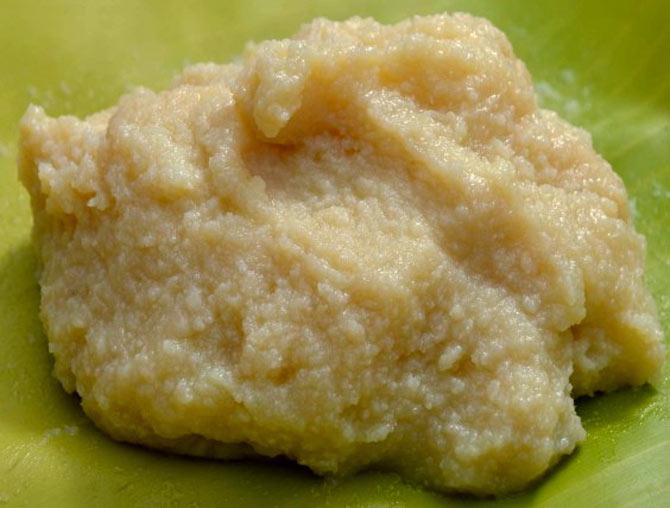 The sacred birthplace of Sri Andal is also known for its milk sweet, palgova.
Made by painstakingly stirring fresh milk and sugar over wood-fed fires, it is rich and creamy and a must-buy for those who visit this part of Tamil Nadu.
North Indian sweet-making techniques seem to have been brought here by locals who travelled or people like the Singhs who run the Sri Venkateswara Vilas Lala Sweet Stall and originally hail from Rajasthan.
---
Kadalai mittai in Kovilpatti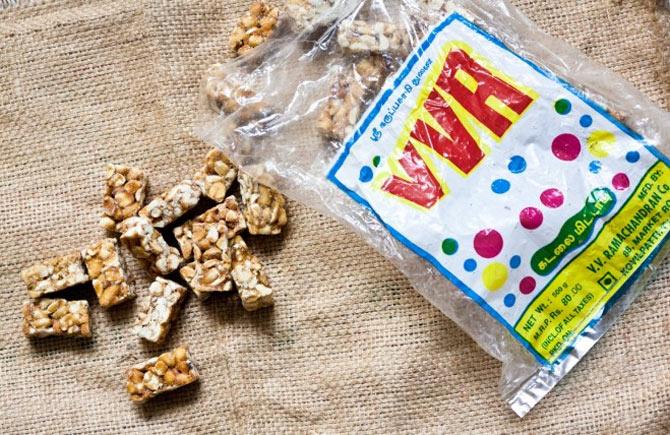 Kovilpatti in the southernmost part of Tamil Nadu is best known for an everyday sweet, kadalai mittai or peanut candy.
It's so unique to the region that makers have now applied for a GI (Geographical Identification) tag.
It's available here in shops with names like KS Kadalai Mittai and VVR Kadalai Mittai.
The secret, they claim, is the quality of the peanuts they use and the mixture of jaggery syrups.
Nutritionists give this sweet the thumbs-up, saying a small slab of Kadalai Mittai is packed with nutrition and energy and makes the perfect snack.
---
Halwa in Tirunelveli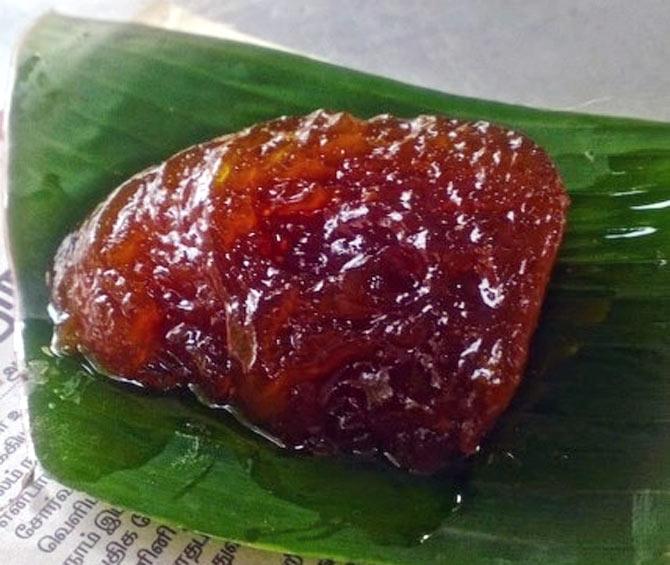 They say it is the water of the perennial Thamiraparani that makes the halwa of Tirunelveli so good.
For the locals, it is no occasional treat.
It is an everyday experience -- a dollop of hot halwa, straight out of the karhai, glistening with ghee being plopped on to a leaf, to be eaten piping hot, perhaps with a side of kara sev providing a foil to the sweet richness. Iruttukadai or the dark shop, where the halwa is made only after dusk, is said to make the best halwa.
---
Macaroons in Thoothukudi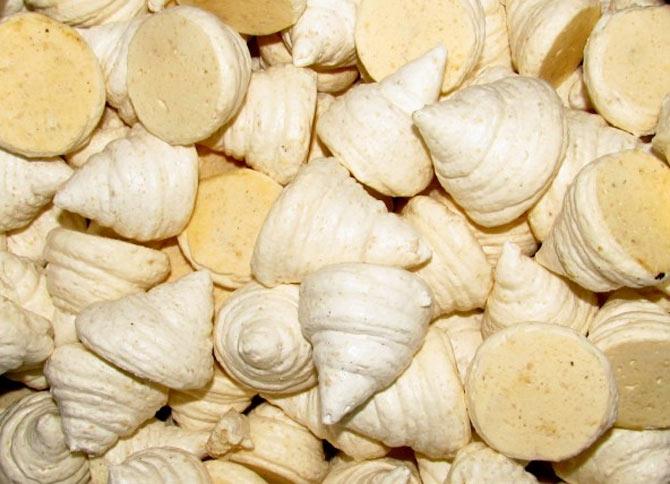 A bustling port and fishing harbour is not where you'll expect a dainty baked delicacy. But there it is -- the macaroon of Thoothukudi.
The long-established bakeries here specialise in making these light-as-air confections which use egg whites, sugar and cashewnuts.
The macaroon-makers of Thoothukudi send their products to other cities, but say they can never be made elsewhere and taste the same.
> More recipes and food features here
Also Read:
10 stunning photographs that capture the beauty of monsoon in Kerala
9 Kerala dishes you must absolutely try before you die
Lead photograph (used for representational purposes only): Jagadeesh Nv/Reuters
Photographs courtesy: Folomojo.com