Your loved ones will love these fancy treats from chef Manish Kusumwal.
Most of the traditional meals during Christmas includes a turkey.
Corporate chef Manish Kusumwal, Keys Hotel shares few delightful recipes that you can offer to your guests this season.
Cajun Spiced turkey wrapped with bacon
Ingredients
1 large turkey breast
1 tsp cajun spice (see recipe below)
1 cup cooked drained chopped spinach leaves
5 garlic pods chopped
10 gm salted butter
¼ cup feta cheese
12 strips of bacon
¼ tsp ground black pepper
For cajun spice
1 ½ tsps onion powder
1 ½ tsps garlic powder
1 tbsp seasoning salt
1 tbsp paprika
1 tsp ground black pepper
1 tsp cayenne pepper
1 tsp oregano
1 tsp thyme
1/2 tsp red pepper flakes (if you like it spicy)
Method
For cajun spice
Mix all the ingredients together, run it through the blender if you like it fine.
Store in an air tight jar.
Method
For Turkey
Preheat oven to 350 degrees F (175 degrees C).
Melt the butter in a pan add garlic and put the chopped spinach and sauté for 2 minutes and cool it.
Slice turkey breast down the middle and lay it flat.
Sprinkle cajun spice, salt, and pepper on the inside of turkey.
Spread the spinach evenly and put the crumbled feta cheese in the centre.
Fold the other turkey breast half over the feta layer so the filling is sealed. Wrap the entire turkey breast with bacon.
Place wrapped turkey in a baking dish and season once more with Cajun spice.
Cook turkey breast until no longer pink in the centre and the juices run clear, about 30 minutes.
Cook the wrapped turkey until bacon is crisp on each side, about 2 minutes per side. Let turkey rest for 10 minutes before slicing.
You can also cover with an aluminium foil and do the cooking as aluminium foil helps keep food moist, ensures it cooks evenly.
Slice and serve garnished with fresh parsley leaves.
Portuguese Fish Stew
This Portugese style fish preparation has been one of my favourites from the time I learnt it from a Portugese chef, chef Fernando.
It's simple subtle yet full of flavours.
A warm winter stew with some toasted garlic bread is sure to satisfy your soul.

Ingredients
1 kg sole fillet (You can also do 2/3 types of fish)
5 to 10 large shrimps (optional)
1 kg peeled sliced potatoes
3 onions cut into slices
5 cloves of chopped garlic
1 Red capsicum (you may use green also)
Parsley or coriander (choose the herb that most suits your taste buds)
Few dashes of hot sauce
1 tsp paprika
1 cup olive oil
50 ml white wine
Rock salt to taste

Method
In a saucepan, forming layers, add the sliced onions, garlic, tomato, peppers, coriander or parsley, sliced potatoes and fish.
Place the sliced onions and peppers, paprika, salt in the upper layer.
Pour the olive oil evenly over the layers.
Once all layers are placed add seasoning and white wine and little water.
Cover the pan to bring to a boil.
Cover and let it cook on slow fire. Check once, if the potato is cooked it will be ready to serve.
To plate remove one or two pieces of fish along with onions, potatoes and capsicum, pour some stew soup over and serve hot.
This dish can be consumed on its own or can be served with buttered rice.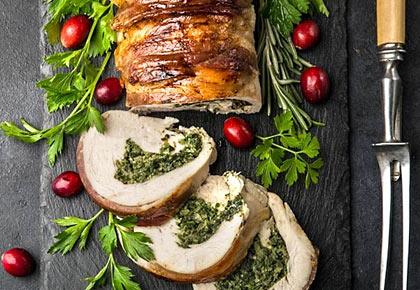 Dear readers, do you have an interesting Christmas recipe to share?
Send them on getahead@rediff.co.in (subject line: Christmas Recipes) with your NAME, AGE, HOMETOWN and any interesting details about the origin of the recipe.
Don't forget to share a photograph of the recipe. We'll publish the best recipes right here on Rediff.com.