Rajesh Karkera/Rediff.com shares a special two-in-one recipe for the traditional kori gassi and chicken sukka.
Kori gassi (chicken curry) is a popular Mangalorean dish, which can be eaten with the traditional flatbread made of rice flour (rotti) or steamed rice.
Here's the recipe: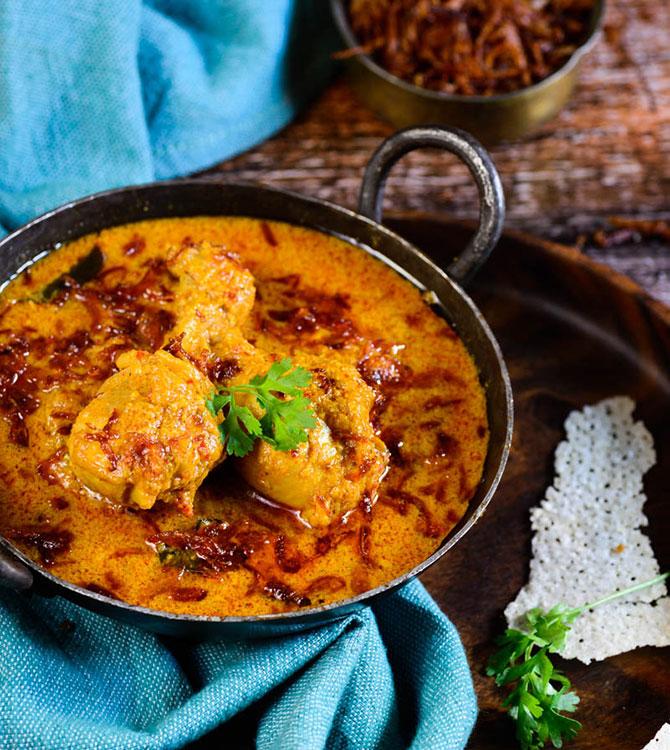 Ingredients
2/2.5 kg desi (country chicken)
5 onions, sliced
2 tsp turmeric or haldi
10 to 15 garlic pods
2 cups coconut milk
Edible coconut oil
Salt
2 cups coconut milk
For the masala paste
20-25 Byadgi chillies (dried red chilllies from Karnataka)
6 stalks of curry leaves
6 tbsp coriander seeds
½ tsp fenugreek (methi) seeds
1 coconut, grated
2 tbs cumin or jeera
1 tsp mustard or rai seeds
Method
For the wet and dry masala paste
In a hot pan, roast a handful of Byadgi chillies, ¼ tsp methi seeds, 3 tbsp coriander seeds and a handful of curry leaves. Stir over medium heat for five minutes.
Put the roasted ingredients into a grinder. Add one cup of the grated coconut, 1 tsp jeera and ½ tsp mustard seeds.
Grind the mixture into a thick paste. Add water if necessary while grinding.
Similarly make a dry version of the same paste, using the balance ingredients, but don't grind it smooth. Do not add water while grinding. The paste should be coarse and completely dry.
For kori gassi
Cut chicken into medium or small pieces. Wash and keep aside.
Take the wet paste and add it to the chicken
Add salt, curry leaves, sliced onions, turmeric and mix well.
Cook on low heat in a pressure cooker for four whistles. Avoid using a pressure cooker if you are using a broiler chicken.
Once done, let the pressure from the cooker release.
Open the lid and remove some of the chicken pieces. Keep aside for the sukka preparation.
Add coconut milk to the chicken gravy.
Stir and let it come to a boil.
Kori gassi is ready for garnishing.
For kori sukka
Heat a generous quantity of edible coconut oil in a pan.
Add mustard seeds and let them splutter.
Add the remaining sliced onions, crushed garlic and curry leaves. Stir till onions turn brown.
Remove half of this mixture using a ladle and add it as tadka to the kori gassi.
Add the dry masala to the pan. Mix well on medium or high flame.
Reduce the flame and add the chicken. Mix slowly.
Cover and cook for five minutes.
Kori sukka is ready.
Watch the video and learn how to prepare Mangalorean kori gassi and chicken sukka.
---
Readers do you have an interesting monsoon recipe to share with us?
Share your recipes along with pics and we will publish them right here on Rediff.com!
You can also mail them to getahead@rediff.co.in (subject: Monsoon Recipes) along with your NAME, AGE and the place where you LIVE.