Dietitian Jasleen Kaur shares four delicious and simple tea-time recipes for your post-lunch hunger pangs.
If you have a healthy recipe to share, write to us at getahead@rediff.co.in.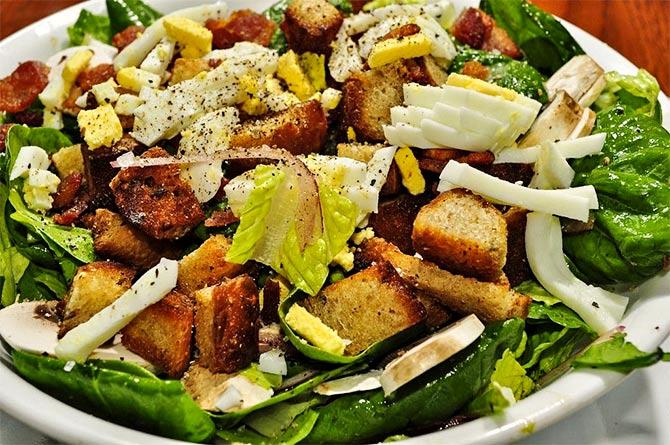 Photograph: Kind courtesy jeffreyw/Creative Commons
Egg Chaat
Ingredients:
Whites of a hard-boiled egg
½ onion, chopped
½ cucumber
2 green chillies, chopped
15 fresh mint leaves
¼ tsp table salt
¾ cumin seeds, roasted and crushed
¼ red capsicum, chopped
2 tsp of green chutney
Method
Place the onion, cucumber, green chillies, chopped mint and coriander in a large bowl.
Cut each egg half into four slices, lengthways.
Add the salt, chaat masala , crushed cumin seeds, mint chutney to the bowl and mix.
Add egg to the mixture.
Make a bed of lettuce and serve the chaat.
---
Cornflakes Chaat
Ingredients:
2 cups cornflakes
1 onion, chopped
1 large cucumber, chopped
1 cup pomegranate
¼ tsp of table salt
1 tsp chaat masala
2 tsp of fresh coriander
2 tsp of lemon juice
Method:
In a large bowl combine all ingredients toss it well.
Add cornflakes and lemon juice.
---
Green Channa Chaat
Ingredients:
1 cup of dried green gram dal soaked overnight.
1-2 onion, chopped
1-2 tomatoes, chopped
2-3 green chillies, chopped
2 tsp fresh coriander
½ tsp of blacksalt
1 tsp of chaat masala
2 tbsp lemon juice.
Method:
Pressure cook the soaked Bengal gram with water till the pressure is released two or three times or till cooked.
Transfer the gram to a non-stick kadai and cook on low heat till water evaporates.
Add all the ingredients mentioned above and mix well.
---
Vegetable Cutlet
Ingredients:
2 potatoes boiled, peeled and mashed
3 tsp blanched beans
3 tsp of grated cauliflower
3 tsp of carrot, chopped
2 tsp oil
Ginger garlic paste
Green chilli paste
Salt to taste
Method:
Mix potato, beans, cauliflower, carrot, green peas, ginger garlic and green chilli paste and salt.
Roll it and grill on a non-stick pan.
---
Dear readers, do you have an healthy food recipe that you'd like to share with us?
Simply write in to getahead@rediff.co.in (subject line: Healthy recipes) with your NAME and HOMETOWN, along with a photograph of the dish.
We will publish the best ones right here on Rediff.com.
More recipes and food features here!