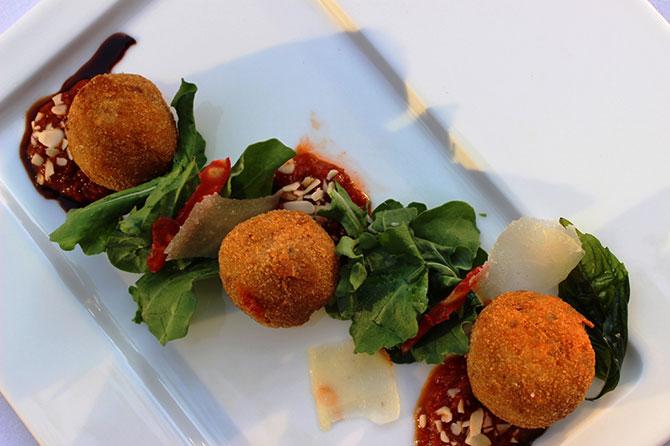 What is the best dish you cooked in 2015? Share your recipes with us!
With 2015 coming to a close, Rajul Hegde asked these celebs what was their favourite dish that they cooked this year.
You too can share your favourite recipe from 2015 and tell us about your fondest food memories.
Here's what your favourite actors and chefs cooked in 2015!
---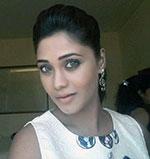 When it comes to food, actor Amrapali Gupta (pictured left) from the serial Qubool Hai is quite a quick thinker.
Here, she talks about the time she made Rasmalai for her friends.
"We had some family friends came over to our place.
"I was newly married and as I am an actress all were excited to see me. But they wanted me to cook something sweet for them.
"I want to be creative so I decided to prepare Rasmalai since rasgullas were already there at home.
"I prepared it again this year as a prasad when I got to know that I am expecting my first child.
"It's a quick and simple recipe."
Rasmalai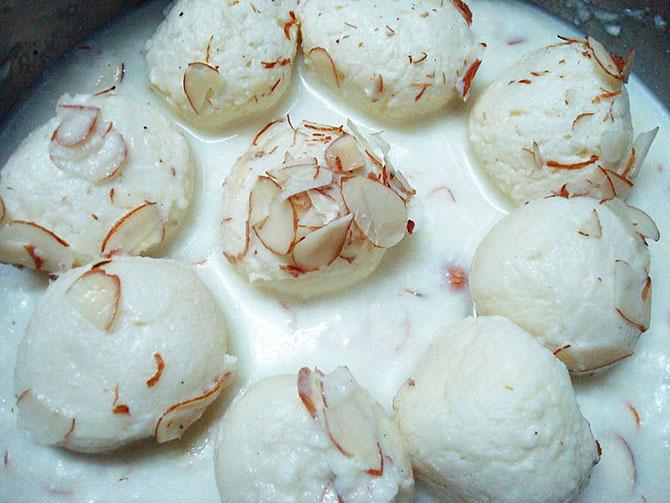 Image: Dharmadhyaksha/Wikimedia Commons
Ingredients
6 to 8 readymade rasgullas
1/2 cup condensed milk
2 cup milk
10 to 12 saffron strands
2 tbsp chopped pistachio
Method
Take ready made rasgullas and drain excess syrup by squeezing each ball gently between two flat spatulas or spoon.
Make rabri by cooking condensed milk, milk and saffron strands until it becomes thick and creamy.
Add rasgullas and chopped pistachio in rabri and cook for five minutes.
Instant rasmalai is ready.
---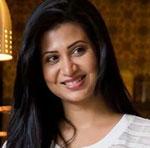 Actor Parineeta Borthakur of Swaragini fame is quite a creative person off stage as well.
She made an interesting recipe out of rasgullas and impressed her guests.
"I am a pure vegetarian. In fact I don't even eat onion and garlic.
"I cook and serve only vegetarian food.
"So this year during Krishna Janmashtami, I had made an interesting recipe using rasgulla which all my guests loved."
Masala Rasgulla
Image courtesy : Madhumathi Muthukumaran/Tricksandtreats and Clinton Jeff/Creative Commons
Ingredients
5 to 6 ready made rasgullas
2 tbsp butter
Tomato puree (from 5 to 6 tomatoes)
1/4 tsp chilli powder
1/2 tsp of garam masala powder
1 tbsp fresh cream
4 tbsp milk
Salt as required
Method
Slightly squeeze the ready made rasgullas to drain the syrup and soak it in plain water.
Heat butter in a pan. Add tomato puree (4 to 5 tomatoes) and saute till oil starts leaving the sides.
Add chilli powder and garam masala powder and saute for two minutes.
Add fresh cream and milk.
Add some water and salt.
When the gravy is cooked add rasgullas. Cover and simmer for 3 to 4 minutes to let the rasgullas soak up in the gravy.
Garnish with kasuri methi and serve hot with rice or roti.
---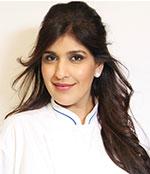 Chef Rakhee Vaswani gave the traditional Indian mithai a twist.
"I love making Indian gourmet desserts, it is my forte.
"This year I experimented greatly with authentic regional sweets and combining them with western presentation, palates and flavours.
"My Baked Boondi Gulab Jamun Cheesecake and Chenna Tiramisu were complete sell outs.
"We also did a lot of master classes and an entire line on making regional sweets gourmet with a signature western twist."
Chenna Tiramisu Shots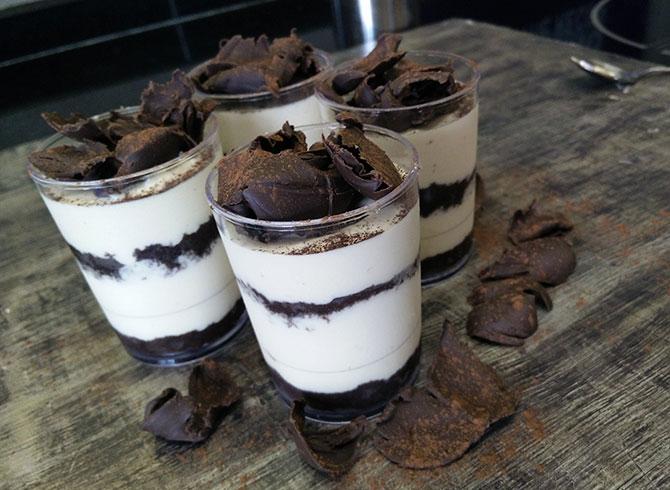 Image: Courtesy Chef Rakhee Vaswani
Ingredients
100 gm chocolate cake
100 gm fresh Chenna
1 cup whipped cream
1/4 cup ready custard
100 ml condensed milk
1 cup strong espresso coffee
20 ml kahlua
4 shot glasses
Method
Add kahlua to the coffee mixture, stir and keep aside.
In a bowl add the chenna, custard and condensed milk and blend well till there are no lumps
Fold in the whipped cream. Add some of the coffee mixture and put this in a piping bag.
Put a layer of chocolate cake in the shot glass. Pour the coffee mixture to moisten it.
Pipe a layer of the Tiramisu mixture on the cake.
Repeat the cake and Tiramisu layer.
On top dust with cocoa powder and shavings of chocolate
Chef's Tip: You can add an extra 20 ml of kahlua for a nice strong flavour.
---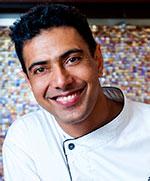 Chef Ranveer Brar loves Italian cuisine and here, he shares a recipe he tried with the quinoa.
"As an ardent lover of Italian cuisine, this turned out to be one of my most enjoyable experiences of whipping something as exciting as an Arancini but with quinoa, the superfood.
"I wouldn't call it a completely healthy version of an original Arancini but an experimental, fun version instead.
"The Neapolitan sauce is the perfect accompaniment to an Arancini, adding just the right amount of zest and flavour required to make it a complete meal.
"It's definitely a more interesting version than the regular Arancini, also a rendition I personally enjoy"
Quinoa Arancini Alla Napolitana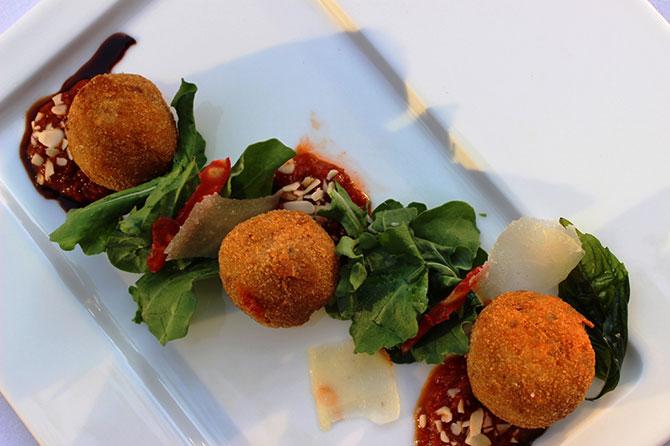 Image: Kind courtesy chef Ranveer Brar
Ingredients
1/2 cup button mushrooms quartered
1/4 cup quinoa soaked
1 tsp fresh thyme, chopped
4 tbsp brown rice soaked
1 medium sized onion finely chopped
1 tsp olive oil
1 tbsp butter
1 tsp garlic finely chopped
1/2 cup white wine
2 to 3 cup vegetable stock
Salt to taste
Crushed peppercorns to taste
1/4 cup grated processed cheese
2 tbsp fresh cream
1 cup breadcrumbs
1/4 cup mozzarella cheese
Method
Heat olive oil in a deep non-stick pan.
Add butter and onion and saute till onion becomes translucent.
Add garlic and fresh chopped thyme and saute further for half a minute.
Add white wine and mix well.
Add button mushrooms and drained quinoa and mix well.
Drain and add brown rice with 2 cups water and mix well. Cook for 5 to 7 minutes.
Add vegetable stock, salt and crushed peppercorns and cook till the rice is done.
Add grated cheese and mix well.
Add fresh cream and mix well. Cook till the water reduces to half and almost dry.
Transfer onto a platter and cool down.
Add mozzarella cheese and mix well.
Divide into small size ball and roll into breadcrumbs to coat.
Working in batches, add the rice balls to the hot oil and cook until brown and heated through, turning them as necessary, about 4 minutes.
Using a slotted spoon, transfer the rice balls to paper towels to drain. Serve immediately.
Napolitana Sauce
Ingredients
500 gm roma tomato peeled chopped
200 gm onion finely chopped
100 gm tomato paste
3 garlic clove finely chopped
1/4 cup olive oil
10 to 12 fresh basil chopped
1 tsp sugar
1 tsp salt and pepper to taste
Method
Heat oil in saucepan. Add garlic and onion and cook until translucent.
Add tomatoes and tomato paste, stir and bring to the boil.
Add sugar and basil, stir and reduce heat to low. Leave to simmer for 1 hour, stirring occasionally.
Add salt and pepper to taste.
Simmer further for approximately a further hour, until oil separates from the sauce.
Use a potato masher to make the sauce a smoother consistency.
Salad
1 cup Arugula lettuce
3 to 4 sundried tomatoes
Salt and pepper to taste
1 tsp olive oil
1/2 tsp lime juice
Parmesan shavings as required
Method
To serve, spread napolitana sauce at the bottom. Place Arrancini balls and salad on top. Serve immediately.
What is the favourite thing you cooked in 2015? Tell us!
Send your recipes to getahead@rediff.co.in (subject: My favourite 2015 recipe) with your name, hometown and any interesting details about the origin of the recipe, along with a photograph if possible. We'll publish the best preparations right here on Rediff.com and in India Abroad.