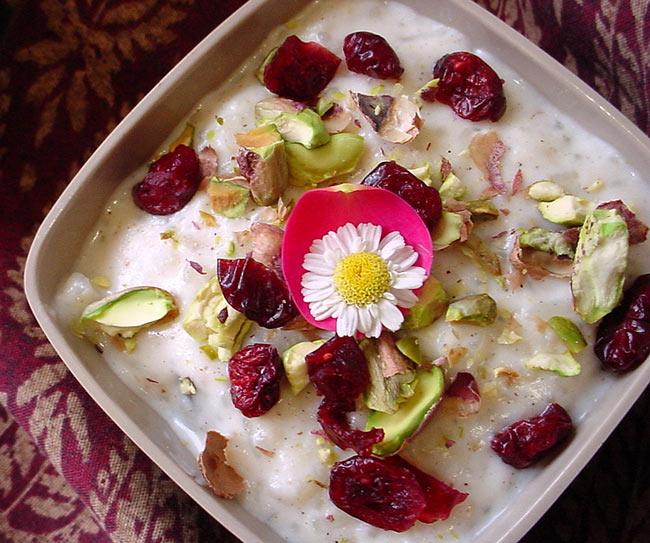 Shahi Kheer
This Ganeshotsav prepare these sweet offerings.
Also see:
Recipe: How to make Modak, Ganesha's favourite sweet
Ganpati recipes: Sundal, Mango Sooji Sheera, Tendli Bhaat
---
Shahi Kheer
This traditional kheer garnished with an assortment of nuts is popular across the country and makes for a perfect festive treat.
Ingredients
1 small bowl of whole wheat
1/2 bowl of rice
Pinch of cardamom and nutmeg powder
Dry fruits as per your choice (kaju, badaam, pista)
Sugar as per taste
500 ml of milk
1 to 2 tsp of pure ghee
A pinch of saffron
Method
Wash and rinse the rice and wheat thoroughly.
Slightly crush the whole wheat in a mixer.
Slightly crush the rice. Do not crush the rice and wheat together as rice turns into powder sooner than wheat.
Heat pure ghee in a pressure pan.
Add crushed wheat and rice. Sauté for 2 minutes.
Add 1 glass of water and cover with lid with the whistle. Let it cook on medium flame for 5 to 6 minutes.
Turn off the flame, open the lid after it cools.
Add boiled milk, sugar, dry fruits (badaam, pista, kaju), pinch of kesar, cardamom and nutmeg powder. Let it boil (without lid) on medium flame for 5 to 10 minutes.
Shahi Kheer is ready to be served.
Tip: Do not add raisins directly in boiling kheer as milk will turn into curd and the kheer will be spoilt. You may add the soaked raisins in the kheer after the kheer cools down.
---
Sweet Appams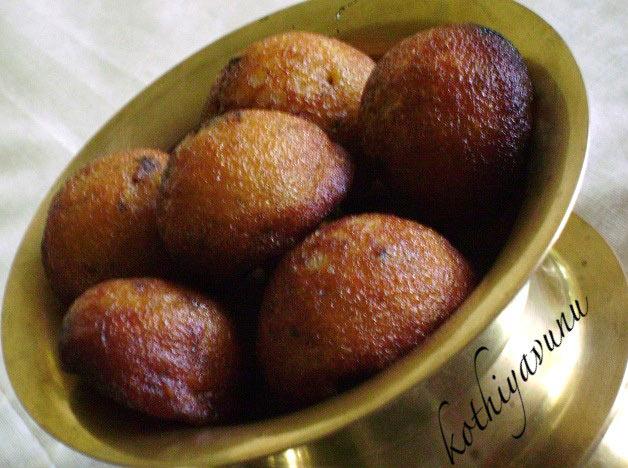 Sweet Appams
Ingredients
3 small cups of rawa
2 same sized cup of sugar
1 to 1 1/2 same sized cup of grated coconut
A pinch of saffron, cardamom and nutmeg powder
Dry fruits as per choice (raisins, cashew nuts, almonds, pista)
3 cups boiled milk
1 ripe crushed banana
A non stick Appakarai or Appakaram -- the mould in which appam is made
Method
Mix all ingredients in a vessel and allow it to set for 3 to 4 hours.
The consistency of the mixture should be like idli or dhokla batter.
If the batter looks too dry you can add some milk as per requirement.
To make appams, heat the Appakarai on medium flame.
Add 1 tsp of oil/ghee in each cup.
With the help of small teaspoon, slowly pour the batter in each cup.
When the edges of the appams start turning golden brown, it means one side of the appam is cooked.
Turn the appam to cook the other side.
Remove after they turn golden brown.
Place them on a tissue paper to soak off the excess oil/ghee.
Serve hot.
Tips: Do not cook the appams on high flame as the outside layer will cook faster leaving the inner part uncooked.
Liked this recipe? Click here for more interesting recipes and food features!
Do you have a favourite you'd like to share with us?
Please e-mail your recipe to getahead@rediff.co.in(subject line: 'Ganesha recipes') with your name, hometown and any interesting details about the origin of the recipe, along with a photograph, if possible.
We'll publish the best preparations right here on rediff.com and in India Abroad.