Why should breakfasts be boring?
Take the idli up a notch by replacing rice and urad dal with besan or gram flour and rava.
Rustle up a batch of savoury Besan Idlis in less than 30 minutes using Doha-based homemaker Kajal Saini's recipe.
There's no need to ferment your batter overnight and it's super light on the tummy.
A brilliant addition to your breakfast menu, it can be served warm with tomato, coconut and/or green coriander chutney.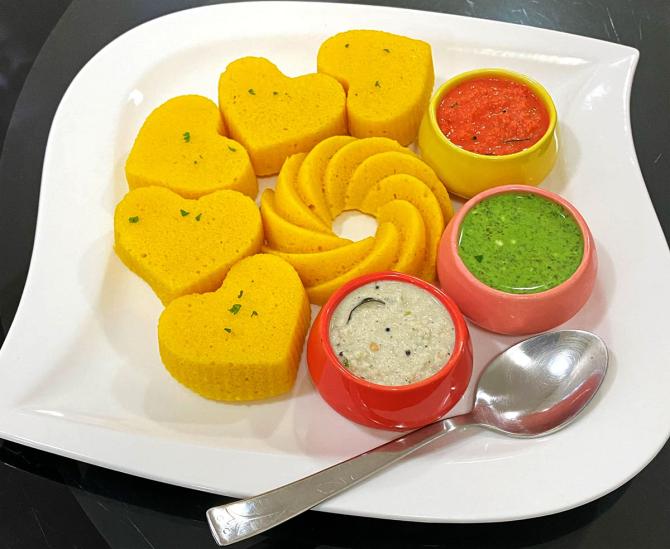 Instant Besan Idli
Serves: 3-4
Ingredients
For the batter
1 cup besan or gram flour, sieved
100 gm rava or semolina
1 tsp ginger-garlic paste
1 tbsp or less sugar
Pinch salt
1 tbsp lemon juice
¾ cup curd or yoghurt
½ cup water or as required
1 tsp Eno or baking soda, optional
For the green chutney
1 cup green dhania or coriander or cilantro leaves
2 green chillies, roughly chopped
1 tbsp sugar
2 tbsp bhujia sev
1 inch ginger
¼ tsp black salt
½ tsp jeera or cumin powder
¼ tsp salt
1 cup curd or yoghurt
Oil for greasing the idli moulds
For the garnish or tadka
1 tbsp oil
1 tsp rai or mustard seeds
2 green chillies, finely chopped
Sprig curry leaves
1 tsp sugar
1/3 cup water
½ tsp salt
1 tbsp lemon juice
Method
In a bowl, combine the gram flour, rava, ginger-garlic paste.
Add sugar, salt.
Add the lemon juice, curd and mix well to avoid lumps.
Add a little water slowly and stir in one direction to form a semi-thick batter.
The consistency should be that of the idli batter.
Keep aside to set for 15 minutes.
If preferred, add the Eno or the baking soda to quicken the fermentation process; the idlis will turn out softer.
Add a few drops of water and mix well.
If not using Eno or baking soda, leave the batter to ferment overnight or for 4-6 hours during the day.
Grease the moulds in an idli stand with oil.
For kids, or to make the idlis look interesting, use moulds of different shapes.
Fill some water in a steamer or pressure cooker and place it over medium-low heat.
Pour a ladleful of the batter into each of the moulds.
Remember the batter will rise up by half an inch, so do not fill up the moulds to the brim.
Place the moulds or idli stand in the steamer or pressure cooker, secure the lid and steam for 10 minutes without the whistle or weight.
Turn off heat and allow the steamer to rest for 15-20 minutes before you open it.
Use a toothpick to check if the idlis are done.
Keep aside to cool a little.
For the green chutney
Grind all the ingredients, except the curd, in a mixer/blender.
Add the curd in batches and blend to make a smooth paste.
For the garnish or tadka
In a small kadhai, heat the oil.
Add the mustard seeds and let splutter.
Add the green chillies, curry leaves, salt and mix well.
Take off heat and add the lemon juice.
Transfer into a small bowl.
To assemble
Plate the idlis, garnish with the tadka and serve warm with green chutney.
Do you have any recipes to share? Please mail the recipe(s) to getahead@rediff.co.in (SUBJECT: RECIPE) with photographs/videos of the recipe, your name, location and a photograph of yours.