Why wait for a wedding to have this sumptuous preparation made from flavoured rice cooked in milk?
Have you tried the Zarda yet? Here's the recipe
Zarda is a traditional preparation made from sweetened rice and is usually served at weddings in certain parts of India.
It comes in various colours and flavours, depending on the ingredients that are added to the rice.
Here's a simple recipe:
Zarda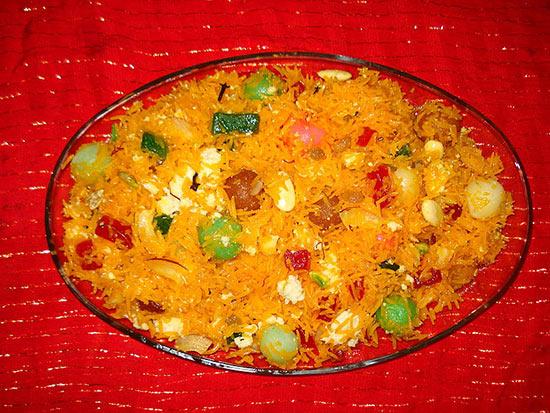 Ingredients
1 cup Basmati rice
1 1/2 cup hot water
3/4 cup milk
3/4 cup sugar
A pinch of saffron
1 cup nuts (almonds, cashews, pistachio, etc)
1 cup dried fruits ( preferably cranberry, raisins, zardaloo, all seedless)
1 cup pineapple pieces
1/2 cup coconut (thinly sliced)
2 tblsp ghee or butter
1/2 tsp orange rind zest
1/4 tsp cardamom powder
1 pinch orange edible food colour
2 tblsp khoya (grated)
Method
Wash the rice and soak it for 15 to 20 minutes. Drain off the water.
Warm the milk slightly. Add the saffron strands and sugar.
In a pan heat the ghee or butter and fry the nuts and dry fruits on a low fire till the nuts turn golden brown and the dry fruits swell up.
Add the coconut slices, Pineapple, and drained rice, in the same oil.
Fry till the aroma is released.
Add hot water and orange zest to this.
Reduce the flame, cover with a lid and let it cook for 10 minutes.
After the rice is 3/4th cooked, add sweetened milk with saffron and cardamom powder.
Cover again and let it cook on very low heat for another 10 to 15 minutes till all the liquid has been absorbed and the rice is fully cooked.
Using a fork, fluff up the rice gently and take it off the fire.
Garnish with grated khoya and serve.
Tip: Zarda can also be stored in jam jars in the refrigerator, without the khoya.
Photograph Courtesy: Miansari66/Wikimedia Commons
ALSO SEE: Recipe: How to make Carrot Barfi
Recipe: How to make Badaam Pak
Recipe: How to make besan ladoos
Liked this recipe? Click here for more recipes and food features!
Reader Invite
Do you have an interesting festive recipe to share?
Write in to us at getahead@rediff.co.in (subject line: 'Festive recipes') with your name, hometown and any interesting details about the origin of the recipe, along with a photograph if possible. We'll publish the best preparations right here on Rediff.com.