Rediff reader Asiya from Hyderabad shares a Moong Dal Khichdi recipe.
Moong Dal (yellow dal) Khichdi is easy to make and healthy too.
Here's the recipe: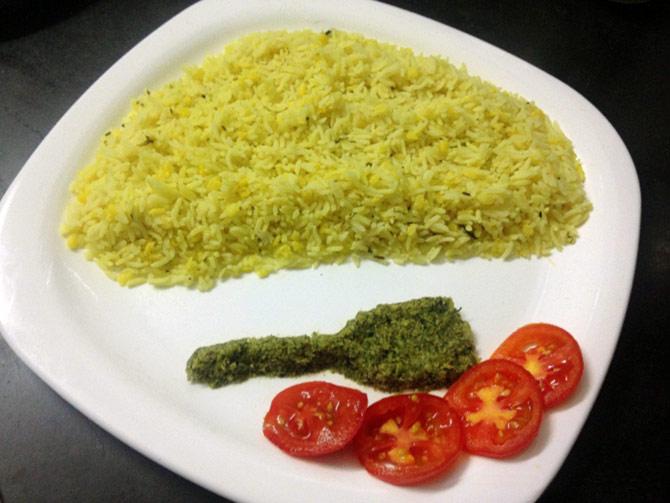 Ingredients
4 cups of rice
1 cup yellow moong dal
1 tbsp oil
Salt to taste
1 tbsp ginger garlic paste
1 large size onion finely sliced
1/2 tsp caraway seeds
1 small cinnamon stick
1-2 cardamoms
8 cups of water
1 tsp turmeric powder
4-5 slit green chillies
1 tbsp coriander leaves finely chopped
1 tbsp mint leaves
Method
Heat a cooking vessel, add oil.
Add cinnamon sticks, caraway seeds, cardamom and saute.
Add chopped onions and fry till they turn slightly golden brown.
Add ginger garlic paste and saute well to get rid of the raw smell.
Add moong dal, turmeric powder, coriander leaves, mint leaves, green chillies. Mix well and cook for a few minutes.
Add water (8 cups of water for 4 cups of rice).
Add salt. Bring it to a boil on medium flame.
Add washed rice, stir well. Allow the rice to cook on medium flame till all the water is absorbed.
Once the water is absorbed, cover the lid and cook for 3 to 4 minutes on low flame. This step ensures that rice is well cooked.
Pour ghee over the top and serve with any chutney or curry.
Photograph: Asiya
Liked this recipe? Click here for more interesting recipes and food features!
Want to share your favourite recipe? Simply e-mail your recipes to getahead@rediff.co.in (subject line: My Fav Recipe) with your name, hometown and any interesting details about the origin of the recipe, along with a photograph of the recipe, if possible. We'll publish the best preparations right here on Rediff.com and India Abroad.