Rediff reader Charulatha Rao shares a healthy breakfast recipe with us. You can share yours too!
Kodo millet is a nutritious grain and a good substitute to rice or wheat, says Charulatha Rao.
Here's the recipe of Kodo Millet Idli: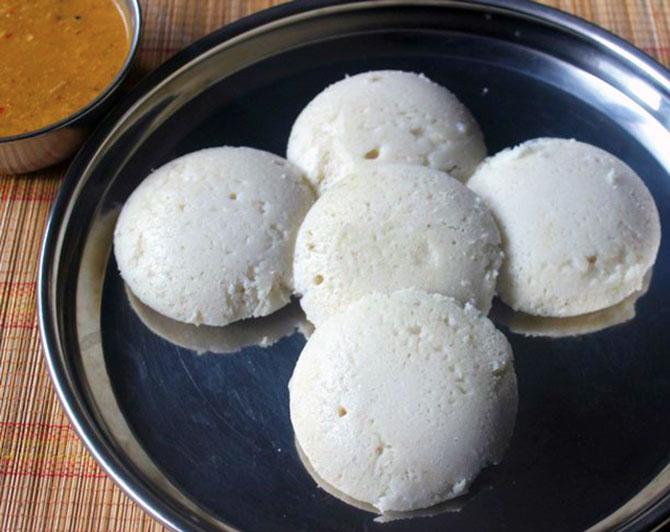 Serves: 3 to 4 persons
Ingredients
1 and 1/2 cup kodo millet
4 tbsp thick poha
1/2 cup whole urad dal
1 tsp methi (fenugreek) seeds
Salt to taste
Cooking oil for greasing idli moulds
Method
Wash and soak kodo millet and poha in water for 4 to 5 hours.
Wash and soak urad dal and methi seeds separately for 4 to 5 hours.
Grind soaked urad dal and methi seeds by adding little water till it becomes light and fluffy. Keep aside.
Grind soaked kodo millet and poha as well. Mix with urad dal batter. Ensure that the consistency of batter is that of regular idli batter.
Add salt and mix well.
Allow batter to ferment overnight (for at least 8 to 10 hours).
The resulting batter would have raised a bit in volume. Stir with a ladle.
Grease the idli mould with little oil and pour a ladleful of batter.
Steam or pressure cooker for about 10 to 12 minutes. If using a pressure cooker, steam without putting the whistle on the lid.
Allow the idli steamer to cool down before removing the idlis.
Serve soft and healthy idlis with sambaar, chutney.
Notes
Ensure that the idli batter is not too thick or too thin consistency. It should be of medium consistency.
You can use the same batter to make dosas. Add little water to the batter to be in a pouring consistency.
Adding methi seeds and poha makes the idlis softer.
Do not grind the kodo millet and urad dal together, as the idlis will not be soft and spongy.
Photograph: Charulatha Rao
Want to share your favourite recipe? Simply e-mail your recipes to getahead@rediff.co.in (subject line: My Fav Recipe) with your name, hometown and any interesting details about the origin of the recipe, along with a photograph of the recipe, if possible. We'll publish the best preparations right here on Rediff.com.