Five ingredients is all you need to make this sinful dessert.
Here's a simple dessert recipe to satisfy your sweet tooth.
And all it needs it five ingredients -- no oil, no seasoning!
Here's the recipe:
Chocolate Brownie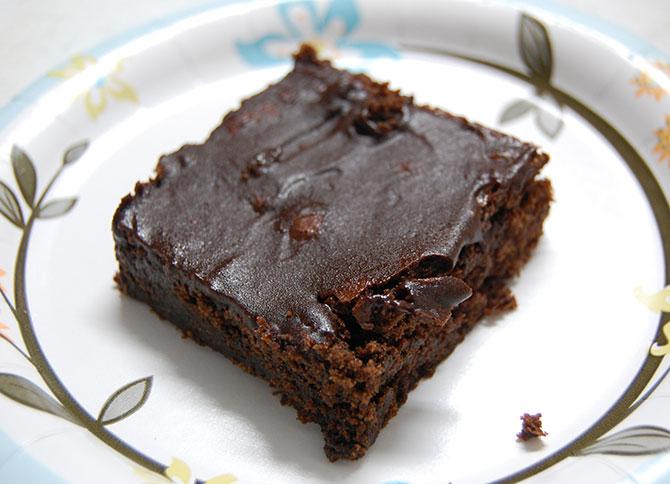 Ingredients
100 gm dark chocolate
175 gm unsalted butter
2 medium eggs
200 gm caster sugar
75 gm plain flour
50 gm chopped walnuts or cashewnuts (optional)
Method
Line a 12-inch square tin with butter paper or baking parchment.
Preheat the oven to 175 degree.
Place the chocolate, broken into bits, and butter in a thick-bottomed pan and melt over a very low heat.
Remove from the heat and stir in the sugar. Allow to cool a little.
Beat the eggs and stir into the chocolate mixture.
Gently fold the flour into the mixture, add the nuts (optional).
Pour the batter into the prepared tin and bake for about 20 minutes. Immerse a toothpick into the brownie to check. It should come out clean. Do not over bake.
Remove from the oven, allow to cool and cut into squares.
You should get 16 scrumptious brownies.
Lead image used for representational purposes only. Image: Mr Tender Branson/Creative Commons
ALSO SEE
Recipe: How to make Vegetable Croquettes
You can send us your favourite recipes too. Write in to us at getahead@rediff.co.in (subject: Favourite recipes) with your name, hometown and any interesting details about the origin of the recipe, along with a photograph if possible. We'll publish the best preparations right here on Rediff.com and in India Abroad.
>Click here for interesting recipes and food features!