Here's an interesting way to preserve mangoes. You can share your recipes too!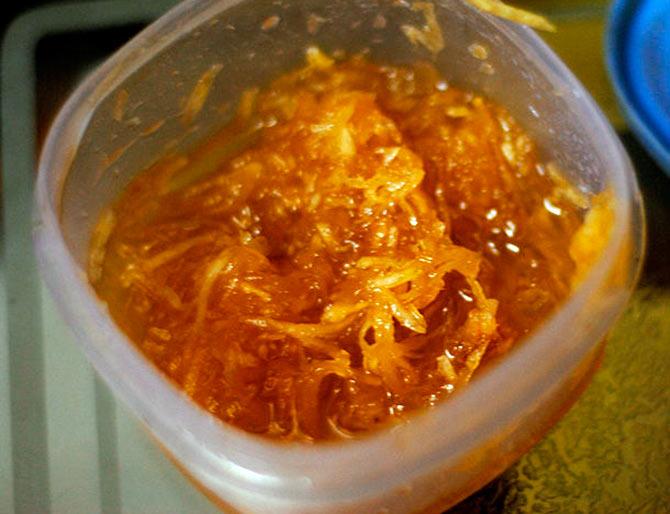 Summer is here and so are mangoes.
Rediff reader Coomi Selod shares a quick recipe for chhundo, a traditional sweet mango preserve, from her mother's book of recipes.
Ingredients
3 1/2 kg raw green rajapuri or malgoba mangoes (hard ones)
2 1/2 kg sugar
250 gm sea salt
30 gm jeera powder
20 gm red chilli powder
1 tsp turmeric powder
Method
Wash and dry the mangoes.
Peel the skin off, grate or shred the mangoes thickly, discard the seed.
Mix in all the spices salt and sugar. Place in a large deep thali or tray.
Cover with a muslin cloth and place in the sun to cook for 4-5 days.
Stir the mixture 2-3 times every day with a dry, clean wooden spoon.
Bring it in overnight and place in sun next day.
After five days it should be ready.
Test by taking a pinch of it. It has to be sticky and of single thread consistency.
Photograph: Noopur28/Creative Commons

Want to share your favourite recipe? Simply e-mail your recipes to getahead@rediff.co.in (subject line: My Fav Recipe) with your name, hometown and any interesting details about the origin of the recipe, along with a photograph of the recipe, if possible. We'll publish the best preparations right here on Rediff.com and India Abroad.
Loved this recipe? Click here for more interesting recipes and food features!