A grilled appetiser that is easy to make, hard to resist, says Divya Nair.
Ever since I saw the Broccoli Pops recipe online, I have been meaning to try it out myself. I finally did last week.
I made some tiny alterations to the original recipe which used eggs and chilli sauce.
Here's the tried-and-tested recipe:
Broccoli Pops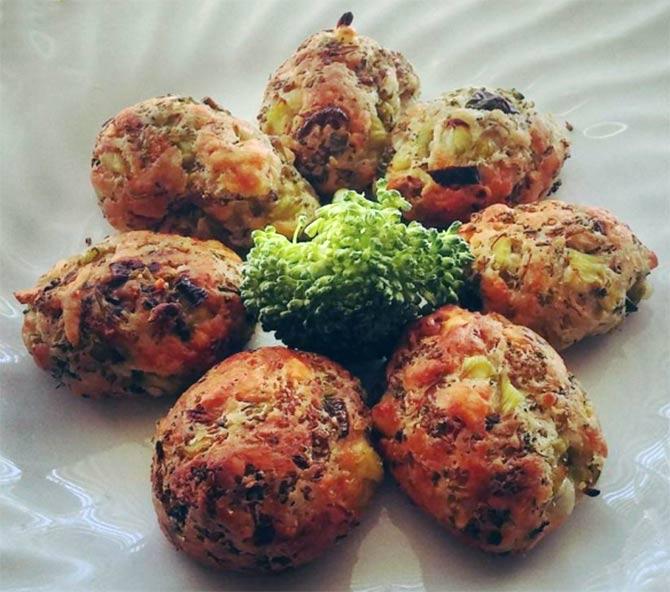 Ingredients
250 gm broccoli
100 gm grated cheese
1 tbsp ginger-garlic paste
1 tsp finely chopped green chillies
2 tbsp bread crumbs or all purpose flour
Salt to taste
Method
Heat water in a deep bottomed pan. Add broccoli and boil for up to two minutes.
Drain the water and finely chop the broccoli.
In a pan, add broccoli, cheese, ginger garlic paste, chillies, salt and bread crumbs (or all purpose flour).
Add salt and bind them well to make a thick dough.
Refrigerate for 20 minutes.
Meanwhile pre-heat your oven to 150 degree.
Take out the broccoli dough and make small balls.
Grease grilling pan with some oil and arrange the broccoli pops.
Grill for 10 to 15 minutes.
Serve hot with sauce of your choice.
Note: If you do not have an oven, you may also coat the broccoli balls with bread crumbs or oatmeal and fry them in oil. You may drain the excess oil using a tissue paper.
Photograph: Divya Nair/Rediff.com
Click here for interesting recipes and food features
Do you have an interesting recipe to share? Write in to us at getahead@rediff.co.in (subject: My Fav Recipe) with your name, hometown and any interesting details about the origin of the recipe, along with a photograph if possible.
We'll publish the best preparations right here on Rediff.com and in India Abroad.