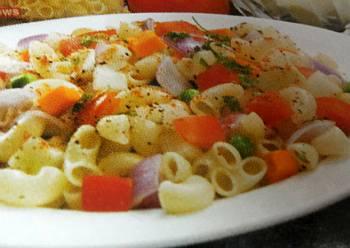 We'd asked you, dear readers, to suggest recipes to substitute the 2-minute Maggi!
Reader Dhiraj Naidu shares this simple macaroni recipe.
Here's how to make Macaroni with soya and tomato:
Ingredients
1 cup macaroni
1 cup soya granules
1 chopped onion
3 to 4 tomatoes, chopped
Chopped green chilli, as per taste
Fresh coriander leaves and onion for seasoning
1 tsp ginger garlic paste (or chopped)
1 pinch garam masala
Salt to taste
Method
Boil 5 cups of water with I tsp of salt and 1/2 tsp of oil. Add macaroni.
Strain it after it is cooked and run under cold water. Keep it aside.
Soak soya granules in water for 5 min. Drain. Squeeze out excess water.
Heat 1 tsp oil in a pan. Add chopped onions, ginger-garlic and green chillies. Cook for a few minutes.
Add tomatoes, garam masala. Mix well and let it cook for a few minutes.
Add soaked soya granules. Mix well.
Add boiled macaroni, salt and mix well.
Turn off flame and garnish with chopped onions and coriander leaves.
ALSO SEE
Sevai Upma, a delicious alternative to Maggi!
Email us your recipes with a picture of the dish to getahead@rediff.co.in (subject: Maggi alternatives) and we will publish the most interesting recipes right here on Rediff.com!
What are you waiting for? Hurry!
> More recipes and food features here
Photograph: Dhiraj Naidu