Chef Kalia Murthy, chef de cuisine, Elior India shares two healthy recipes for Navratri.
Sabudana Khichdi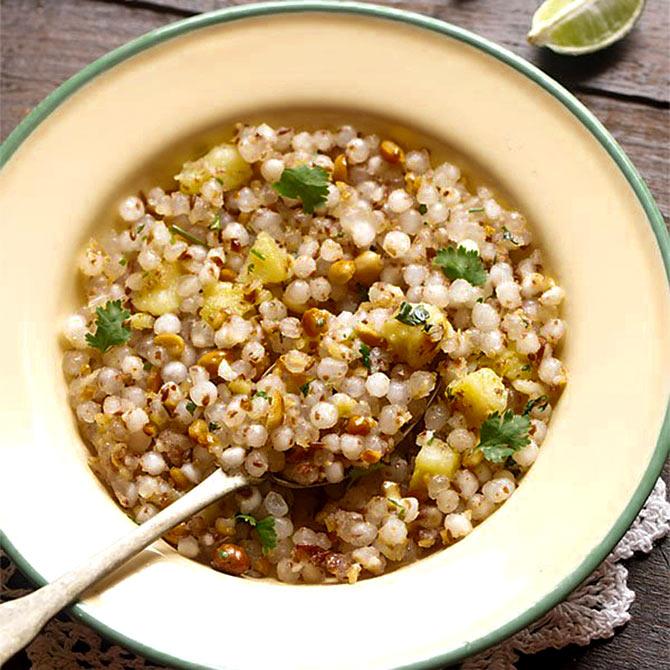 Ingredients:
250 gm sabudana
50 gm potatoes
50 gm roasted peanuts
5 gm curry leaves
5 gm grated ginger
10 gm green chili chopped
15 gm cumin
¼ cup grated fresh coconut
5 gm sugar
5 ml lemon juice
25 gm ghee
Rock salt
Coriander leaves, chopped
Method:
Rinse sabudana twice in water and then soak it overnight or for 3 to 5 hours. Drain the sabudana and keep aside in a bowl.
Cut the potatoes into cubes and blanch in hot water. Dry roast the peanuts till browned and when cooled make a coarse powder in a mortar-pestle. Mix the coarsely powdered peanuts, salt and sugar with the drained sabudana.
Heat ghee, fry the cumin first till they crackle and turn brown. Add curry leaves and green chilies. Fry for a few seconds and then add the grated ginger. Saute for a couple of seconds till the raw smell of the ginger goes away. Add cubed boiled potato and saute for a minute. Add sabudana. Keep on stirring often on a low flame for 4 to 6 minutes. When the sabudana loses its opaqueness and starts becoming translucent it is cooked. Don't overcook as it might become lumpy and hard.
Remove from the flame and add lemon juice and chopped coriander leaves. Mix well. While serving garnish with coriander leaves and drizzle with some lemon juice. Serve hot.
---
Rajgira Roti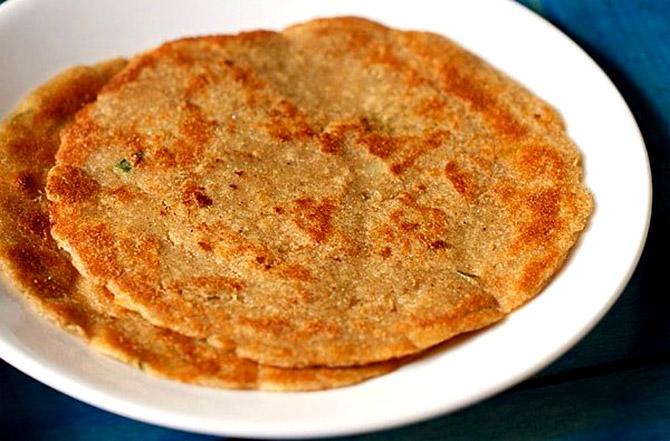 Ingredients:
¾ cup amaranth flour (rajgira atta)
¼ cup atta
100 grams potatoes
½ tsp cumin powder
2 green chilies, chopped
Rock salt
Ghee or oil
Method:
Boil potatoes and mash it. Mix amaranth flour atta with salt and cumin powder. Add chopped green chilies and mashed potatoes. Knead it to a smooth dough and make into medium-sized balls. Dust with amaranth flour and roll to a medium-sized paratha. While rolling add some more flour.
Fry the paratha on a hot tava. When one side is partly cooked, flip with the help of spatula. Apply ghee or oil on top. Cook the paratha until become evenly golden and roasted. Serve with curd or any curry meant for fasting.