Chef Ananya Banerjee shares her special recipe for rajgira puri with potato and red pumpkin sabji.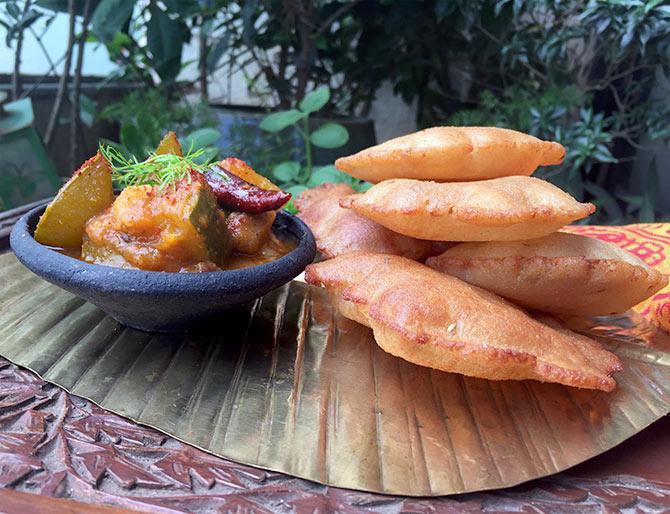 Ingredients:
For the puri:
1 cup of rajgira or amaranth flour
1 boiled potato
1 tsp salt
Water as required
Oil to deep fry
For the potato and red pumpkin sabji:
1 cup boiled potato
½ cup boiled red pumpkin (optional)
1 tsp panch foron or Bengali five spices
2 dry red chillis
½ tsp ground green chilli
1 tsp turmeric powder
1 tsp chilli powder
1 tsp cumin powder
1 tsp coriander powder
1 pinch of hing powder
1 tbs mustard oil
1 tsp sugar
Salt to taste
Method:
Knead the amaranth flour well with the boiled potato, ghee, salt and water to form a dough. Let it rest for 10 minutes. Make small balls and roll out each ball in between two sheets of cling film. (Amaranth flour has no gluten content, so unlike other flour, it is very difficult to roll. Cling film makes it easier to roll.)
Deep fry the puris in hot oil.
For the potato and red pumpkin sabji:
Method:
Heat mustard oil in pan. Add dry red chilli, panch foron and hing. Saute for 1 minute.
Add the boiled potato and pumpkin mixture. Add turmeric, chilli, cumin and coriander powder. Mix well. Add ground green chili powder, salt to taste and sugar. Cook for a minute.
Add water to adjust the consistency of the gravy.