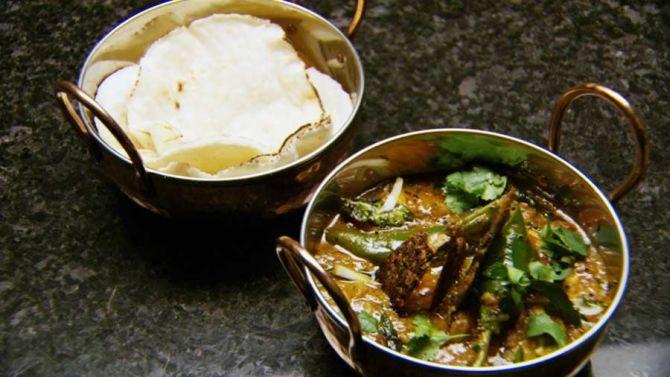 Missing Goa? Here's how you can you feel close to this exotic location.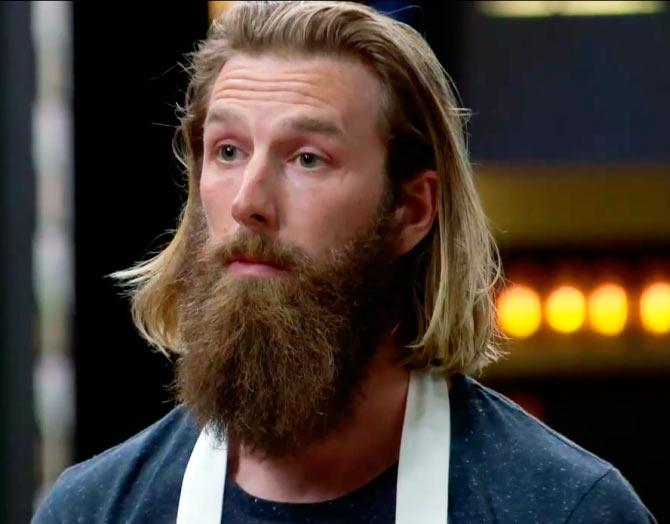 Photograph: Kind Courtesy Masterchef Australia Jarrod Trigg/Facebook
You might have had this dish in Goa.
But you need to try Chef Jarrod Trigg's recipe.
It is a perfect balance of tangy and spicy!

Here's the recipe.

Goan Fish Curry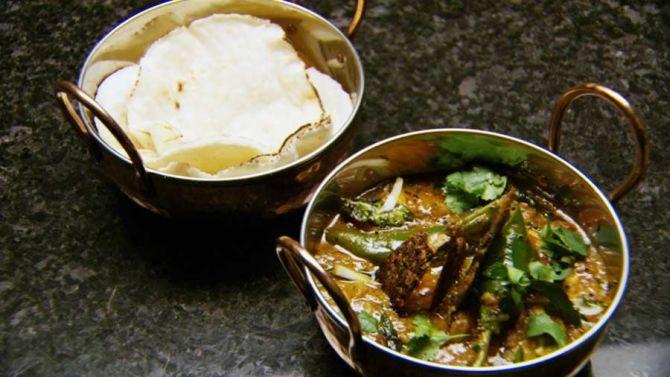 Ingredients
1 1/2 tbsp coriander seeds
2 tsp cumin seeds
2 to 4 dried red chillies to taste
1 tbsp garam masala
50 gm ghee
1/2 onion (finely chopped)
20 gm fresh ginger (peeled and finely grated)
20 gm fresh turmeric (peeled and finely grated)
3 cloves garlic (finely grated)
1 tomato (roughly chopped)
3 tbsp tamarind paste
1 tbsp caster sugar
400 ml coconut cream
200 ml fish stock
2 long green chillies (sliced lengthways)
600 gm boneless trevally, skin on
1 tbsp olive oil
10 fresh curry leaves
2 tsp mustard seeds
1 tbsp vegetable oil
Salt to taste
For flatbread
250 ml water
2 tbsp vegetable oil
1 tsp salt
1 cup rice flour
Ghee for spreading
For garnishing
Coriander leaves
Fresh coconut (shaved)
Method
Preheat oven to 180 degree Celcius. Place two baking trays in the oven.
Make the spice mix with coriander seeds, cumin seeds, dried chillis and garam masala in a frying pan.
Dry roast until fragrant. Remove from heat.
Remove the chillis from the pan. Soak them in hot water until soft for about 10 minutes.
Place the roasted spices and soaked chillis in a mortar and pestle and crush to a paste. Set aside.
Put ghee in a saucepan and set over medium heat.
Add onion, ginger, turmeric and garlic and cook until tender.
Add three fourth of the spice mix and stir until fragrant.
Add tomato, tamarind paste and caster sugar. Cook until the liquid evaporates and everything has broken down.
Add coconut cream, fish stock and green chilli. Season to taste. Leave to simmer for 15 to 20 minutes.
Remove trevally skin from fillets and reserve. Cut fillets into 4 cm pieces. Set aside.
Remove trays from oven. Lay the skin flat on a piece of baking paper and place on the hot, upside down baking tray.
Rub skin with remaining spice mix. Drizzle with olive oil and sprinkle with salt.
Cover with baking paper. Place the other hot baking tray on top of the skin.
Weigh it down with something heavy and oven proof. Place in the oven to roast until crispy for around 25 minutes. Remove from oven and set aside.
Bring water, oil and salt to a boil in a small saucepan.
Once it starts to boil, decrease heat.
Add rice flour and stir until combined. Remove from heat and transfer to a bowl to cool.
Once dough is cool, break dough into small golf ball sized pieces.
Use extra rice flour for dusting. Roll out balls to 2 mm thick.
Place a frying pan over high heat. Once hot, decrease heat to medium.
Place flatbread pieces on the pan and allow to cook until golden for about two minutes on each side.
Spread a small amount of ghee over the bread to ensure it does not dry out.
Set it aside wrapped in a tea towel to keep warm. Repeat with remaining flat bread dough.
Add the reserved trevally to the curry and allow to simmer gently until just cooked for two to three minutes. Season.
While the fish is cooking, place vegetable oil in pan over medium heat.
Fry curry leaves and mustard seeds until fragrant. Remove with slotted spoon and add half to curry and reserve half for serving.
To serve
Divide curry between bowls.
Break skin into pieces and add to the bowls.
Sprinkle over fried curry leaves and mustard seeds. Garnish with fresh coriander and coconut.
Serve with flatbread.
MasterChef Australia Season 8 airs at 9 pm, Monday to Friday on Star World and Star World HD in India.
Have an interesting recipe to share?
Write in to us at getahead@rediff.co.in (subject: Recipe) with your name, hometown and any interesting details about the origin of the recipe, along with a photograph if possible.
We'll publish the best preparations right here on Rediff.com and in India Abroad.