Christmas recipes from Masterchef Pankaj Bhadouria.
What's your favourite Christmas recipe? Tell us!
Christmas celebrations are incomplete without plum cake and cookies.
Chef Pankaj Bhadouria, who hosts the Kifayati Kitchen show on Zee Khana Khazana tells us how you can make them at home.
Sugar Cookies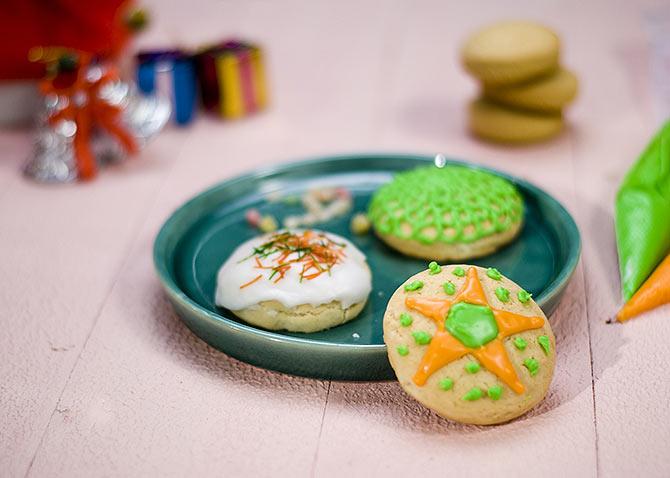 Preparation time: 30 minutes
Cooking time: 10 to 12 minutes
Serves: 3-4
Equipment required: Piping bags, baking tray, oven, mixing bowls
Ingredients
1 cup refined flour
1 tsp baking powder
1/2 tsp baking soda
60 gm margarine
1/2 cup castor sugar
1 tsp vanilla essence
1 egg
For glaze
1 1/2 tsp icing sugar
A few coloured sprinklers
1 tsp icing sugar
1 tbsp egg white
1/2 tsp green food colour
Method
Sieve the flour into a bowl.
Add the baking powder and baking soda. Mix well.
Once again, sieve this mixture so that the ingredients mix well.
Take some margarine. Add castor sugar and vanilla essence.
Beat an egg but add only half of it to the mixture.
Beat everything together again.
Gradually add flour as your beat to make a soft dough.
Wrap this dough in plastic and stow it away in the fridge.
Remove the dough after a while and dust it. Then roll it out.
Using a cookie cutter, cut out circular shapes.
Put the cut outs on a baking tray leaving some space between each.
Bake at 180 degrees for around 10 to 12 minutes.
For the glazing
Take some icing sugar. Add a little water.
After they are set, dip the cookies in the glaze. You can use coloured sprinklers over the cookies.
Take the egg white and add the icing sugar.
Add some green colouring to this.
Fill the piping bag with with this mixture. Similarly, you can use any colour of your choice.
Keep the cookies aside for the icing to set before you serve them.
---
Plum Cake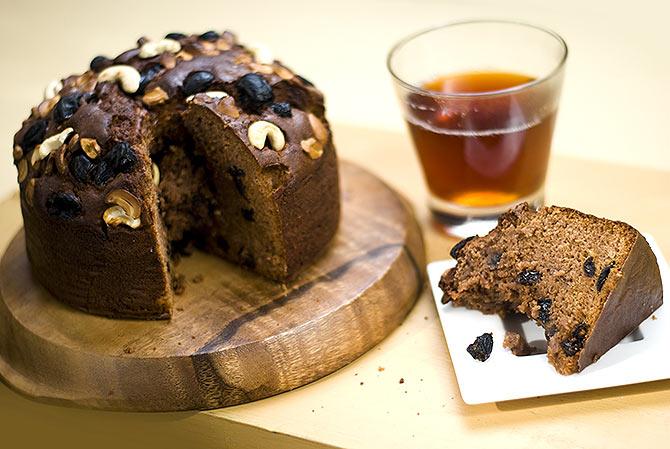 Preparation time: 30 minutes
Cooking time: One hour
Serves: Four
Equipment required: Tray, oven, mixing bowls, beater
Ingredients
1 1/2 cups refined flour
1 tsp baking powder
125 gm butter
1 cup castor sugar
3 eggs
1 tsp vanilla essence
3 tsp caramel colour
25 gm dates
25 gm roasted almonds
25 gm candied peel
25 gm tutti frutti
25 gm raisins
25 gm coloured tutti frutti
1 tsp oil
Plum as required
Method
Sieve the refined flour.
Add baking powder, spice mix and sieve.
Take some butter in another bowl.
Add sugar and beat well.
Break and add the eggs one at a time.
Add vanilla essence and caramel colour, beat again and keep aside.
Add dates, toasted almonds, candied orange peels, raisins and tutti frutti to the bowl with flour. Mix well.
Add all this to the egg batter. Mix well with your hands.
Put the batter in a greased tin. Before you do this,

make sure to dust it with flour.

Dust some cashews and plums and add them to the batter.
Put the batter in an oven preheated at 200 degrees for 10 minutes.
Allow to bake at 200 degrees for 10 minutes and then at 180 degrees for 30-40 minutes.
Your plum cake is ready.
Photo Courtesy: Pankaj Bhadouria for Zee Khana Khazana
What's your favourite Christmas recipe? Tell us!
Simply e-mail your recipes to getahead@rediff.co.in (subject line: Xmas recipe) with your name, hometown and any interesting details about the origin of the recipe, along with a photograph of the recipe, if possible. We'll publish the best preparations right here on Rediff.com and India Abroad.
ALSO SEE