Millenials spend 13% of food-expenses on eating out, changing everything for the eating-out business.
Pavan Lall reports on the new breed of restaurant entrepreneurs who are betting on experiential dining to build differentiated brands in a cluttered and fast-evolving industry.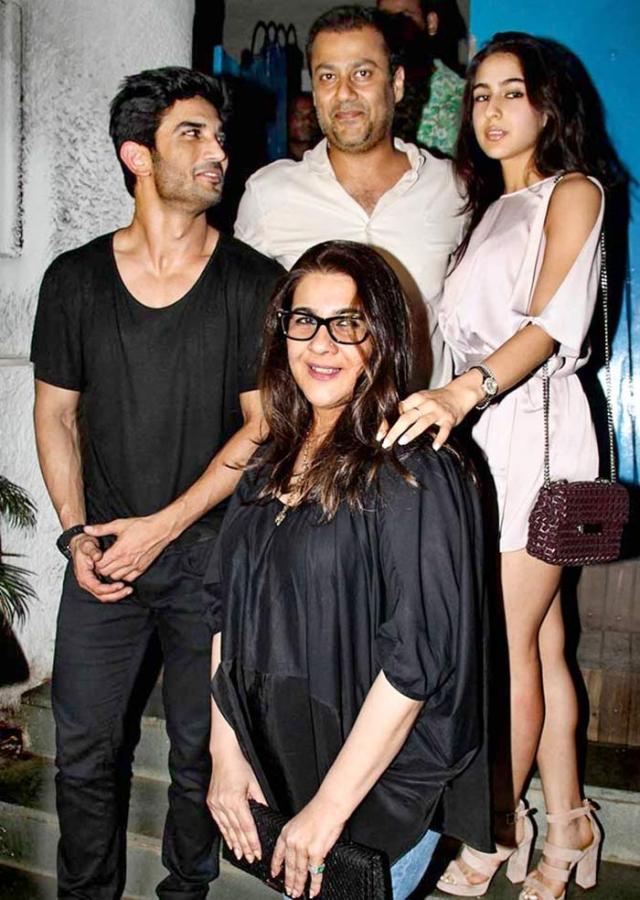 (Clockwise from top) Filmmaker Abhishek Kapoor and actors Sara Ali Khan, Amrita Singh, and Sushant Singh Rajput outside Olive in Bandra, Mumbai.
If restaurants China Garden, Olive, and Indigo defined mainstream yesterday, then it's about razor-sharpening that focus into what the flavour of the day, figuratively speaking, today is really about.

Like many nature-lovers, Aditi Dugar and her husband head to Ladakh once a year. Except they don't just visit for the snow-capped peaks, spectacular vistas, or the mythic motorcycle trails. They're there in the main to source seabuck thorn, yak cheese, lavender and thyme, all ingredients that end up on their tasting menus at Masque, a stand-alone restaurant which launched in 2016.
Similarly, brothers Ryan and Keenan Tham, who run a string of restaurants that include Koko, The Good Wife, and night club Trilogy across several cities in the country are also looking at ideas that toss up a unique offering to diners.
Kapil Chopra, chairman of the board of Eazydiner.com, an online reservation platform for restaurants says India has 640 million millennials, and in the next five years, more people will be eating out than at home.
So, just how much do diners spend?
A Nielsen study says that urban Indians spend around ₹6,500 a year on eating out. That's barely enough to cover a night out for three people at Masque, but the potential lurks in spending habits of millennials (aged 18 to 34 years) who earn more than a million rupees a year and spend 13 per cent of food-expenditure on eating out. That's 5 percent more than Generation X'ers (ages 35-50 years), who earn the same amount.
The result is a changing landscape for the country's eating-out business where branding was once nothing more than sending out take-away menus to local businesses and households.
What was once a landscape of restaurants that could be neatly segregated into Indian, Chinese, and continental cuisines has given way to experiments with concepts that play with fusion cuisine and food from around the world; experiment with menus, design and service to provide an experience that keeps customers coming back for more.
The big shift according to Riyaaz Amlani, chief executive office of Impresario Entertainment & Hospitality, which started Salt Water Cafe, the Social, and the Smokehouse Deli says that restaurants today are closer to figuring out what customers really want as well defining what he terms 'mood-spaces.'
If restaurants China Garden, Olive, and Indigo defined mainstream yesterday, then it's about razor-sharpening that focus into what the flavour of the day, figuratively speaking, today is really about.
'The real Indian consumer likes their food saucy, with big flavors,' Amlani adds.
He points to restaurants that have tailored their offerings to that sensibility -- The Bombay Canteen, Monkey Bar are examples of the transition from classique to nouvelle with an Indian twist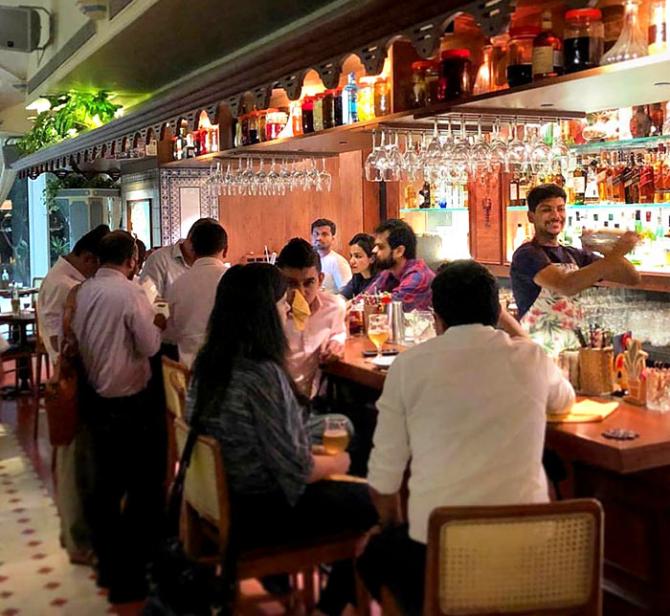 Fundamentally, there are two models at play in dining concepts.
There's the low capex and high volume model and then there's the low volume and high capital outlay version, so while Amlani has a point about the emergence of fresh new tastes, there's also established success with restaurants that throw up what's popular.
Tham's Koko for example, has a full-service bar on one end and a reservation-style restaurant on the other, which serves an elite clientele. Here, the customer is being lured for a lunch-cum-business deal unlike spaces where free wifi is the big draw.
Of course, there's an audience for that as well.
Social, a string of open-style casual cafes with no-fuss food, and tons of space is Amlani's model for getting youngsters in to spend time there. Browse on their computers or chat on their phones for hours on end even if they just ordered one beer. There are 18 Socials thus far and he plans to launch another 10.
At the other end of the spectrum Dugar says she has no plans to start another Masque in a different city. 'It's a business that's driven by a chef, which you can't duplicate as easily,' she says.
While the private equity and venture capital community does look at the restaurant business, investments over the past few years slowed down before again gradually picking up in recent months.
In December last year, Rabo Bank bought Aditya Birla PE's stake in AD Singh's Olive Restaurants, L-Catterton bought a majority stake in Impresario, and the Jitu Virwani led Embassy Group bought a majority stake in JSM Corp which operates Hard Rock Café and California Pizza Kitchen.
Sachin Bhartiya, partner at Lighthouse Advisors India that has invested ₹460 million to set up 150 locations of Wow! Momo, a grab-and-go fast food offering, says, 'There's sufficient interest from investors when the model is capital efficient, scalable, and exciting enough to keep customers coming back again and again.'
Experience matters and restaurant owners are turning over every plate to make sure they deliver a memorable one; one that steadies the bottom line as much as it appeals to investors.
If there's a word of caution, it comes from Chopra: 'This is ultimately a very tough business, there are nine failures for every one success.'
Food may be the new buzzword in town, but building a brand out of a restaurant, that is not for the weak-hearted.