Executive chef Avinash Kumar of Novotel Imagica Khopoli shares three interesting recipes to try this Holi.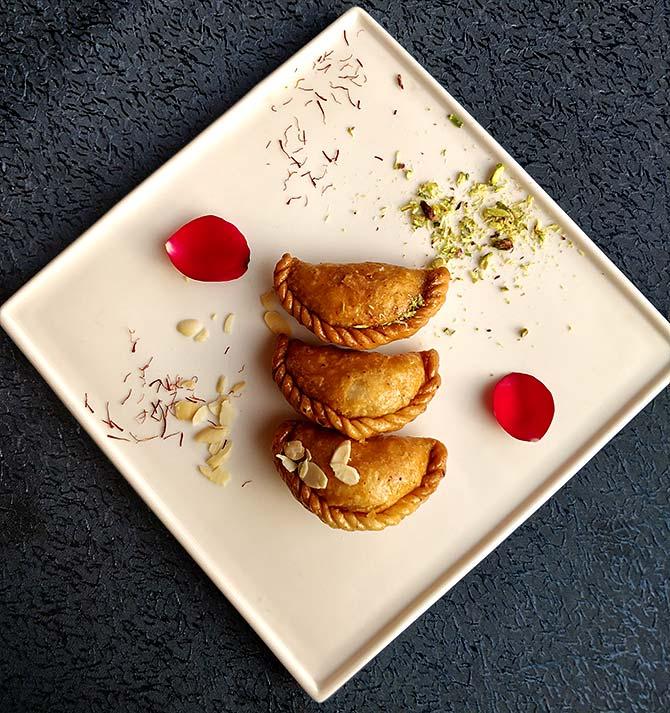 Chocolate prunes gujiyas
Ingredients
For the gujiya pastry
300 gm refined flour
100 gm ghee
100 ml water
3 gm salt
For the gujiya stuffing
60 gm dark chocolate
60 gm prunes
80 gm mawa
80 gm sugar
A pinch of cardamom
Method
Make the dough from refined flour, ghee and water. Knead well and keep it aside for 30 mins.
Make the gujiya stuffing by cooking mawa on slow heat.
Add chopped prunes, sugar and cardamom. Add dark chocolate in the end.
Take a log of the dough, divide it into equal parts, and make small balls out of it. Keep under moistened cloth. It will prevent the dough from drying.
Roll each ball with the help of a rolling pin and with your fingertips apply water on the circumference of the rolled dough ball.
Put one spoon of stuffing and press gently both side so that the edges are sealed well and the stuffing does not come out while frying. It is best to make pleated edges as the stuffing gets sealed well and the gujiya looks visually appealing.
Just keep on folding and twisting the edges till the end.
Deep fry all the gujiyas until golden brown and serve hot.
---
Dahi bhalla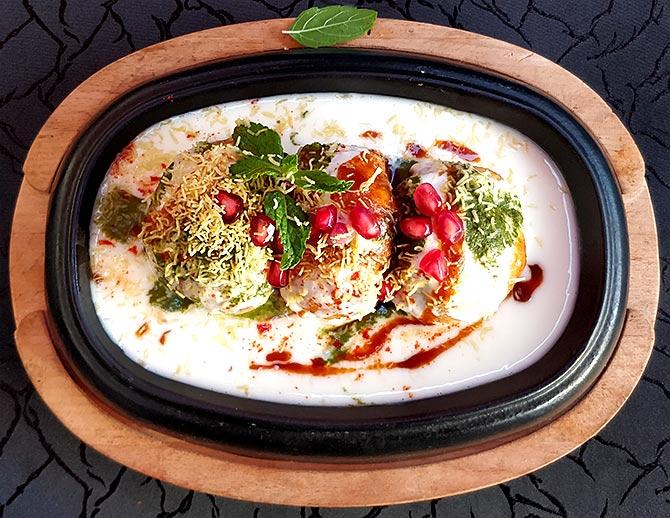 Ingredients
120 gm white urad dal
20 gm moong dal
10 gm cumin seeds
5 gm asafoetida
Salt to taste
5 gm red chilli powder
5 gm cumin powder
3 green chillies
10 gm ginger
Black salt to taste
50 gm fresh coriander leaves
20 gm pomegranate seeds
40 gm mint
5 gm chaat masala
50 gm tamarind
10 ml lemon juice
20 gm jaggery
150 gm curd
250 ml oil
Method:
Rinse the white urad dal and moong dal and soak it for 4-5 hours.
Grind the dal in the grinder, add cumin seeds, ginger and asafoetida. Add water accordingly. Make a fluffy and smooth batter.
Make vadas and deep fry it until it turns golden in colour.
Soak the vadas in water for about 25 to 30 minutes.
Remove excess water from the vadas by pressing it gently.
Take chilled curd and beat it until smooth.
Gently put the vadas in it.
Make green chutney and tamarind chutney.
To make individual portions of dahi bhalla, place dahi vada in a plate then add more curd if required. Put green chutney, tamarind chutney and pomegranate seeds. Sprinkle some red chilli powder, roasted cumin powder and fine chopped fresh coriander.
Finally garnish with fine sev and serve.
---
Golgappa (pani puri)
Ingredients
300 ml water
50 gm tamarind
50 gm mint leaves
5 gm cumin powder
4 gm fennel seeds
3 gm amchoor powder
10 ml lemon juice
3 gm chaat masala
2 gm black salt
50 gm semolina
100 gm refined flour
3 gm soda
2 gm salt
50 gm fresh coriander
20 gm ginger
5 gm green chilli
80 gm onion
For the golgappa stuffing
10 gm kabuli chana
20 gm potatoes
4 gm chaat masala
10 gm moong dal sprouts
10 gm pomegranate
Method:
Make dough of refined flour, semolina, salt and soda. Let the dough rest for about 15 minutes.
Roll it out, cut it into circles and deep fry.
Soak tamarind. Make a pulp out of it and mix it with ginger, black salt and jaggery. Add water till desired consistency.
Grind mint leaves, coriander, green chilli, amchoor powder, black salt and cumin powder. Make a paste and add water until desired consistency.
Take mashed potato, kala chana, red chilli powder, cumin powder, coriander powder, chaat masala powder, coriander leaves and salt to make the stuffing for the puri.
Make sprouts and kabuli chana chaat by mixing chaat masala, chopped onions and fresh coriander.
Assemble the pani puri, stuff it with the desired stuffing and serve.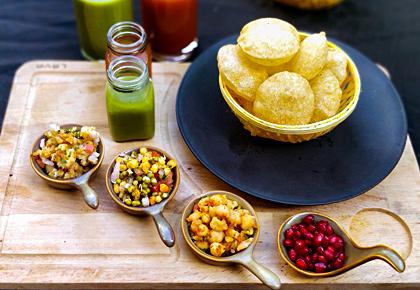 All photographs and recipes: Courtesy Novotel Imagica Khopoli