Ditch the usual Holi recipes and opt for something tasty yet healthy like stuffed mushrooms and quinoa pancakes.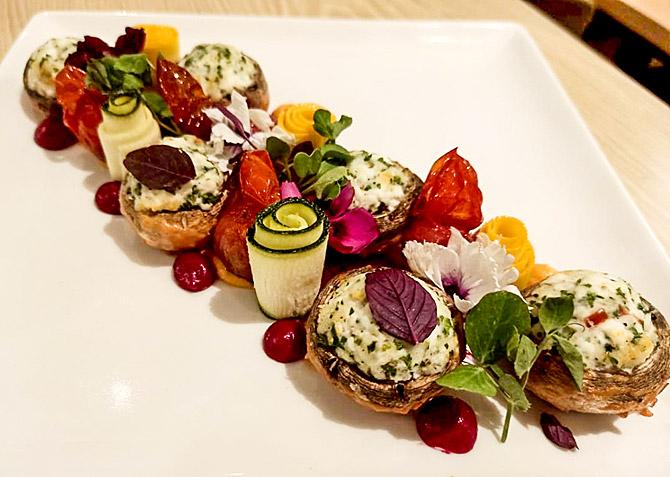 Stuffed Mushroom
Ingredients:
50 gm mushroom
1 tsp butter
2 cloves garlic, minced

½ onion, chopped

100 gm bell pepper

20 gm barbecue sauce

50 gm cheese
Method:
Remove the mushroom stems. Chop the mushroom stems and bell pepper.
Heat some oil, saute onion and garlic till translucent. Add chopped bell pepper, chopped mushroom, salt, pepper and cook for a minute. Transfer in a bowl.
Add grated cheese to the mushroom mixture and mix well. Stuff the mixture in the mushroom bulbs and keep aside.
In a bowl take the white sauce and mix with barbecue sauce. Add some salt and pepper. Apply this sauce to the mushrooms and seal the opening with little cheese.
Bake it at 250 degrees for 15 minutes. Serve hot with pesto.
---
Quinoa Pancakes
Ingredients:
1 cup quinoa flour
2 tsp baking powder
½ tsp baking soda
¾ cup Greek yoghurt
½ cup almond milk
½ ripe banana, mashed
3 tbsp honey
1 tbsp vanilla extract
1 egg
Butter
Fruits for garnish
Maple syrup
Method:
Take a large bowl. Add the quinoa flour, baking powder, baking soda and mix well.
In a different bowl, add Greek yogurt, almond milk, mashed banana, honey, vanilla extract, eggs and whisk all the ingredients properly.
Add quinoa flour mix to the above yogurt mix and whisk.
Take a pan and add a dollop of butter. Using a spoon, pour the pancake mixture on the pan and spread evenly to make fluffy pancakes.
Cook for 2 minutes, flip it, and cook the other side as well. You can make 4-5 pancakes and layer them on top of each other. Garnish with fresh fruits and a drizzle of maple syrup.
---
Binish Baby is the senior executive chef of Lemon Tree Premier Mumbai International Airport.
---