Bhagyashree Zore tells you how to make these steamed rice dumplings with coconut and jaggery stuffing.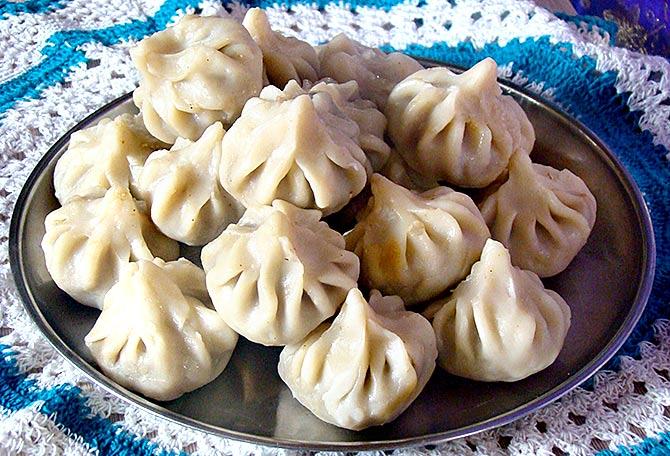 Photograph: Kind courtesy Wikimedia Commons
Ingredients
For the stuffing
1 bowl grated coconut
1/2 bowl sugar
1/2 bowl jaggery
Dry fruits (almonds,raisins, pistachio, cashews) as per your choice
2 to 3 tsp pure ghee
A pinch of kesar, cardamom and nutmeg powder
1 tsp poppy seeds (khas khas)
2 tsp mawa (optional)
For the cover
2 bowls rice flour
A pinch of salt
2 tsp of oil or ghee
Hot water as per requirement
Method
For the stuffing
Heat ghee in a pan. Add poppy seeds and saute for a minute.
Add grated coconut, sugar, jaggery (broken into small pieces or grated), cardamom and nutmeg powder and all dry fruits. Mix thoroughly.
Cook on low flame till all moisture from the sugar and jaggery begins to dry.
Do not overcook as it will harden up and lose its taste.
Stir every 2 to 3 minutes till it turns golden yellow.
You can add more ghee if the stuffing becomes too dry.
For the cover
Boil water.
Add a pinch of salt and 1 tsp of ghee to the flour and mix it thoroughly.
Add 1 tsp of ghee in the boiling water.
Add the dough to the boiling water. Lower heat. Mix well.
Cover the vessel keep it for 5 minutes on low flame to let the rice cook.
Knead the dough into a smooth paste without lumps.
You need to knead it while it is still hot. You may apply some oil or ghee on your palms.
If you feel the dough looks dry or hard, add some hot water and continue to knead till the dough turns smooth.
Making the modaks
Apply pinch of oil/ghee on your palms and make small balls of the dough.
Flatten it to give it the shape of a katori or cone.
Press the edges of the katori-shaped dough with slight pressure at every 1 inch distance.
The edges of the katori will now look like the petals of the flower.
Put some stuffing in the katori and close the ends to give them a shape like fresh figs or momos.
Take a leaf of banana or a soft cloth like muslin, and apply bit oil/ghee on it and place it in the steamer pan.
Place all the modaks on the leaf or cloth and close the lid.
Steam it for 5 to 6 minutes and turn off the flame.
Your delicious modaks are ready to be served.
Tip: Do not over steam the modaks, else they will become hard.
For fried modaks
Instead of steaming the stuffed modaks, heat oil in the frying pan and deep fry the modaks on low or medium flame till they turn golden brown from all sides.
---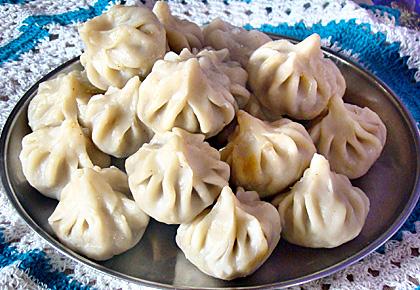 Dear readers, you can send us your favourite recipes too.
Write in to us at getahead@rediff.co.in (subject: Ganesha Recipe) with your NAME, HOMETOWN and any interesting details about the origin of the recipe, along with a photograph of the recipe if possible.
We'll publish the best ones right here on Rediff.com.