Your guests will love these homemade goodies.
Chef and cookbook author Rakhee Vaswani shows you how to mix health with yummy food.
This Holi, treat your friends and loved ones to a plateful of tasty veggies inspired from traditional recipes.
Beet and Sweet Potato Tartare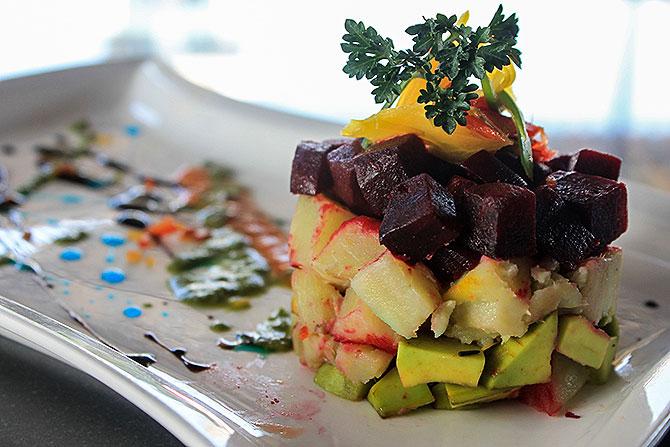 Ingredients
2 beetroot
1 sweet potato
2 avocados
2 tsp olive oil
2 tsp lemon juice
1 tsp small red onion chopped finely
Salt to taste
Pepper to taste
A hand full of sprouts or micro herbs
1 tsp Dijon mustard
Method
Prepare the beets by washing them and trimming off the steams. No need to peel them.
Cut into quarters and steam them in a steamer basket over a pot of boiling water. While the beets are steaming, peel and dice the sweet potato into very small cubes.
Test your beets by inserting a knife; they should be softened through. Remove them from the steamer basket and transfer the sweet potatoes into the steamer.
When done, remove from the steamer and allow to cool.
Once the beets are cool enough to handle, rub them with a paper towel to remove the skin and then dice them into very small cubes. Combine the beets with the diced red onion and dress with 2 tsps of olive oil, 1 tsp of lemon juice and salt and pepper to taste.
Dice the avocados and toss with 1 tsp of lemon juice.
Build your tart by packing the avocado, sweet potato and beets into a shallow cup and inverting it onto a plate.
Alternatively, cut both ends off an aluminium can and use it as a mould. Depending on the size of your mould you should be able to build 3 to 4 tartares.
Garnish each with a dollop of Dijon mustard and sprouts.
Baked Italian Gujiyas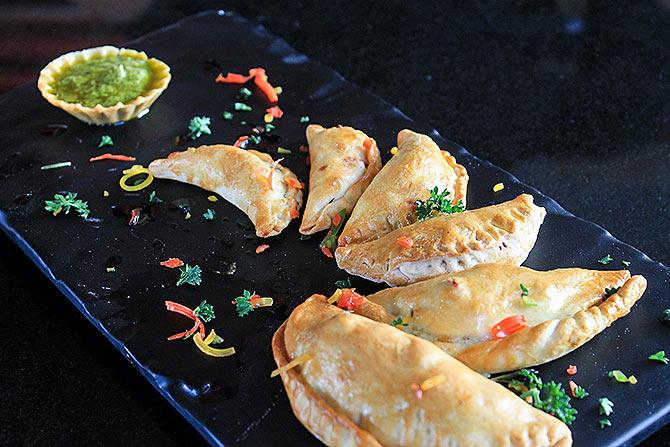 Ingredients
100 gm refined flour
5 gm yeast
1 tsp salt
50 ml milk
Veg stock as required
2 tsp Italian seasoning
1 tsp sugar
2 tsp oil
For the filling
2 mash sweet potatoes
1 chopped beetroot
2 tsp Italian seasoning
Salt to taste
Pepper to taste
1 tsp basil
Method
For the gujiyas
In a bowl, mix in flour, yeast, salt, sugar and Italian seasoning.
Add milk and stock and make a dough. Rest it for 10 minutes.
Make small balls of the dough. Roll them and keep it in muslin cloth for 2 minutes.
On a dry surface, dust some flour. Take one roll dough at a time and using a rolling pin, flatten it into 3 inch rounds, like a mini pizza.
Now mix the mashed sweet potato, beetroot, peppers and Italian seasoning and salt pepper to taste.
Place the filling in the centre of the small base; close it with docking by fork.
Heat up the oven at 180 degree and preheat it.
Place the gujiyas in a flat baking tray and bake them for 10 minutes.
Mint Jalapenos chutney
Ingredients
50 gm mint
20 gm coriander
10 gm jalapenos
3 tsp lemon juice
Salt to taste
Pepper to taste
Method
Mix all the ingredients and blend them to a fine paste.
Serve the hot gujiyas with mint jalapenos chutney.