With Naga, Korean and Singaporean eateries, Kammanahalli in east Bengaluru offers unconventional dining options.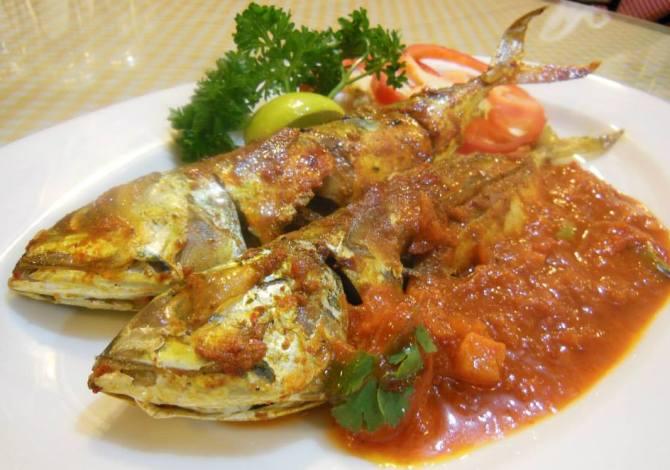 Photograph: Courtesy, Chubalas Curry & Rice/Facebook
Even without imbibing Delhi's snobbery about judging people and places according to their address, Kammanahalli in East Bengaluru seemed an unlikely neighbourhood for interesting options to eat out.
It is a developing area, for one, with a lot of construction and attendant irritants, and bereft of the charm of older areas like Frazer Town. And the less said about the agonising crawl at which vehicles are forced to move on one of the flyovers leading to it the better.
Moreover, it is Indira Nagar, Koramangala and the areas around MG Road that have long held sway as the hubs for restaurants and pubs, and continue to do so.
Or that's what I thought, till a foodie friend who keeps popping over to that side of town began talking about niche restaurants he had tried out there, offering cuisines that might otherwise be hard to find in the city.
It turns out, he was right.
A happy coalescing of cheaper rentals, pockets of expatriate and migrant populace and a few enterprising souls who want to offer authentic, home-style cooking from their respective regions has meant Kammanhalli now has a few restaurants that would make a trip over Lingarajapuram flyover worthwhile for those interested in trying out unconventional fare.
Chubalas Curry & Rice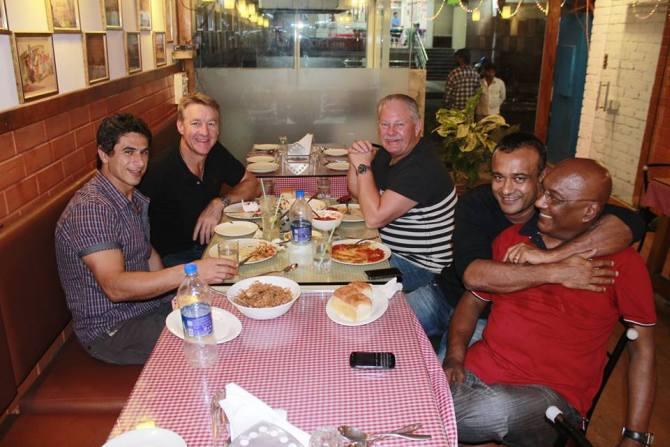 Photograph: Courtesy, Chubalas Curry & Rice/Facebook
At Chubalas, it's all about the beef and pork. Started by Richard Graham, a former director of food and beverages at ITC, and his wife, Chubala Graham, after whom the cozy restaurant is named, a hat-tip to both their native cuisines, it offers Naga and Goan homestyle cooking.
The many members of the Northeast who have chosen to live in the area was one reason for opening the restaurant there, says Graham who, in his role at ITC has cooked for Muhammad Ali and Rajiv and Sonia Gandhi, among others.
"They love pork and we serve both fresh pork and pork smoked in our tandoor outside." The most popular dishes, the couple say, are the pork with bamboo shoot and Naga thali, as well as the chutneys.
I choose an oja beef curry from the season's special, made with Chubala's mother's recipe (oja means mother in Ao, the Naga tribe Chubala belongs to).
Many of the recipes, the couple say, are from their families, such as Stella Avo's homecoming pork vindaloo -- avo is grandmother in Konkani, Graham's mother tongue. Served with a bowl of rice, the curry is made with shallots, which lends it a hint of sweetness, and is mildly spiced.
The beef could have been more tender but the gravy is delicious. While I try a Goan dessert of pancakes filled with caramelised coconut, a couple who look like they might be from the Northeast order thalis, which they soon dig into with gusto. The restaurant is never packed but they don't mind that, says Graham.
Where: No, 21, Nehru Road (opposite Empire Hotel), Kammanahalli Circle
Cost for two: Rs 500
***
L' Cafe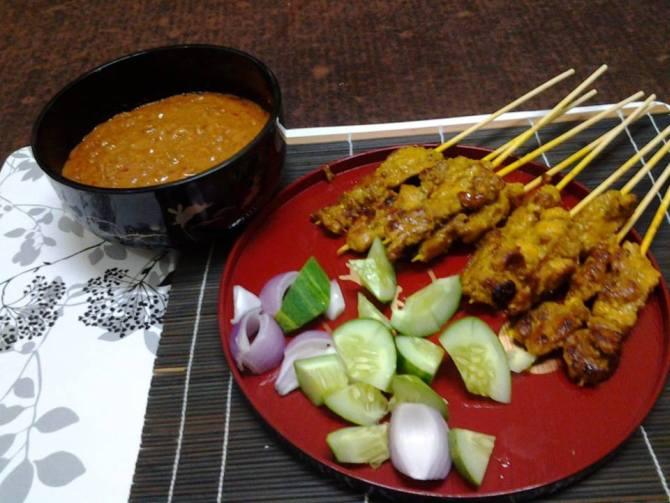 Photograph: Courtesy, L' Cafe/Facebook
If there was a contest for unprepossessing restaurant facades and interiors, L'Cafe might win hands down. Occupying the ground floor of an apartment in Kalyan Nagar, the flex board announcing it to be "the first Singaporean cuisine in town" has been bent out of shape. Inside, it resembles a living room with a lot of kitsch, complete with a "showcase" that cannot be dismantled.
In a chat over green tea, it becomes evident that Florence Ling, the proprietor, runs the restaurant according to her rules, conventions be damned.
For instance, Ling refuses to keep her restaurant open beyond 9 pm because that would mean she (and her customers) would have to eat after that, which she considers unhealthy.
But what Ling does care about is providing the authentic cuisine of her home country, firmly refusing to give in to local tastes ("No Indian masala", says the menu, sternly).
Roughly 70 per cent of her clientele are Singaporean, Japanese, Malay or Thai, many of whom come to the area because of the international schools there.
"Even the Indian customers have usually either lived in Singapore or have been there, and know what to order," says Ling.
For novices like me, many of the dishes sound intriguing like "tea rice" (Lei Cha), made with a gravy of green tea, basil, mint and nuts and "coka cola chicken wings". I play safe this time and order a laksa, a bowl of gravy with rice noodles, chicken, prawn and tofu, and a char siew pork bao. The bao (a bit like a bun) is slightly sweet, soft and the pork filling is very good.
I am unable to do justice to the laksa, though it is a flavourful (and very generous) bowl of soupy gravy with thin rice noodles, chicken and prawn. I assure Ling it is because of a late breakfast and that I would pack the rest. The coka cola chicken wings will have to wait for the next visit.
Where: HRBR Layout, 2nd Block, Kalyan Nagar. Take the lane next to MK Retail, call 96630 15867 if you are lost
Cost for two: Rs 500
***
Thran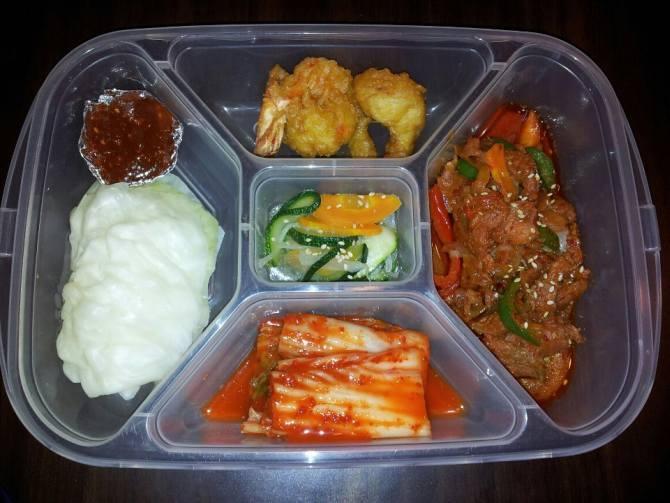 Photograph: Courtesy, Thran/Facebook
Thran is one of the three Korean restaurants within a couple of kilometres' radius in Kammanahalli (the others are High Seoul and Arirang) and is run by a sister and brother, who also have a Korean cafe down the road.
Recently redecorated with whimsical wallpaper, colourful paper lanterns and small screens separating tables, it usually has more Korean customers than others.
Among the Indian customers, the chicken bulgogi, which is slightly sweet, shredded chicken, and the kimchi are popular, while the ramen is popular with the Koreans.
The kimchi comes with the complimentary array of appetisers served at every table at Korean restaurants. You could also try the gimbap, small rolls of sticky rice with various fillings, held together with a wrapping of dried seaweed.
Thran also has its version of the "thali" or set menu, where you can try four dishes for Rs 700.
At Thran, too, most of the clients are repeat customers and even those Korean expatriates who don't stay in the area make the effort to come all the way for some authentic food, says Joseph Chhetry, the manager.
And even the Indians who come are mostly familiar with the cuisine and know what to order -- new Indian customers are usually brought by friends who have tried Korean food before, he says.
Friday and Saturday nights are the busiest and don't make plans to drop in for lunch on a Sunday because Thran, like L'Cafe, will be closed.
Where: 4th cross, 2nd block, CMR Road, HRBR Layout. Phone: 080 42050685
Cost for two: Rs 1,500