It takes a special kind of place to impress the chef who has cooked for Modi and Obama, and has charmed the likes of the Dalai Lama, the Pope and even Queen Elizabeth!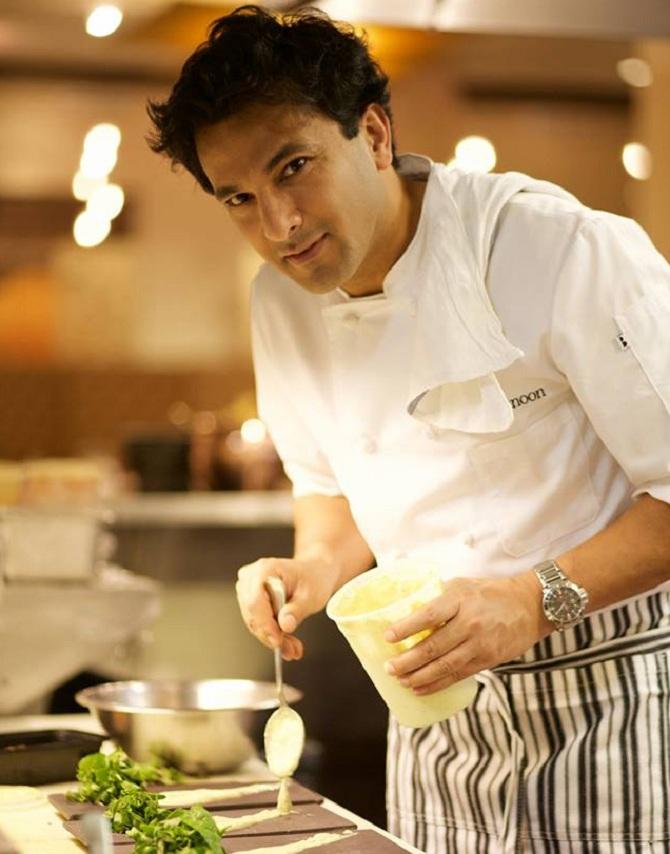 CHEF TO THE STARS: From The Vatican and Buckingham Palace to the White House and the UN, Vikas Khanna's cooking and recipes are known everywhere.
Don't Miss! What Vikas Khanna cooked for Narendra Modi
Photograph: @VikasKhannaGroup/Facebook.
It is a basic, functional roadside stall with a few plastic chairs, but for Chef Vikas Khanna no one does kulchas like the All India Famous Amritsari Kulcha stall in Amritsar.
On his latest trip to his hometown, Khanna stopped by the place with his mom, and shared the moment with his fans on Instagram.
He said, 'This is our favorite Kulcha Place in Amritsar. Maqbool Road. Almost 35 years ago, I used to practice at the same Tandoor. A lot has changed, but the love remains the same. :)'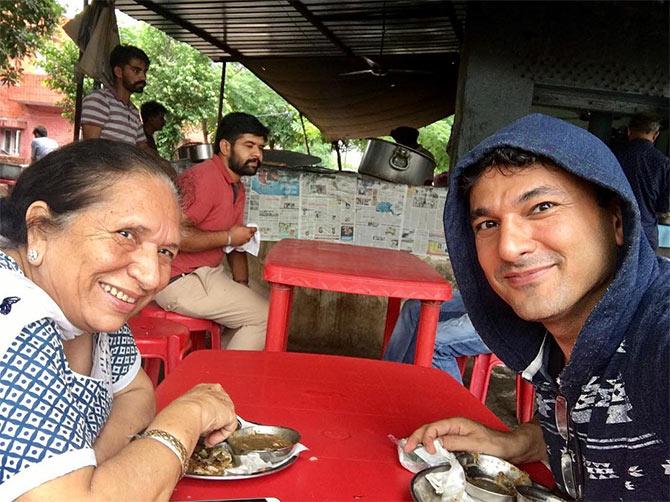 The All India Famous Amritsari Kulcha stall is one of the most talked about Kulcha makers in the city, probably even in all of Punjab.
'It is a simple, unpretentious establishment, a functional shack,' The Hindu wrote. 'Earlier called All India Fames, the stall opens early morning and is the city's favourite breakfast joint. It has been around for over 60 years, and is run currently by two brothers, Dalbir and Samarjit Singh.'
The Hindu had added, 'The place boasts of a menu with nothing but kulchas. They make a special seven-layered kulcha stuffed with potatoes, cauliflower and cottage cheese; serve it piping hot, crisp, thin and flaky with a generous dollop of homemade butter already melting, a bowl of hot, spicy and delicious chholey and green chillies and onions.
'A meal can't get heartier than that, and you have the option of washing it down with a hot cup of sweet, strong tea or a tall glass of thick, frothy lassi. Fortunately, the otherwise kulcha-dominated menu allows for these digressions.'
Khanna himself has written about this place in one of his books and enjoys introducing people to it.
A NDTV reporter who was first taken to the eatery by the chef had written, 'Khanna ran to the oven in which the kulchas were being made and said "this is where I learned to make kulchas. When I first came here, I was shorter than the oven. They used to use this as a measure for my height"... I asked Khanna the name of the shop where we were and he said "just ask anyone for kulcha shop at Maqbool Road". "Does the Taj Mahal need an address?" he asked with good-natured Punjabi drama.'
Recommended for you: The woman who taught Vikas Khanna to cook