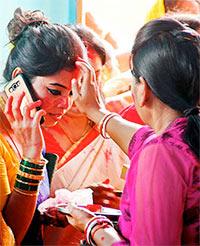 A look at how an age-old tradition adds colour to Durga Puja celebrations.
The long Puja marathon just came to an end... and so has all the fun!
Like every year, this time too, Bengalis, dressed in their best attires, hopped from one pandal to the other, offered pushpanjali (a ritual in which worshippers pray to the Goddess with folded hands full of flowers) and indulged in delicious bhog and other mouth-watering dishes.
But one thing that makes Durga Puja so colourful is the age-old ritual of Sindoor Khela(the vermilion play).
As devotees prepared for the immersion of the clay idol with a heavy-heart and teary eyes on Vijaya Dashami, the last day of the Puja, this final ritual somehow lightened up the mood.
While the women -- this religious custom is only for women -- smear sindoor or vermilion on other married women and wish each other a happy married life, men can only be happy witnessing the whole ritual.
Presenting nine photos that aptly capture the true essence of the ritual.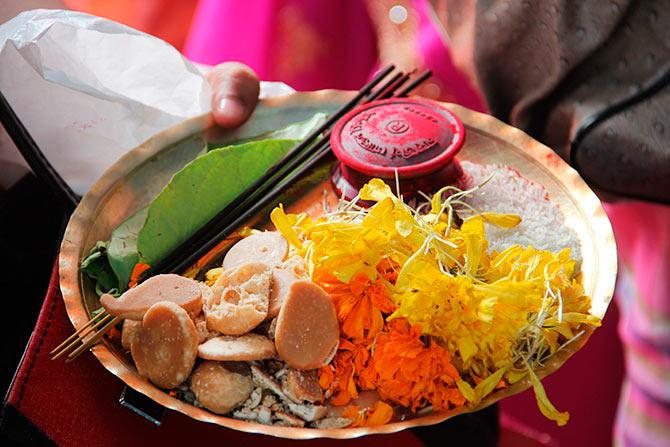 IMAGE: The Puja thaali (plate) for the last celebration before the Goddess is ready.
Here a devotee displays her plate that comprises sweets, marigold flowers, incense sticks, betel leaf and kumkum (vermilion) to worship the idol first.

All photographs: Uttam Ghosh/Rediff.com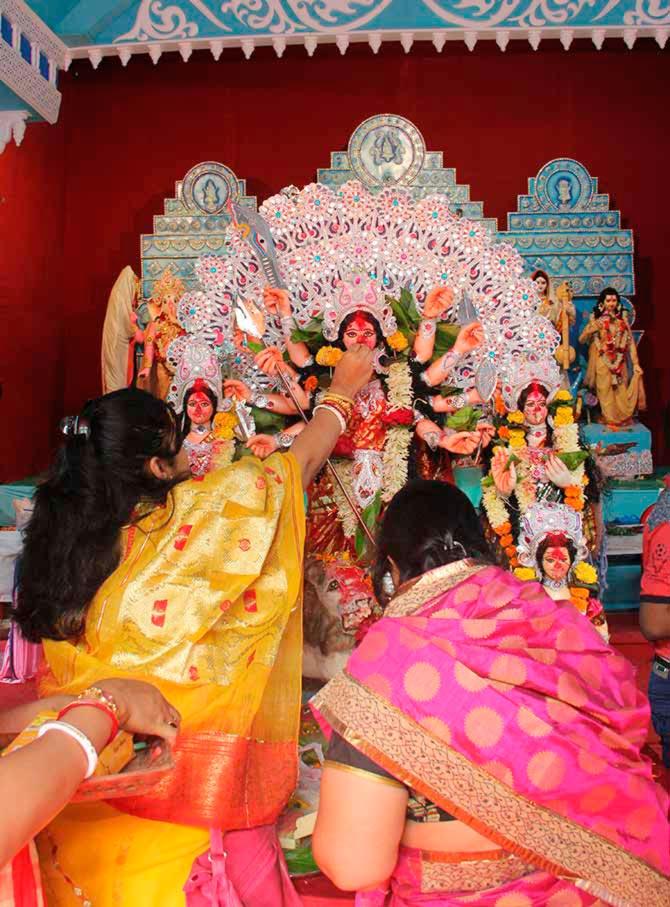 IMAGE: The whole ritual starts with married Bengali women taking part in Devi Boron. They coat the Goddess with vermilion and pray to her

for good fortune and their husband's long life.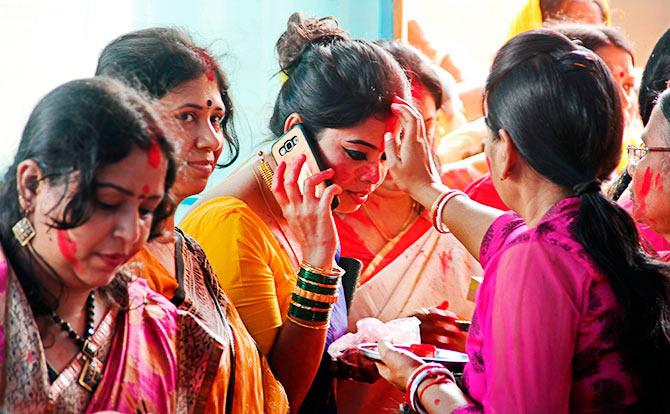 IMAGE: Since sindoor is a sign of a married woman, once prayers are offered by all, the married women apply it on each other's forehead.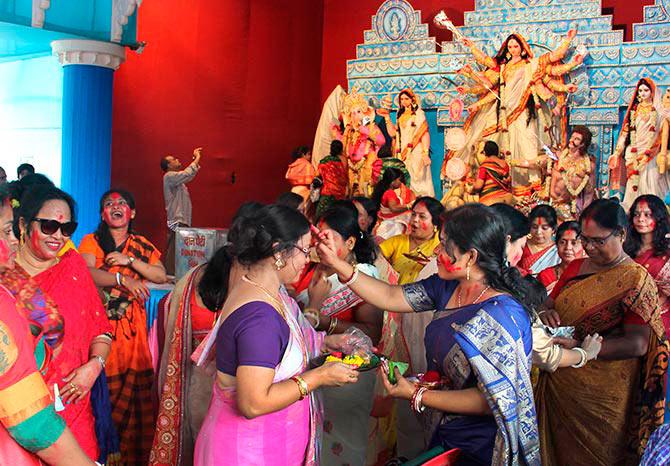 IMAGE: Sindoor khela is indeed a spectacular sight to watch with splashes of red colour all over the place.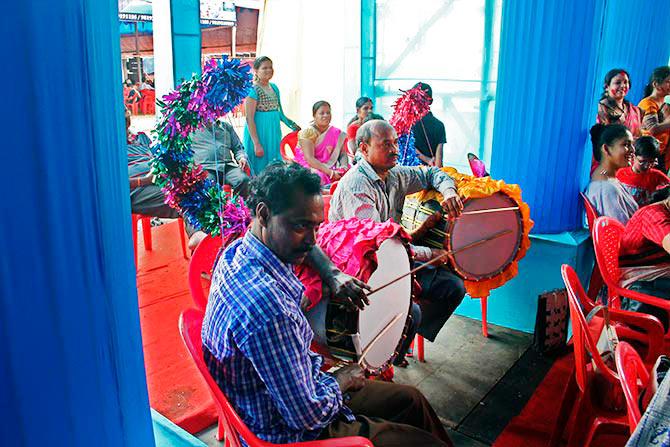 IMAGE: While women remain engrossed in splashing sindoor at each other, the local dhakis (drum players) keep beating their barrel-shaped drums.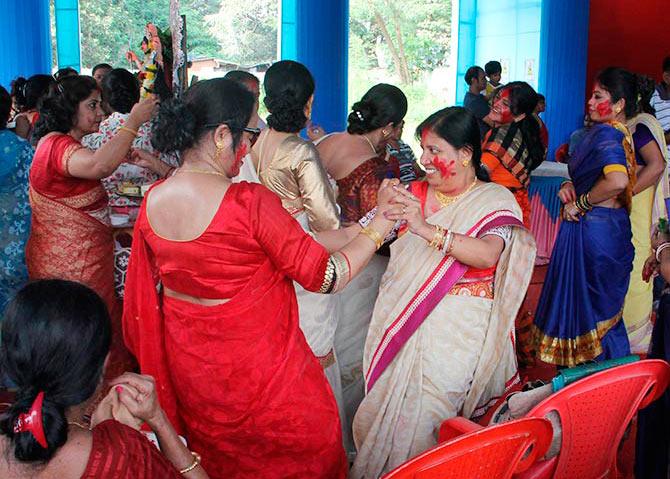 IMAGE: Look how the women dance and gyrate to drum beats.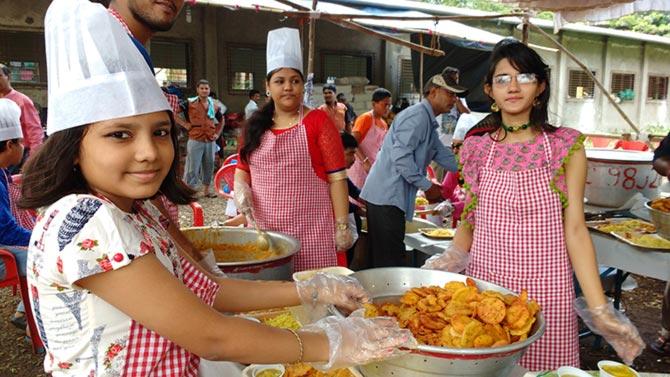 IMAGE: Meanwhile others continue indulging in yummy fried food and delectable dishes available in stalls at the pandal.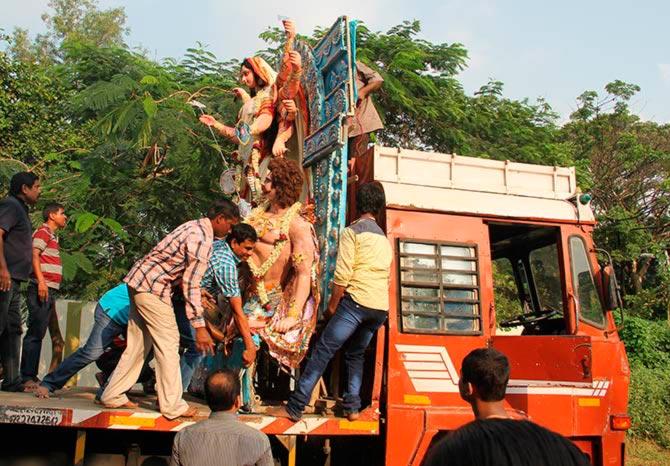 IMAGE: It's time for the Goddess to leave the pandal. See how the idol is lifted on a truck to be taken for immersion.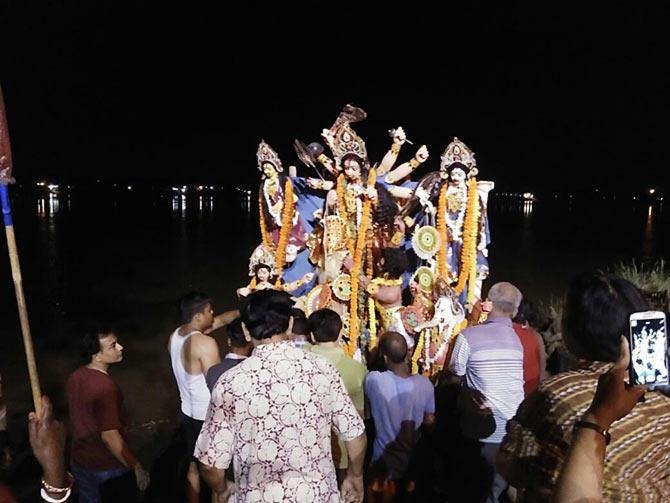 IMAGE: It's time to say good-bye! The last glimpse of Devi Durga and her children before she embarks on her journey back to her husband Lord Shiva's abode.

Photograph: Kind courtesy Chayanika Dutta Das
---
Check out festive sarees, salwar suits and accessories on Rediff Shopping!