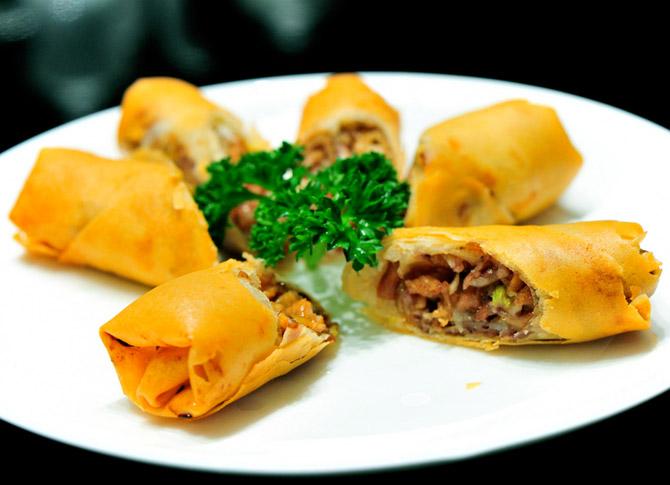 Ring in the Chinese New Year with these sumptuous preparations.
As per the Chinese Calendar, the year 2016 is the Year of the Monkey. (Click here to see what's in store for you)
Share the joy of Chinese New Year by cooking up these flavourful Chinese dishes.
Crispy Chilli Lamb
Recipe: Courtesy Wang's Kitchen, Chennai
Ingredients
130 gm lamb boneless shredded
30 gm corn flour
10 gm maida
40 ml oil
1 egg
10 gm red chilli paste
20 ml dark soya sauce
5 gm white pepper powder
10 ml vinegar
20 gm chopped onion
10 gm chopped ginger
10 gm chopped garlic
20 gm sliced onion
20 gm green capsicum
15 gm green chilli
Salt to taste
Method
Mix shredded lamb, maida, cornflour, salt and egg. Deep fry till crisp.
In a wok, heat some oil. Add chopped garlic, ginger and onion. Fry till it turns slightly brown.
Add green chilli, onion slices, capsicum, soya sauce, chilli paste, salt and white pepper powder and stir fry.
If required add some water. Add deep fried crispy lamb and toss.
Add some vinegar, garnish with spring onion and serve hot.
Vegetable Momos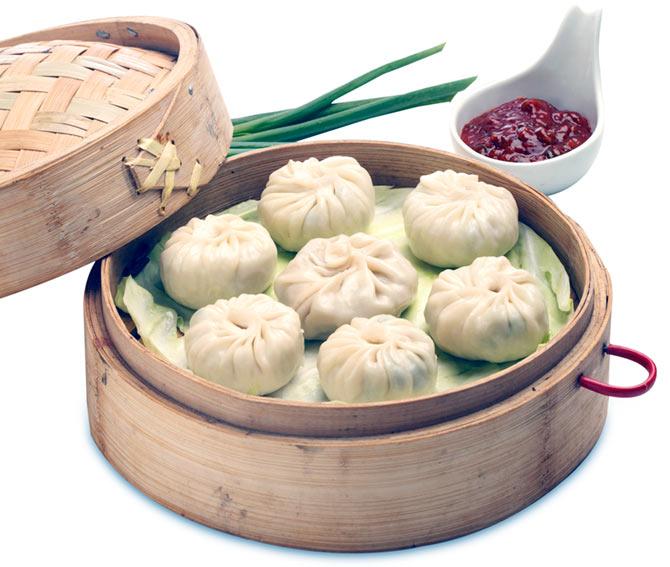 Recipe: Courtesy Wang's Kitchen, Chennai
Ingredients
100 gm maida
15 gm ginger
10 gm spring onion
20 gm carrot
60 gm cabbage
20 gm broccoli
10 ml refined oil
30 gm onion
Water as required
Salt to taste
Method
Chop all vegetables, blanch and remove the water.
Add ginger, oil, salt as required, onion, soya sauce and mix.
Mix maida, salt and water, knead into a dough.
Roll it like small-sized roti.
In the centre of each roti, place the vegetable mix and close it in the shape of half moon or bring together all the edges to shape it like a modak.
Steam it and serve hot with green chilli sauce.
Steamed Fish Hong Kong Soya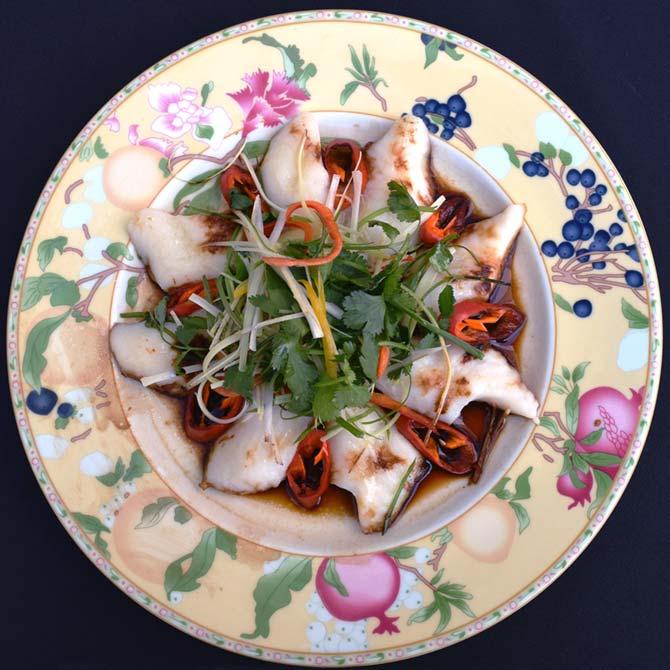 Recipe by chef Atul, Hotel The Royal Plaza
Ingredients
180 gm fish fillet
3 gm ginger julienned
3 gm coriander
3 gm leeks julienned
5 gm spring onions julienned
5 ml dark soya
3 ml sesame oil
3 ml light soya
2 gm salt
5 ml cooking wine
Method
Steam fish for seven minutes.
Put together all the above mentioned vegetables on top.
Pour some hot oil on it and put the sauce made from dark and light soya sauce.
Add wine and sesame oil. Serve hot.
Exotic Green Vegetable with Chinese Brown Garlic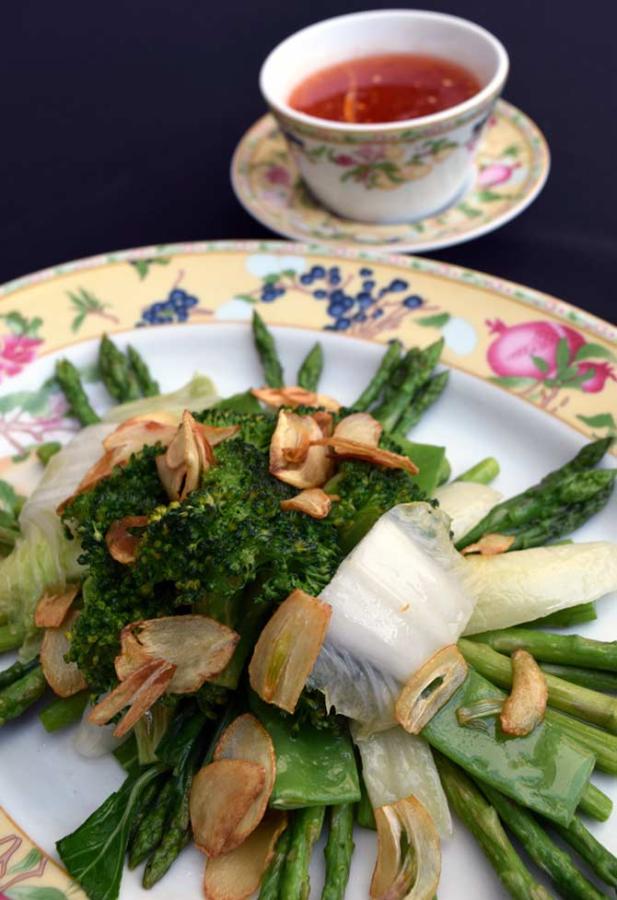 Recipe by chef Atul, Hotel The Royal Plaza
Ingredients
40 gm asparagus
50 gm broccoli
40 gm Chinese cabbage
50 gm pak choi
40 gm snow pea
10 ml refined oil
10 gm garlic
5 ml cooking wine
5 ml sesame oil
Salt to taste
A pinch of sugar
Method
Boil all vegetables together.
Heat oil in a wok. Add chopped garlic, toss the vegetables together.
Add wine, sesame oil and salt and sugar.
Season by putting fried sliced elephant garlic on top.
Chicken Spring Roll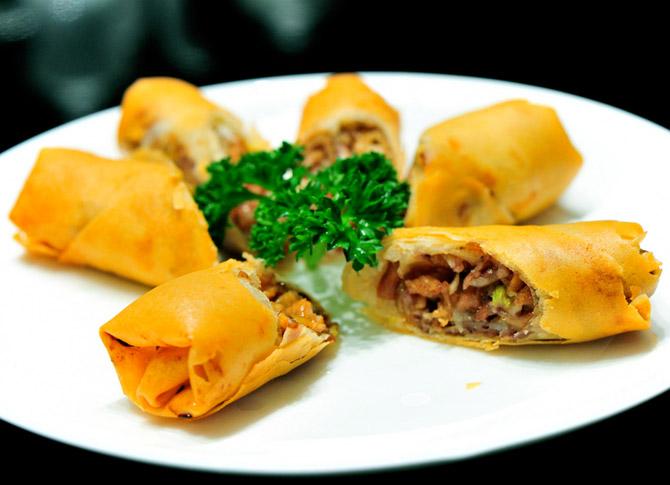 Image*: Simon D/Creative Commons
Recipe by China Town, Tollygunge, Kolkata

Ingredients
100 gm boneless shredded chicken
1 medium onion julienned
1/2 cup finely shredded cabbage
1 small carrot shredded
1 medium capsicum shredded
1/2 cup bean sprouts
5 gm hot pepper sauce
5 gm soy sauce
5 gm Worcestershire sauce
2 spring roll wrappers
1/2 cup maida
1/2 cup corn flour
1 egg
Oil for deep frying
Salt to taste
Method
In a medium bowl, mix together chicken, onion, cabbage, carrot, Bean sprouts, hot pepper sauce, soy sauce and Worcestershire sauce, salt, pepper, sugar.
Heat oil in a heavy bottomed pan and stir fry for some time.
Place approximately 2 tbsp of the chicken mixture in the centre of the spring roll wrapper.
Moisten your finger with water and wet the edges of the wrapper. Roll around the filling. Press seams to seal.
Make batter with equal quantity of maida and corn flour and egg in a thick consistency.
Coat the spring roll into the batter and deep fry until golden brown.
How to make spring roll wrappers
Ingredients
1 cup maida
3 tbsp corn flour
1.25 cups water or as required
1/4 tsp salt
1 to 2 tsp oil for making the wrappers
Method
In a bowl, take maida, corn flour and salt.
With a wired whisk or a spoon mix the dry ingredients. Add water.
Whisk well to a get smooth and slightly thin consistency of the batter without any lumps.
The batter should be of a flowing consistency. Depending on the quality of flour, you can add less or more water.
Heat a non-stick pan on a low flame. The pan should become slightly hot and not too hot.
Lift the pan above the stove top burner. Add 2 tbsp of the batter in the pan.
Gently, spread the spoon clockwise to make a small thin pancake like dosa.
Add 1 to 2 tbsp more water if the batter becomes thick while preparing the wrappers.
The pancakes have to be thin. If they become thick, they break while rolling and sealing.
On a low flame cook the pancake till the sides start curling up and the pancake becomes translucent.
The pancake just need to be cooked; no need to flip and cook the other side. Just cook one side.
Lift the pancake with a spatula. If you feel the wrappers are sticking, grease or brush the pan with oil.
Place it in a tray or plate with the cooked side facing you. Allow to cool. Repeat for the rest of the batter.
Keep them covered in a small casserole or bowl.
Once they come at room temperature, you can start making the spring rolls. You may also keep them covered in a container in the fridge.
Stir-Fried Chicken With Greens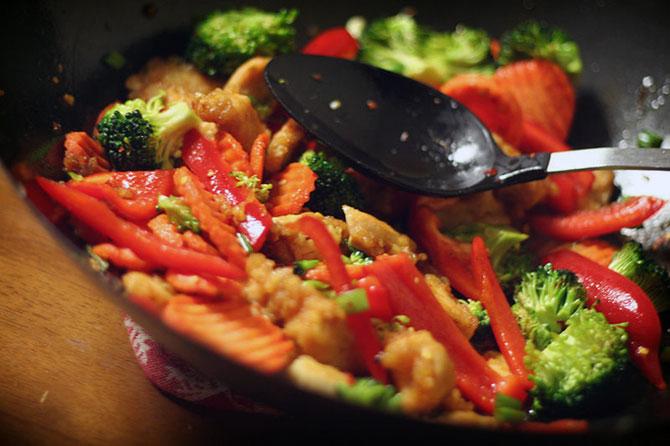 Image*: Ginny/Wikimedia Commons
Recipe by China Town, Tollygunge, Kolkata
Ingredients
250 gm boneless, skinless chicken breast, cut across the grain into small slices
1 tbsp egg white, lightly beaten
2 tsp corn flour
Salt to taste
1/4 cup chicken stock or vegetable stock
1 tbsp soy sauce
1 green, yellow and red capsicum cut into small cubes
2 to 3 small pieces of broccoli, cauliflower, Brussels sprouts
5 ml rice wine or sherry
2 tbsp cooking oil
1 tbsp chopped ginger
1 tbsp chopped garlic
4 to 6 shallots
A pinch of sugar
1/2 pound baby bok choy, cut in 1-inch slices
Freshly ground pepper
A pinch of sugar
Salt to taste
Hunan rice for serving
Method
In a large bowl, take chicken pieces, add egg white, cornstarch, 1 and 1/2 tsp of the rice wine or sherry, salt to taste and 1 and 1/2 tsp water. Stir together until coated.
Cover the bowl and refrigerate for 30 minutes.
Deep fry the marinated chicken pieces and keep aside.
Heat oil in a frying pan, add chopped ginger and garlic. Stir fry for some time, add all the vegetables and shallot. Stir fry for a minute.
Add deep fried chicken, rice wine, stock, soya sauce. Add salt, pepper and sugar.
Bring it boil, check if vegetables are cooked.
Add corn flour to thicken it and sprinkle spring onion.
Serve hot with Hunan rice.
How to make Hunan Rice
Ingredients
1 cup rice
5 tbsp cooking oil
1/2 cup shredded Ham
2 no large size potato diced
1 tspn soya sauce
Method
Soak one cup rice in two cup water for two hours.
In another pan heat oil and cook the ham till the colour becomes gray. Remove from the pan.
Fry the potatoes till golden brown and remove.
Heat oil in a handi, add rice, add fried ham, potatoes and soya sauce.
Add two cups of water and cover the lead of the handi, cook in a low flame till the rice is cooked.
* Image used for representational purposes only.
ALSO SEE
Chinese New Year predictions: 2016, Year of the Monkey
Click here for more interesting food recipes
You can send us your favourite recipes too.
Write in to us at getahead@rediff.co.in (subject: Favourite recipes) with your name, hometown and any interesting details about the origin of the recipe, along with a photograph if possible.
We'll publish the best preparations right here on Rediff.com and in India Abroad.