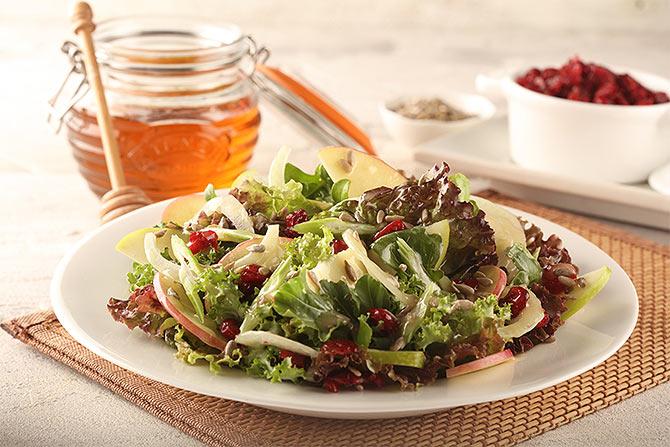 Mini Ribeiro tells us where to go salad hopping and what to try out.
When served as part of a meal, salads are rarely memorable. But, as a complete meal, salads, are no longer a big turn-off, because these are not perceived as diet food anymore.
A popular choice as a one dish meal, both for gourmets and the health-conscious, especially in summer, salads are made, combining vegetables, fruits, nuts, grains and enhanced with a zesty dressing.
A salad need not be boring any longer. A little thought put into a salad can jazz it up and make it go beyond the ordinary.
Colourful and vibrant, salads can be pleasing to the eye, as well as the palate.
Mini Ribeiro travels across Mumbai to pick her top 10 favourite places (not in any particular order) serving interesting salads.
1. Ministry of Salads
IMAGE: Beat the Heat salad. Photograph: Kind courtesy Ministry of Salads
This newly opened haven for salad lovers offers an exciting opportunity to make your own salads.
From the base to the dressing, one can select one's own ingredients and there is a lot to choose from.
This all-vegetarian place, serves a unique signature salad called Shabdkosh (Rs 360) with shabdkosh or buckwheat, watermelon, roasted beetroot shavings, kale and feta cheese. Taste plus health, this salad truly is.
For a protein fix, one can settle for the Lentil Mental (Rs 320).
It is replete with lentils, spinach, roasted pumpkin, pomegranate, almonds, coriander, with dijon honey mustard dressing.
An ideal choice for summer is Beat the Heat (Rs 320) which is a burst of flavours in the mouth. Chickpeas, cherry tomatoes, cucumber, kalamata olives, burnt garlic, mozzarella, red onions, mixed greens with a lemon herb dressing. It does not get any better in summer.
Add: Manik Niwas, Opp Tata Garden, Bhulabhai Desai Road, Mumbai.
2. Café Mangii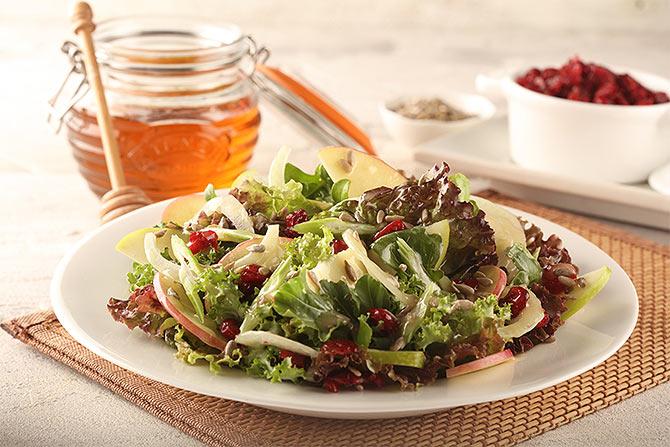 IMAGE: Cranberry Apple Salad. Photograph: Kind courtesy Café Mangii
One can't step into Café Mangii outlets in Mumbai and not order a Cranberry Apple Salad (Rs 425).
Perfect for this season, this salad is full of crisp sweet apple slices, mixed with fresh greens and the tangy dried cranberries offer the right amount of zing and crunch. The honey Dijon drizzle on top with sunflower seeds gives this refreshing salad the right finish.
Nicoise (Rs 385), is another popular choice here. This hearty salad with hard-boiled egg, grape tomatoes, cured olives, baby potatoes, French beans, artichoke hearts, bell peppers, shallots in a vinaigrette dressing, is sumptuous and tingles the taste buds.
The fresh, high quality ingredients used, make this worth the price.
Add: Mangal Bhawan, off Linking Road, 14th Road, Khar West, Mumbai. It is also available at Powai, Mumbai.
3. Café Basilico – Bistro & Deli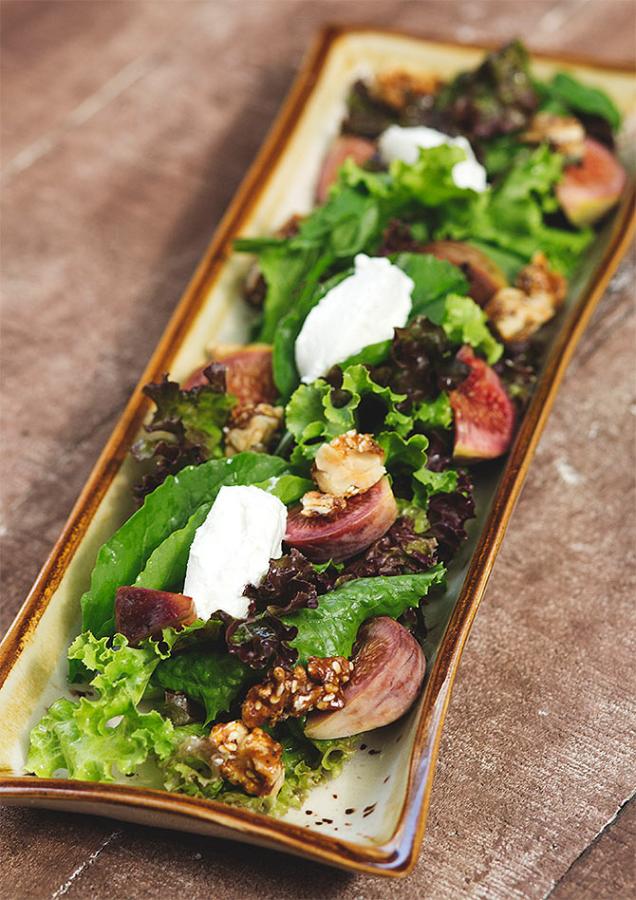 IMAGE: Fig and Goat Cheese Salad. Photograph: Kind courtesy Café Basilico
Bandra's favourite place is back in a new location and with an even more exciting menu.
The all- time favourite Caesar Salad (Rs 350) is high on flavour quotient and with fresh organic ingredients, is value-for-money too.
Those who love to experiment can settle for the Couscous Salad (Rs 330) where couscous is paired with organic tomatoes, cucumber, roasted pine nuts, herbs in an organic lemon and olive oil dressing, and tantalises your taste buds.
For lovers of a classic salad, the Fig and Goat cheese (Rs 370) is freshness and flavours personified and never fails you.
Add: Eternia Building, Hill Road, Bandra West, Mumbai. It has another outlet in Colaba, Mumbai.
4. Fable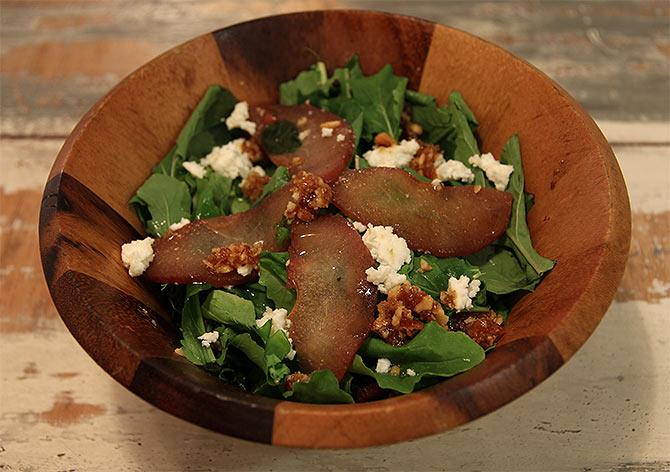 IMAGE: Poached Pear Salad. Photograph: Kind courtesy Fable
If unusual salads, are your calling, this place offers the perfect options. Poached Pear Salad (Rs 365) with candied walnuts, arugula and crumbled feta is an absolute delight, offering an exciting mix of textures and flavours in one meal.
The Quinoa and Barley Salad (Rs 375) with mixed lettuce, onions, cherry tomatoes in chilli maple dressing is healthy and the dressing adds the right amount of zing to it.
Add: Shop 3, Ashiyana Apartment, NS Road 13, Juhu, Mumbai.
5. Mamagoto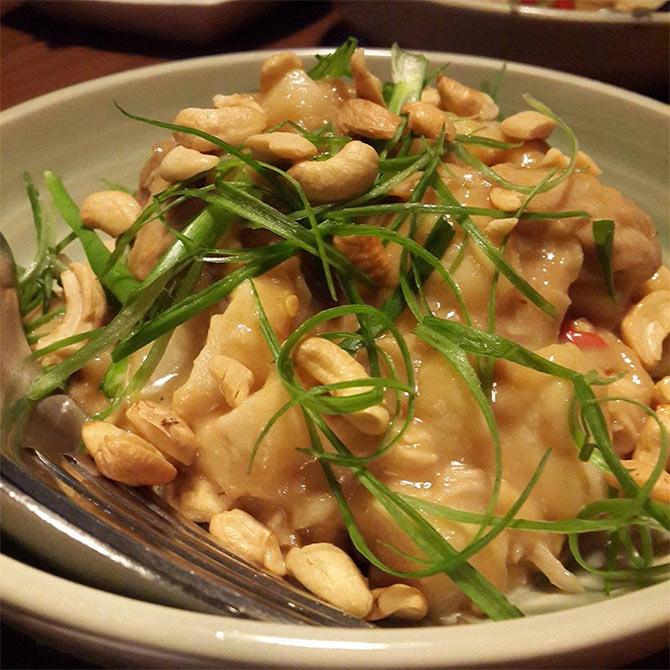 IMAGE: Thai Chicken and Water Chestnut Salad. Photograph: ricster111/Instagram

One would not expect a Pan Asian restaurant to offer exciting salads, but this one does.
The Thai Chicken and Water Chestnut Salad (Rs 419) may seem a little expensive, but given the portion size and quality, it is worth every rupee spent.
The red chilly strips, kaffir lime, lemon grass and coconut, impart a unique aroma and flavour to this salad. And if you want to play it safe, order the quintessential Thai Som Tam or Raw Papaya Salad (Rs 259) which is palate tickling as well.
Add: New Link Road, Opp City Mall, Andheri West, Mumbai. It also has other outlets in Fort and Bandra, Mumbai.
6. Paninaro
IMAGE: Fruit and Nut Salad. Photograph: paninaro_mum/Instagram
I love potatoes in any form and small wonder then, that the Bavarian Potato Salad (Rs 140) with potatoes and red onion served on a bed of balsamic induced lettuce topped with burnt garlic and parmesan, is my favourite here.
For fruit lovers, Fruit and Nut Salad (Rs 140) with field greens, apples and pears, raisins, chopped almonds in a berry vinaigrette, is a treat.
Non vegetarians can opt for the Ham and Boiled Egg Salad (Rs 150). It has ham, boiled eggs tossed with arugula, olives, cherry tomatoes served with in-house thousand-island dressing.
With the generous portion size, this is apt for a quick lunch.
Add: Platina Building, G Block, Plot C59, Bandra Kurla Complex, Bandra East, Mumbai, Maharashtra. It has outlets in Andheri, Elphinstone, Lower Parel and Nariman Point.
7. Salad Days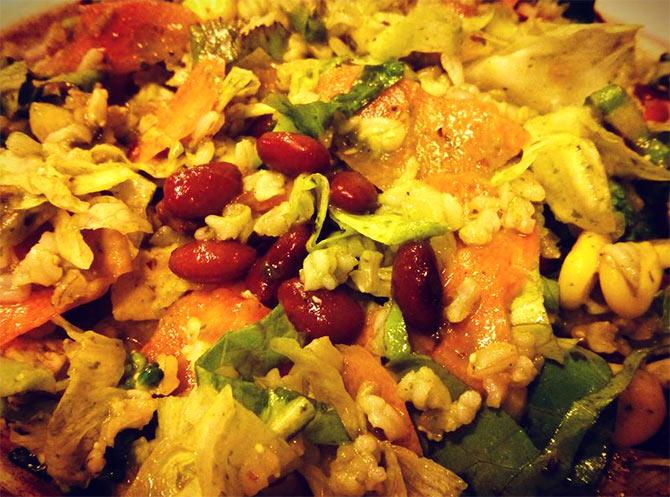 IMAGE: Burrito Powerhouse. Photograph: upendrasidhaye/Instagram
One can eat this Burrito Powerhouse, a fibrous mix of brown rice, kidney beans, greens, tomatoes, corn, spring onions and bell peppers served with cilantro lime dressing and be satiated.
Not only is this salad filling, it gives you the requisite quota of proteins, fibre, and all things healthy, in ample measure.
It comes in two sizes -- a meal size (Rs 170) and a snack size (Rs 105).
Another exciting option is the Tofu Tang (Rs 180 for meal size and Rs 110 for snack size)with assorted greens, carrots, bell pepper and zucchini, tossed with smoked tofu and crispy sesame seeds served with sweet and sour Asian soy dressing.
The taste of this crispy, crunchy salad is further enhanced by the addition of the flavourful soy dressing.
Add: Shop no 4, Gautam View CHS, Opp Axis Bank, Seven Bungalows, off JVLR Andheri West, Mumbai
8. California Pizza Kitchen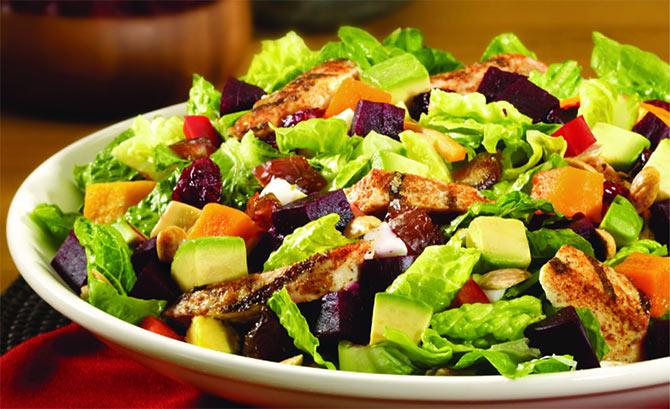 IMAGE: Moroccon Chicken Salad. Photograph: Kind courtesy California Pizza Kitchen
Pizza is not all you need to try here. The salads are exciting as well.
Carnivores can feast on this healthy and robust Moroccan Chicken Salad (Rs 330) with chicken, potatoes, toasted almonds, beet, bell pepper eggs and a tangy homemade Moroccan vinaigrette.
This flavourful, but hearty salad, can prove to be a meal in itself.
Add: First floor, Skyzone, High Street Phoenix, Lower Parel, Mumbai. Also available at other outlets across the city.
9. Leaping Windows Café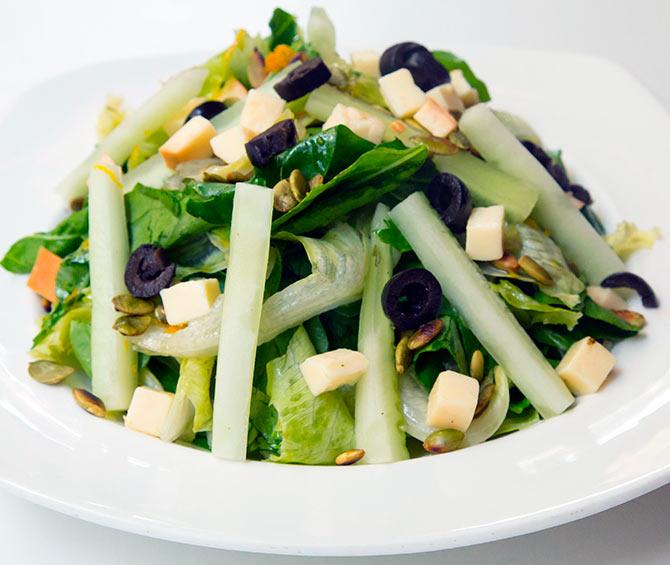 IMAGE: Smoked Cheese and Papita Seeds Salad. Photograph: Leaping Windows Café
This quaint little fun café, is known for its good food and salads too, are no different.
The Smoked Cheese and Papita Seeds salad (Rs 315) is a melange of flavours and pleasing to the eye as well.
The vibrant mix of iceberg and rocket lettuce, smoked cheese croutons, cucumber in an orange dressing topped with pumpkin seeds and olives, set your taste buds tingling.
For fish lovers, there is Tuna on the Turf (Rs 315) iceberg and rocket, tuna chunks, sun dried tomatoes, olives and croutons in a Caesar dressing. You can't go wrong with this one either.
Add: 3 Corner View, Dr Ashok Chopra Marg, Off Yari Road, Opp Bianca Towers, Versova, Andheri West, Mumbai.
10. Pishu's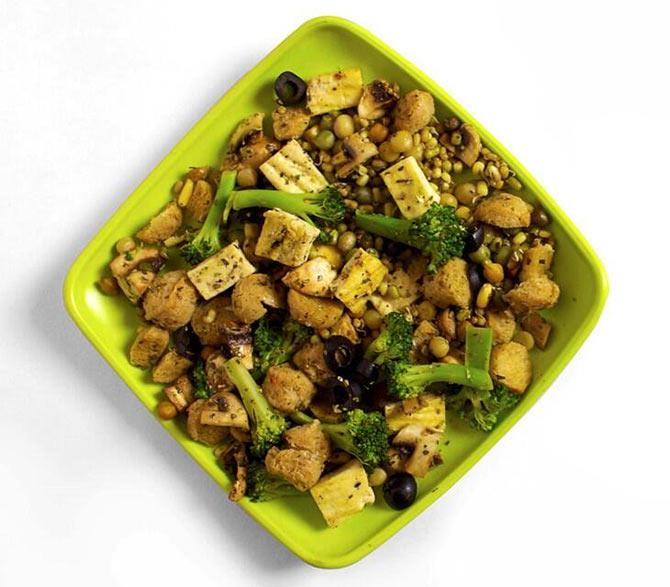 IMAGE: Protein Pro Salad. Photograph: Kind courtesy Pishu's
This tiny café is synonymous with healthy food and drinks.
The Protein Pro Salad (Rs 160) with tofu, soya chunks, brocolli, mushroom certainly lives up to its reputation and is health in a bowl.
Equally a surprise, is the unusual hot salad -- Palak Oats (Rs 110): Oats with a unique spinach sauce, vegetables and sprouts, for those who fancy something nutritious apart from the taste.
Add: 5, Linkway Estate, Link Road, next to North Exchange, Malad West, Mumbai
ALSO SEE
Where to find the best local food in Goa
10 must-try vegetarian restaurants in Mumbai