This festive season, why go down the oft-trodden path of making barfi, ladoo or sponge pudding?
Instead, put on your apron and whip up exquisite desserts, MasterChef-style.
These perfected culinary confections focus on local ingredients, which have emerged as one of the most significant food trends across the world.
Avantika Bhuyan lists five recipes suggested by celebrity chefs from across the country that combine sweet ingredients with the savoury.
Dhoda Baklava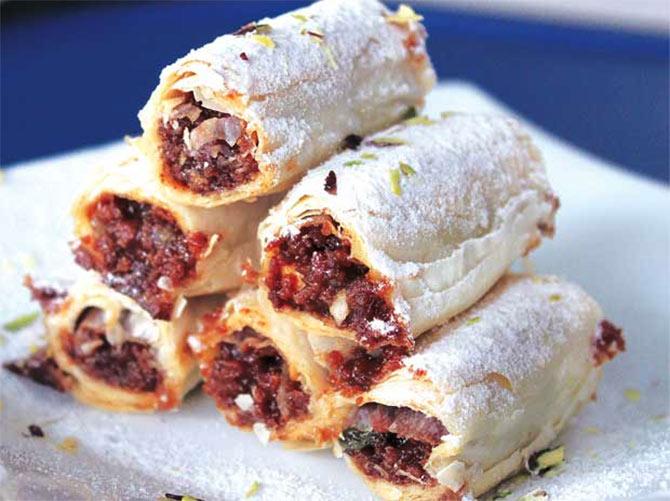 Photograph: Kind Courtesy chefkunalkapur.blogspot.in
Recipe by Chef-restaurateur Kunal Kapur, judge, MasterChef India 5.
What makes it special: The perfect textural combination of the rich dhoda (a sweet made from milk, sugar and nuts) with the crisp filo pastry.
Ingredients:
500 gm dhoda
6 filo sheets
2 tbsp butter
Icing sugar for dusting
Chopped pista for garnishing
Method:
Mash dhoda with the back of a heavy spoon.
Spread one of the filo sheets on the kitchen counter, apply molten butter using a brush.
Place another sheet on top and apply butter again.
On one side of the sheet, place the dhoda in a cylindrical shape.
Fold the filo sheet and make a thin roll.
Seal the edges using your fingers.
Apply butter on top of the filo.
Refrigerate for 15 minutes.
Remove from the fridge and cut in 2" length.
Place the dhoda baklava on the baking tray and place in the oven for 20 minutes at 175 degrees Celsius or till the filo sheet becomes crisp.
Remove from the oven, allow to cool.
Dust with icing sugar and garnish with chopped pista.
**************************************************************************************************************************************************************
Gardenia cake with edible flowers
Recipe by Chef Anees Khan, founder and chef, Star Anise Cafe, Mumbai.
What makes it special: Combined with orange zest, the curry leaf adds a distinct kick to the recipe.
Ingredients:
75 gm unsalted soft butter
50 gm caster sugar
1 egg
85 gm flour
8 gm baking powder
A pinch of cinnamon powder
A pinch of salt
50 gm almond powder
125 gm grated carrots
Juice and zest of one lemon
Zest of one orange
2 egg whites for the meringue
25 gm caster sugar for meringue
6 to 8 baked or deep fried curry leaves
For the creme cheese filling and topping:
150 gm creme cheese
200 gm whipped cream
50 gm toasted pecans, chopped
Few deep fried curry leaves
5 to 10 edible flowers
Cream the creme cheese and whipped cream to layer the cake
Method:
Preheat the oven to 180 degrees Celsius.
In a bowl, beat the unsalted butter and caster sugar using a paddle attachment. Achieve a creamy consistency.
Mix together the flour, baking powder, cinnamon powder, almond powder, salt, grated carrots, lemon juice and zest.
Add this to the butter and sugar mix.
Fold gently till all the ingredients have been incorporated together.
In a clean bowl, whisk the egg white into a soft meringue.
Slowly add caster sugar to form thick peaks.
Fold the meringue into the carrot cake, mix slowly and well. Don't over fold or the cake will go flat during the baking process.
Divide this into three parts and pour the mix into the baking mold.
Bake for 15 to 20 minutes or until the toothpick comes out clean.
Cool the cake on the wire rack for two to three hours.
Cut the cake horizontally into two parts.
Apply a layer of creme cheese filling on the first layer; place the other layer of carrot cake on top.
Apply the creme cheese filling on top.
Chill for one to two hours.
Cut thin slices, garnish with edible flowers, deep fried curry leaves, orange zest and toasted pecans.
**************************************************************************************************************************************************************
Kiwi Shahi Tukda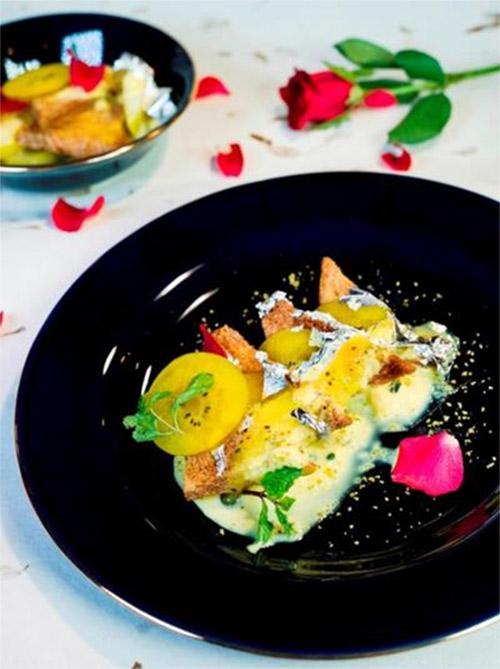 Photograph: Kind Courtesy Chef Ranveer Brar/Facebook
Recipe by Chef Ranveer Brar, host of Twitter India's first food-travel show.
What makes it special: The fresh flavours of the kiwi add a new dimension to this rich, creamy dessert.
Ingredients:
10 to 15 almonds
10 to 15 unsalted pistachios
4 slices of bread
500 ml low-fat milk
1 tsp green cardamom powder
5 tbsp sugar
1 gm saffron
3 tsp rose water
6 to 7 candied ginger
6 to 7 thinly sliced kiwi
1 cutter (shape of your choice)
Method:
Blanch the almonds in boiling water.
Remove in 40 to 45 seconds when the skin wrinkles; rinse under cold water.
Peel and slice thinly.
Do the same with the pistachios.
Take a slice of bread, cut out an even number of pieces using the cutter. Avoid the crust.
Toast the pieces on low heat by flipping them over constantly. They should be evenly nice inside and brown outside.
Remove in 15 seconds and let them rest.
Pour milk in a pan. Add cardamom, honey and saffron.
When the milk simmers, add the bread gently and put in rose water.
Remove the bread when it's soft and let the milk continue to simmer.
Place a few pieces of sliced candied ginger and sliced kiwi on one piece of bread.
Top that with another bread piece, something like a sandwich.
When the simmering milk has achieved a slightly thick consistency, pour it over the bread.
Garnish with silver foil and sprinkle with pistachios and almonds.
**************************************************************************************************************************************************************
Chocolate Cookie Pizza
Recipe by Varun Inamdar, chef, chocolatier, stylist and author.
What makes it special: Rich gooey chocolate topped with jelly cubes and candies on a crisp pizza crust -- what's not to like!
Ingredients:
½ cup butter, softened
¾ cup sugar
1 tsp vanilla
1 egg
1.25 cup maida
½ tsp baking soda
Topping:
½ cup chocolate sauce
½ cup jelly cubes
½ cup biscuits
3 tbsp peeled pistachios
¼ cup chocolate-flavoured corn flakes
coconut
½ cup assorted chocolate candies
¼ cup mango flavoured chocolate
mint leaves for garnish
Method:
Preheat oven to 180 degrees Celsius.
In a large bowl, mix ½ cup butter, brown sugar, grain sugar, vanilla and egg until well blended.
Stir in the flour and baking soda.
Roll dough, 12-inch round, on baking paper.
Bake for about 15 minutes or until golden brown.
Cool for about 30 minutes.
Spread chocolate sauce over baked layer.
Immediately sprinkle the nuts, candies and coconut. Press lightly.
Drizzle with melted white chocolate.
Let the cookie pizza topping set well.
Cut into wedges, if desired.
*************************************************************************************************************************************************************
Nutmeg and Black Pepper Goan Pudding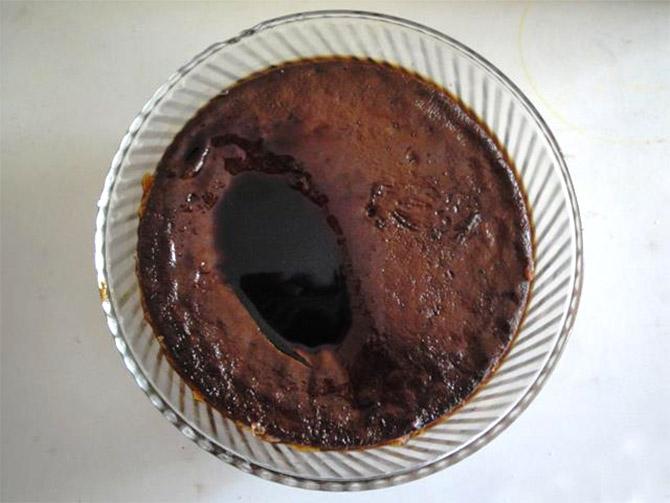 Recipe by Tejas Sovani, Executive Sous Chef, Amaranta, Oberoi, Gurgaon.
What makes it special: The kick of pepper adds heat to this finely-layered dessert.
Ingredients:
1 l freshly squeezed coconut milk
1 l jaggery syrup (string consistency)
16 egg yolks
300 gm refined flour
Ghee for greasing
5 gm black pepper powder
10 gm nutmeg powder
Method:
Mix all the ingredients together, except the ghee, to make a batter.
Grease a stainless steel tray with ghee and keep aside.
Pour batter into the greased tray till it achieves 3 mm thickness.
Cook under the salamander till it turns golden brown.
Remove from the salamander; apply a thin film of ghee by basting it.
Pour the same quantity of batter again in the same thickness and cook under the salamander as before.
Continue to repeat the procedure until you achieve 14 layers.
Wrap the tray with aluminium foil; ensure there is no open space and bake in a preheated oven for 20 minutes at 160 degree Celsius.
De-mold the pudding after it cools down and cut into desired shapes.
It can be stored in the fridge, wrapped, for up to three days. Serve warm with vanilla bean ice cream.