Alan Vidyush Baptist reveals how he changed his food and lifestyle and lost 30 kg.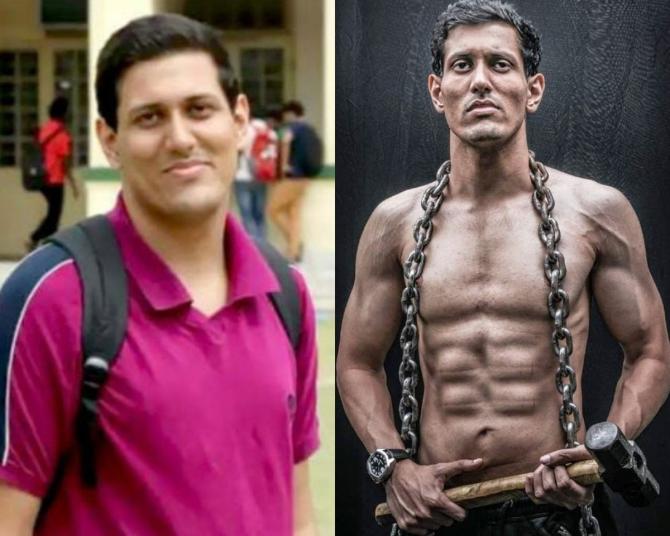 When I was a student, I focused solely on academics.
While working full-time as an auditor in a chartered accountancy firm, an occupation that involved a lot of non-stop traveling, almost 15 hours of my day was spent seated in addition to all that travel.
So I would describe my lifestyle as sedentary.
My eating habits were quite disorderly as well.
I'd just binge on easily available street food -- from the unhealthiest roadside chow mein and momos to oily deep-fried samosas and puris with aloo sabzi.
So basically, junk food constituted a significant portion of my daily diet.
I weighed 95 kg in January 2018.
I realised how unhealthy I was becoming, so I started my fitness journey as a New Year resolution the same year.
When I did my fitness photoshoot in month of November 2018, I was 65 kg.
The transformation
Truth be told, it was not initially about improving my fitness levels but it was more about trying to improve my appearance.
I wondered if an ordinary person like me could ever achieve the same body as models and celebrities.
So my motivation was to at least try and achieve a physique that social media fitness models and movie celebrities had and understand the mystery behind how that was attained.
In order to lose weight, the most important thing to remember is that one has to put the body in a prolonged calorie deficit.
It is WHERE and HOW you decide to willingly put your body in a state where it expends more energy (as performing any kind of activity would involve) than its energy intake(food).
If you feed your body lesser calories than what is required to maintain your current weight, you end up entering a calorie deficit and that is what leads to weight loss.
A great chunk of my focus and mental energy was invested in making sure I eat my meals in a calorie deficit.
Diet and workout
I trained with Vinit Baptist of Zest Fitness Studio in Kolkata.
I counted every calorie in each meal and placed the entire physiology of my body in a calorie deficit. So it was essentially a calorie-deficit nutrition plan with approximately 180 grams of protein.
My gym workouts would take no longer than an hour to complete if done properly.
It was a simple workout chart that allowed me to train two body parts a day for 6 days a week consistently followed by a 10-minute cardio session after weight training.
It was a standard bro-split set:
Day 1:Chest exercises (20 sets) + biceps (12 sets) + HIIT circuit(5 minutes)
Day 2: Back exercises (20 sets) + triceps (12 sets) + ABS circuit(5 minutes)
Day 3: Shoulder exercises (20 sets) + forearms (8 sets) + LISS or low intensity cardio (5 minutes)
Day 4: Leg exercises only (cause I would get really exhausted on leg days and just want to somehow get done with training on those days. My outlook with respect to legs days is much different now)
Day 5: Chest exercises (20 sets) + biceps (12 sets) + flexibility and mobility FRM flows (5 minutes)
Day 6: Back exercises + triceps + ABS circuit (5 minutes)
Initially, it was really challenging to juggle such a rigorous training schedule along with my equally demanding professional life. That is where my mentor helped me out again.
Vinit, my trainer, taught me the 6Ps -- Proper Prior Planning Prevents Poor Performance.
So I would keep an hour's time dedicated to working out without fail. I just had to ensure that I was carrying my meals wherever I traveled.
I managed to have breakfast at home and carried lunch (well-prepared delicious chicken and 2 chapatis) which was not much of a hassle.
For snacks, I'd find a food stall that sold boiled eggs. There was always diet coke and coca-cola zero to fall back on.
My learnings
I learned a lot from this entire journey.
Today, I am the co-founder and the head nutritionist at the National Fitness and Nutrition Academy, an evidence-based fitness and nutrition educational institution in India.
I am also the managing director at Let's Be Fit, a health-based start-up that consults clients to achieve their fitness and health goals.
What I realised was, people have been taught that being fat is equivalent to being ugly.
This is the root cause of body image issues and as a coach myself, who mentors clients and counsels their nutritional regimen, I constantly remind them that their self-worth and sense of self-esteem should never be tied to the number that is on the weighing scale or by the image they see in the mirror.
The idea is to simply get fitter and healthier without worrying too much about what you would appear like.
DON'T MISS! More Inspiring FAT to FIT features
---
Have you recently lost weight or survived a health condition?
We want you to share your story with us. Tell us how you did it.
Please share your diet plan, exercise tips, learnings and more.
Kindly mail getahead@rediff.co.in (My Fitness Story) along with your NAME, AGE, LOCATION, along with a before and after photograph of your fitness journey. We'll feature the best responses on Rediff.com.