15 iconic Jimmy Choo designs that tell us exactly why the American fashion company decided to scoop up the upscale British shoe brand.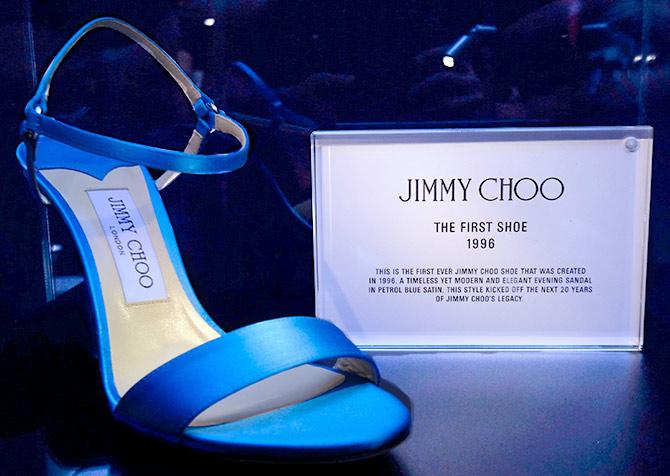 The brand was founded by Tamara Mellon, then accessories editor at British Vogue, and Malaysian shoemaker Jimmy Choo, with support from Choo's niece Sandra Choi as creative director.
Photograph: Mike Coppola/Getty Images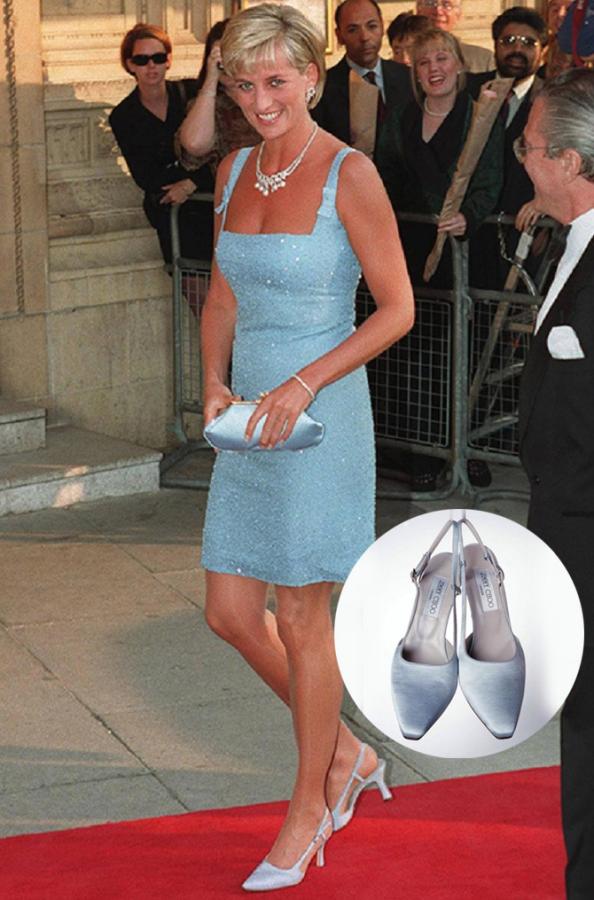 The low-heeled slingbacks Princess Diana matched to her shimmering Jacques Azagury minidress for the Royal Gala performance of Swan Lake at Royal Albert Hall in 1997 was the moment that put the Jimmy Choo brand on the map.
The princess had worn Jimmy Choos before, but as Choi told Marie Claire UK, this was 'the light-bulb moment': 'It really started everything for us -- all of the celebrity appearances.'
Photograph: Courtesy JimmyChoo.com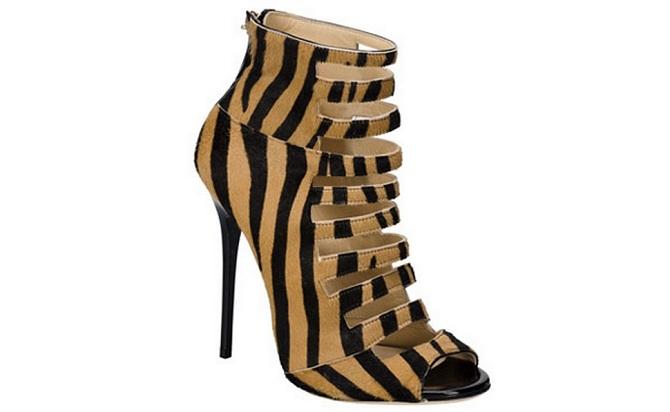 Anita, a zebra print bootie, was created to celebrate Jimmy Choo's entry onto the American red carpet. It was reimagined in this $1,594 avatar for Jimmy Choo's Icons collection in 2011 when the brand turned 15.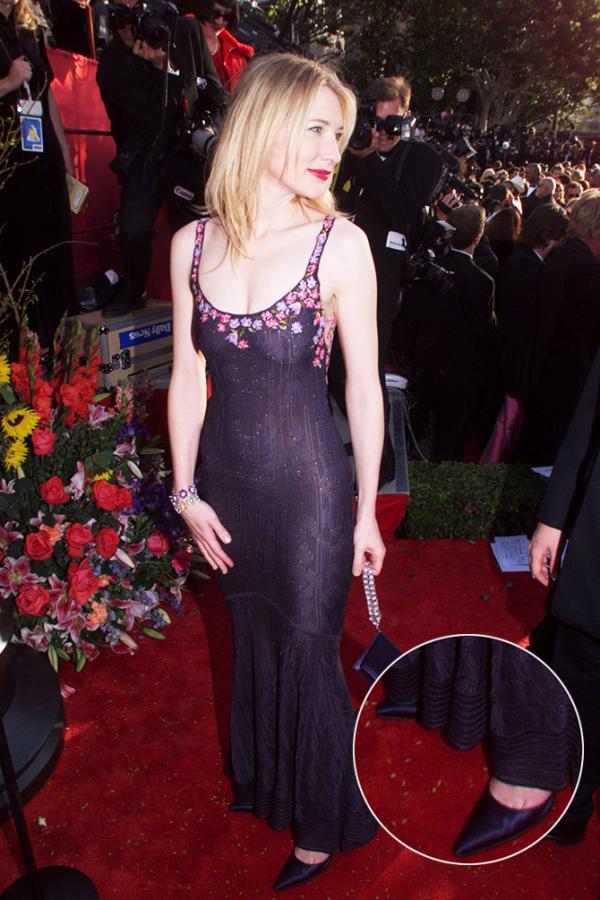 The Jimmy Choos Oscar Collection is tradition now, and it all began in 1999 with Cate Blanchett.
Then a first-time best-actress nominee, for Shekhar Kapur's Elizabeth, she brought the label to the Oscar red carpet with a pair of custom court shoes.
Picking this as one of the brand's most iconic red carpet moments, Choi told The Hollywood Reporter, 'We did everything via long distance. I think she wore a Galliano dress and it had a very low mesh back in midnight blue. Cate's an amazingly talented actress and she can wear absolutely any designer she chooses, but she chose us!'
Photograph: Rose Prouser/Reuters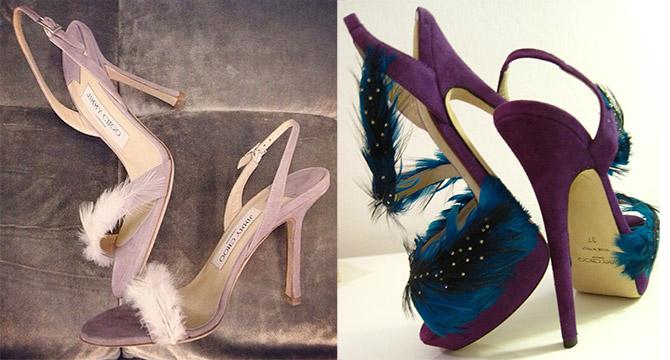 'I lost my Choo,' Carrie Bradshaw shouted when she ran to catch the Staten Island Ferry in Sex and the City Season 3, immortalising Jimmy Choos in pop culture.
That was in 2000. But the feathered shoe Carrie lost became so famous that Jimmy Choo reimagined it for its Icons line in 2011.
It was reborn as Marlene -- with hand-applied feathers and crystals, a platform, and a second strap across the front so that no one ever loses this Choo :)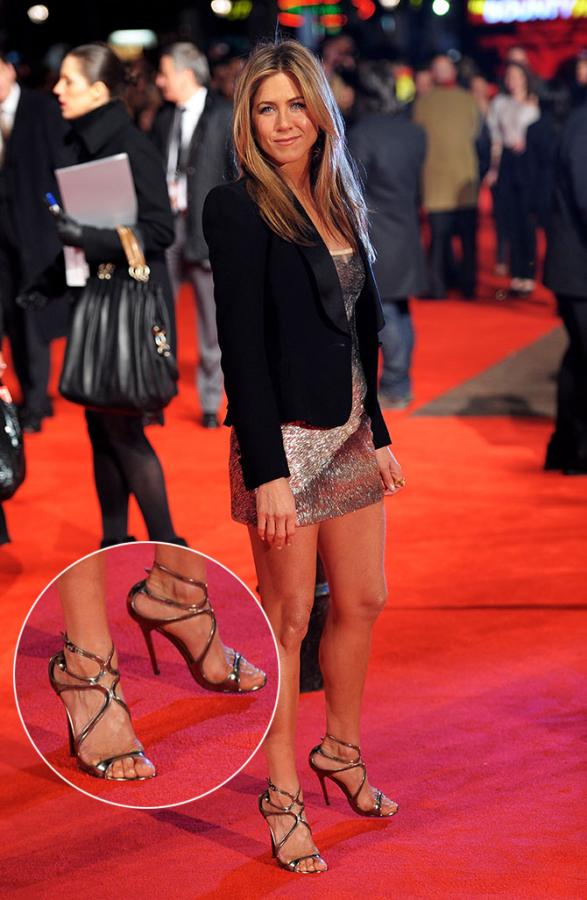 The Choo design that has logged the most red carpet miles in the brand's 20-year history is the Lance. Designed in 2007 by Choi, it remains immensely popular a decade later.
Jennifer Aniston tried them on as early as 2010 (pictured above), and has probably worn the Lance more than any other celebrity. And just last year, Amal Clooney picked up the design to complement her Versace dress on the Cannes red carpet.
It evolves every season with new colours and fabrications. Lance, Choi told In Style, 'combines soft feminine lines with architectural ingenuity to create the quintessential modern-day strappy sandal -- it's definitely one of my trusted staples!'
Photograph: Ian Gavan/Getty Images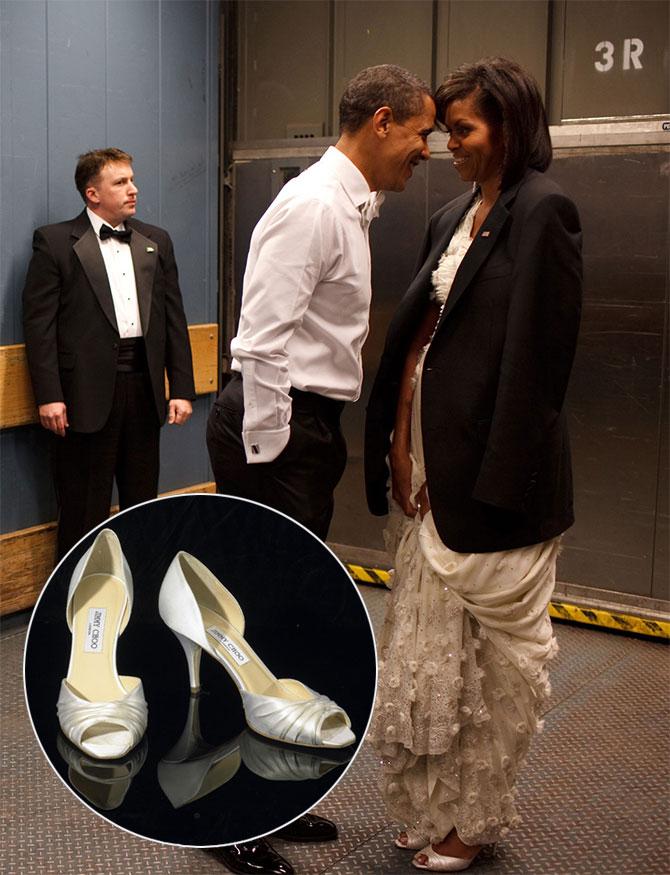 The Jimmy Choo d'Orsays were catapulted to instant iconic status when Michelle Obama chose a white satin pair for Barack Obama's first inaugural ball as the American president in 2009.
She opted for Jimmy Choos for Obama's second inaugural ball in 2013 too, and both pairs now enjoy a place of honour at the Smithsonian's Museum of merican History in Washington, DC.
Photograph: Pete Souza/The White House/Handout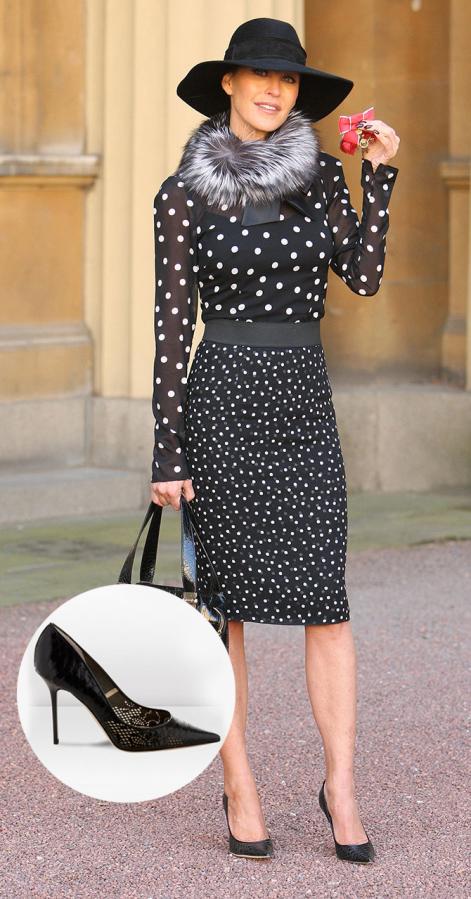 When Jimmy Choo launched its Icons collection, co-founder Tamara Mellon had told Vogue that the collection featured 'memorable styles… that represented milestone moments for the brand and embody the DNA of our house style.'
Among them was The Fleur -- a classic pointed court shoe worn by Tamara Mellon when she received the Order of the British Empire in 2010.
Photograph: Dominic Lipinski /Getty Images
The Murial (left), which was embellished with a glittery corsage and thought to be exaggerated when first launched, became even more exaggerated -- 'and fun', according to Mellon -- when it evolved into the Faye Icons version (right) in 2011.
The Macy, worn by Natalie Portman when she won her Oscar in 2011, was another Icons pick.
Photograph: Kevork Djansezian/Getty Images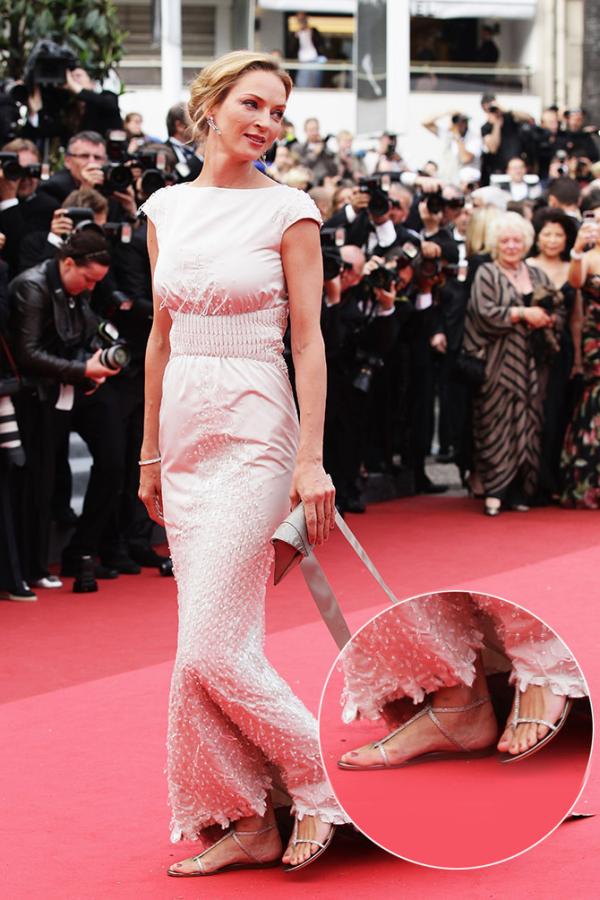 And who can forget Uma Thurman in an evening gown and the Doodle (flat Jimmy Choo sandals) on the Cannes red carpet in 2011!
According to Jimmy Choo's research and sales, skyscraper heels were at their most popular during this time, but Thurman was willing to rebel.
Choi picked it as one her best Jimmy Choo moments, telling The Hollywood Reporter, 'It was different and I loved it -- and she had the height to pull it off. Who's to say that glamour has to be trying? I think that really spoke to the modern woman.'
Photograph: Andreas Rentz/Getty Images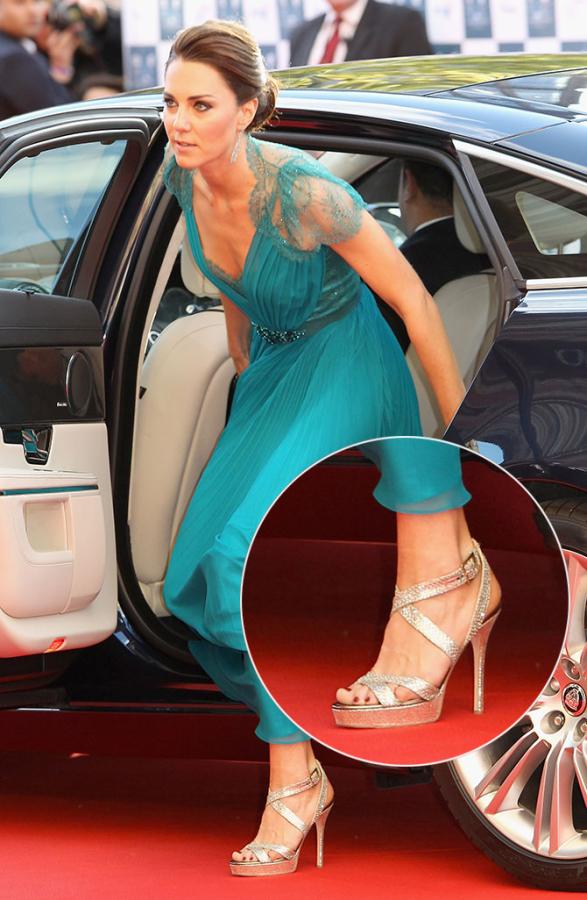 Just like her mother-in-law, Princess Diana, before her, Princess Catherine, the Duchess of Cambridge, is good news for Jimmy Choo. The Vamp, a Champagne glitter platform, sold out globally within 48 hours of her wearing them to an awards gala in Los Angeles.
Photograph: Chris Jackson/Getty Images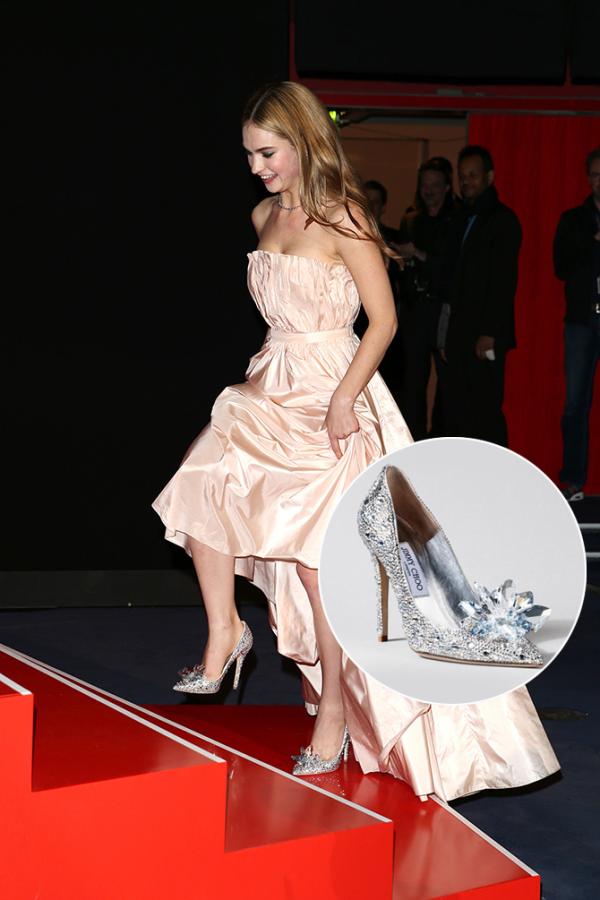 What can be more iconic for a shoe maker than crafting a Cinderella shoe?
Jimmy Choo was one of the nine brands that reimagined the famous glass slipper before the release of the Lily James starrer Cinderella in 2015. And it was the Jimmy Choo design that made it to the premiere of the film at the Berlin Film Festival.
The classic stiletto was hand-encrusted with crystals, producing a shimmering effect. On the toe was an explosion of crystals arranged like a bouquet.
'I think every girl desires a Cinderella moment in their lives,' Choi had told The Hollywood Reporter. 'This story ignites a love affair and fascination with shoes that never die. I wanted to create a shoe that felt magical, with alluring sparkle and a feminine, timeless silhouette evoking those childhood emotions.'
Photograph: Andreas Rentz/Getty Images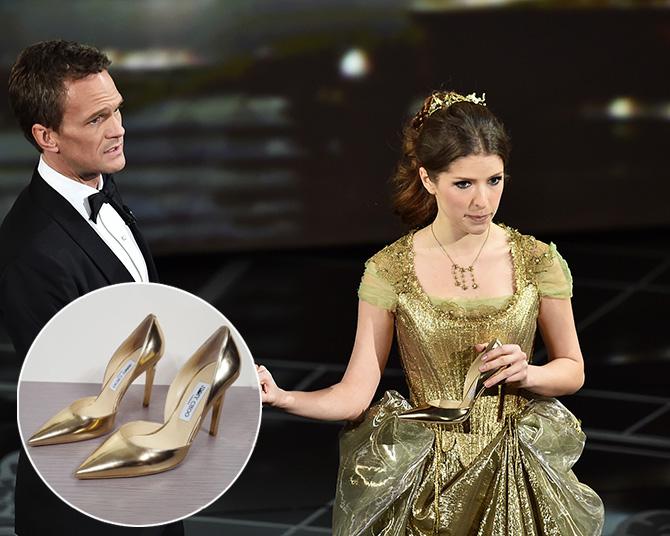 Anna Kendrick and Neil Patrick Harris lyricising Jimmy Choos -- holding a golden Darilyn -- at the start of the Oscar's ceremony in 2015 was quite the coup for the brand.
'I'm not sure we could have orchestrated this any better,' Choi said. 'It also came just after a lot of press coverage of the Cinderella film, so it was a very proud moment. I never forget that everyone has choices. And the fact that they choose to talk about us, well we must be doing something right.'
Photograph: Kevin Winter/Getty Images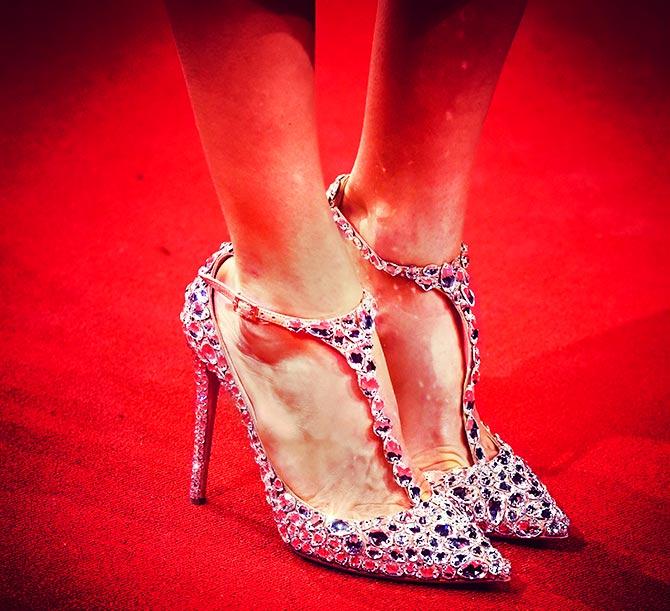 Storm -- a T-bar stiletto bejewelled with 386 Swarovski crystals and stones -- was unveiled as the jewel of the Memento collection, which was a celebration of the brand's 20th anniversary in 2016.
According to Cheshire Magazine, the crystals and stones are 'painstakingly applied using a hot-fix technique and hand embroidery in an Italian atelier by skilled artisans -- a procedure that takes nine hours to undertake.'
Photograph: Clemens Bilan/Getty Images