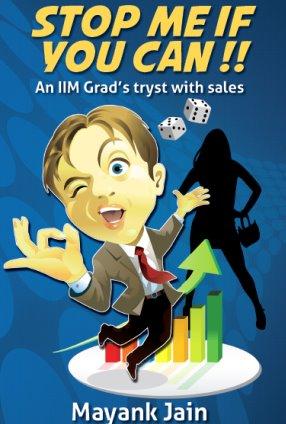 Mayank Jain's book Stop Me if You Can is a light-hearted description of the life of an IIM grad in sales. Here is an excerpt from the book.

Rohit Salaria is a fresh graduate from one of the famed IIMs and has just picked up a sales job with an MNC.

For his first assignment he is posted in Hyderabad as a territory manager. He discovers the ever dynamic world of sales; the uncertainties and the complexities related to it. And then of course, there is that single most important corporate entity – the boss.

But Salaria is different. Very different. Riding high on IIM credentials, the maverick in Salaria takes over as he devises his own methods to deal with situations around him. Salaria inspires his salesmen and peers. His bosses are in awe of him. His competitors want to kidnap him. Or so he thinks. Ahem.

Again, it is Salaria's innovative approach and sheer self-belief that leads him to get a chance to be close to Priya, a girl he could have only dreamed of. He wants her badly. But the bigger questions still linger.

Will he survive sales? Does Priya want him badly enough? Mayank Jain, an IIM graduate himself narrates the tale of Rohit Salaria. We bring you an exclusive excerpt from the book:
---
Quickly I revise the agenda for the evening in my head. It is one-point. Get Priya to start liking me.
Wait, she already likes me, doesn't she? Running a reality check. Okay, get her to like me. And a very vital factor in deciding the extent of her liking for me, will be her status.
I don't need to explain status here. Duh, do I? I start off by asking her some very generic questions about her visit to Hyderabad.
She must not sense my ulterior motives here. She gushes that it is her first visit to Hyderabad and that she is already loving the city. Only girls can do this. Trust me. Traffic, airport, hotel, guesthouse.
That is the exhaustive list of what Hyderabad has offered her till now. Still she is
'loving it already'. But, anyway, I have to touch upon the real topics now. Going by Hyderabad traffic, the cab journey will probably be the longest uninterrupted time spent with Priya tonight.
I casually ask her about her friends. She tells me she has many. I ask her to tell me their names. She looks startled and tells me that I am acting a bit creepy. I don't react and keep staring at her with expectant eyes and a very slender smile. The what-are-you-talking-about-just-answer-my-question look.
The situation becomes uneasy. She gives in. Not surprising. Rohit's magic is already working. One by one she names some seven friends. Out of the seven friends she mentions, six are males. Or at least have names that sound distinctly male. Just like Puneet, Sugandh and Jassi are bisexual names, who knows it might be six females and one male?
But expecting such a miracle from names like Ramesh, Sunil and Rohan? Wouldn't that be asking for too much?
To make up for the temporary uneasiness, as soon as she finishes naming her friends, I start howling with laughter and tell her that I was just joking and didn't really expect her to name her friends. And how could it possibly matter to me? She tells me that was weirder still. Bad start.
I quickly shift gears and start talking about my life and likes. Two minutes into it and I can see her yawning already. Luckily we arrive at Hilly Haven. I spring out of the cab and run around it to reach for Priya's door. I open it for her. She looks impressed.
Preliminary seeding of my gentlemanly traits into her mind space -- completed successfully. We move inside Hilly Haven.
Elegant decor, dim lighting, soft background music and a young crowd. Priya's expressions tell me that she is loving it. 'Loving it already', if I may use the term. The way a few young lads are staring at her, they probably feel we are a celebrity couple. Until, of course, they spot me. As soon as the ordering is done, I am back to business.
I ask her whether she is aware of her gorgeous frame which makes her the center of attraction so often. She blushes. Next I tell her about her beautiful eyes and how they remind me of my grandmother.
Yes, I have stolen this from SRK in DDLJ. If an SRK can pull it off, there is no way Rohit Salaria can fail to impress with this line. She is taken aback and asks me whether she looks so old. Stumped.
Now Priya asks me about my friends. I see another opportunity to test SRK's on-screen antics here. I casually mention that I have many friends, mostly girls. She lets out an 'oh-ah' kind of sound. Even before she can say anything further, I slip in the fact that I am still single because I don't see the point in spending my entire life with just one girl.
One has got attractive eyes, another has got shining hair, yet another has got a striking face and so on. She cuts me off even before I can complete. I still had the legs, hands, skin and overall figure coming up. She starts laughing hysterically and then categorically mentions that I sound like a philanderer and someone very unstable.
Point noted -- everyone in India, including all girls, has seen DDLJ, possibly multiple times; Maratha theatre in Mumbai is still running it daily. Girls have whacky counter-statements ready for every pick-up line used by SRK in the movie.
Never ever use a dialogue directly copied from DDLJ on a girl. Firstly, it amounts to plagiarism at some level. Secondly, it won't get you anywhere -- if anything, only farther from your target. For the benefit of my male brethren, I suggest they incorporate a "Do not try this at home" subtitle every time SRK delivers a cheesy dialogue in the film.