'I am a third stage cancer patient. I can save only 25,000 per month. Please suggest me options for four to five years horizon.'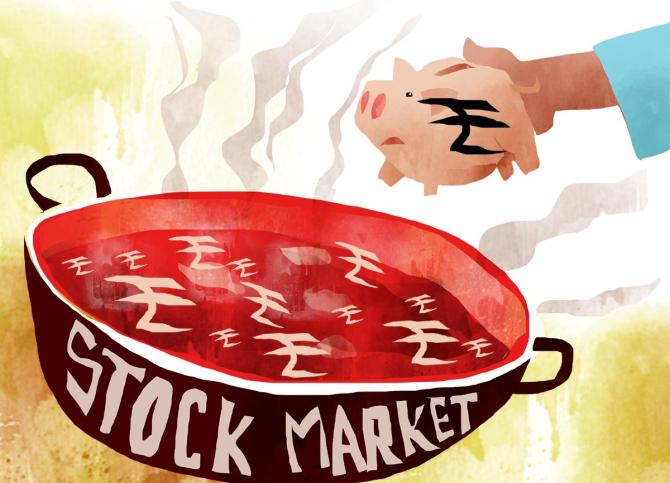 Ajit Mishra, vice president, research, Religare Broking, answers your stock market queries:
---
Bhupendra Kumar: I am a cancer patient with third stage. I have small income and can save only 25000/- per month. I have a child four year old. I want to invest in stock market. So that i can give some financial support to my only child. Please suggest me one or two options for four to five years horizon. Please help me. Hope u reply me soon.
Ajit Mishra: We would not recommend putting all your savings in the stock market. As much as it is rewarding, it has risks associated with it as well.
Allocate a portion of it in blue-chip companies like Reliance Industries, Britannia Industries, Bharti Airtel, M&M, HDFC Bank, TCS, ICICI Bank. One can also look at Nifty ETF as well.
VIPUL PATEL: Sir, I have purchased 50 shares of STERLING & WILSON SOLAR LTD. @ 502/- PER SHARE. Shall I hold the same or sell? If I have to hold then for how long do I have to hold.
Ajit Mishra: Exit
vivek sharma: I have the following shares. Please suggest what to keep, hold and sell.
Ajit Mishra:
1. Anjani Foods - 100 shares- Purchased for Rs. 152 per share (should I sell them?) - Hold
2. Everest Kanto Cylinders - 50 shares - Purchased for Rs. 144 per share (should I sell them?) – Book Profits
3. Adani Power - 200 shares - Purchased for Rs. 89 per share (I would like to sell them in the price bracket of Rs. 125 and repurchase 500-700 shares when they are little down) – Look to exit
Also, I would like to purchase Reliance Power shares. Should I purchase?
Ajit Mishra: No
Kiran Thumpati: Kindly give your suggestions for below mentioned stocks to hold or exit.
Ajit Mishra:
1. Glenmark life sciencies 150 shares@730 rs - Hold
2. Trident 4000 shares @25 rs. - Hold
Shamsudeen Hamsa: Please advise me on the scope of the following stocks which I plan to buy.
Ajit Mishra:
1. Xelpmoc Design and Tech Ltd - Avoid
2. Aurum Proptech Ltd - Avoid
Aditya: Kindly advise for the following stock holding -- Vishal Fabrics: 3000 shares @ Rs 120.
Ajit Mishra: Exit
Dinesh: Dear Sir, kindly let me know can I retain or sell following shares.
Ajit Mishra:
1) Spice jet – Prefer Interglobe
2) State Bank of India- Hold
Rajesh Nair: I have the below shares along with average price. Please advise whether I should hold, exit or buy more:
Ajit Mishra:
MANI SHUKLA: I am 40 years old I want to invest around 2 Lakhs per month in MFs, Equity, Bonds etc. Please let me know best funds, bonds etc for next 12-15 years of horizon. I already have SIP worth 55K per month and I want to invest 1.5 lakhs more. Is it worth to go with PMS services, which PMS is best with balanced approach?
Ajit Mishra: We would not be able to comment on mutual funds or PMS.
---
Please mail your questions to getahead@rediff.co.in with the subject line 'Ask Ajit', along with your name, and Mr Ajit Mishra will offer his unbiased views.
Disclaimer: This article is meant for information purposes only. This article and information do not constitute a distribution, an endorsement, an investment advice, an offer to buy or sell or the solicitation of an offer to buy or sell any securities/schemes or any other financial products/investment products mentioned in this QnA or an attempt to influence the opinion or behaviour of the investors/recipients.
Any use of the information/any investment and investment related decisions of the investors/recipients are at their sole discretion and risk. Any advice herein is made on a general basis and does not take into account the specific investment objectives of the specific person or group of persons. Opinions expressed herein are subject to change without notice.