Ajit Mishra, Vice President, Research, Religare Broking, answers readers' queries on a weekly basis.
Here are his replies to some of the 'buy, sell, hold or avoid?' emails that we have received.
If you want his advice on your investments, please mail your questions to getahead@rediff.co.in with the subject line, 'Stock Market Query', along with your name, and Ajit Mishra will offer his unbiased views.
Illustration: Dominic Xavier/Rediff.com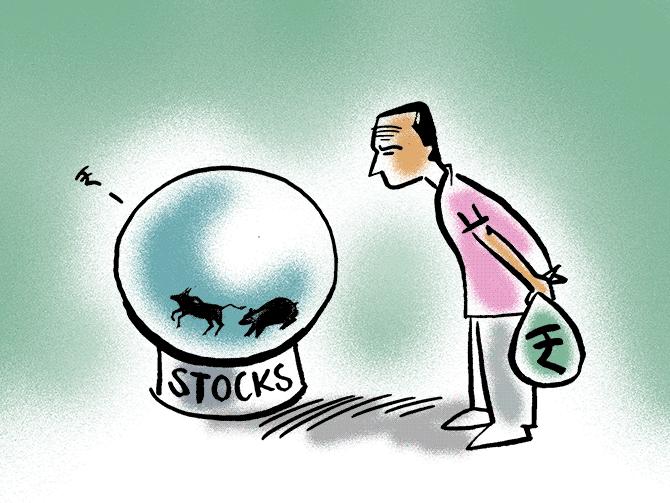 ---
Dipankar Chakraborty: I am holding a few stocks since long & performance is also very poor. Any positivity is there if I Hold for further time. Need your kind advice Sir.
Ajit Mishra:
---
Ravi Jadhav: Please give me guidance for below stocks on mail reply. I can Hold for 4-5 years view. Suggest whether to Hold/add/reduce/sell.
Ajit Mishra:
---
R S Mani: Greetings Mr.Ajith Mishra. I would like to have your advice on the following stocks I have currently. Please suggest buy, sell or hold accordingly.
Ajit Mishra:
---
Puneet Suri: Should I Hold the following?
Ajit Mishra:
SAIL @60: Stock is trading under pressure for more than a year now. Though marginal bounce can't be ruled out at the current levels but upside is capped. Hold with strict SL at 36
NBCC @ 55: Stock is trading under pressure and still there is no sign of relief. Better to Exit on any bounce.
SBI @ 280: SBI is one of the strong counters in PSU pack and still holding strong in multiple time frames. Immediate support is at 318 and Resistance is at 342. Hold
---
Anil S Mahajan: I have following shares for last 2 to 4 years. Please give your advice whether to hold or sell.
Ajit Mishra:
---
K M: I am a long term investor, looking for super-duper, astonishing capital gains. I have shares of only two companies in good quantity: Maruti Suzuki & Infosys.
Can you tell me if these two scrips qualify for super-duper capital gains in the long run?
Which other companies qualify for fantastic capital gains better than Maruti Suzuki & Infosys in your order of preference?
If these two are the best & none other better than these, then say so because I will sell these to buy your recommendation as good quantity can give good capital gains.
Million thanks & looking forward for your expert advice, thanking you in advance, I remain.
Ajit Mishra: Yes, Maruti and Infosys both can fetch good returns over long term. We believe you should hold these stocks. However, if you want to switch to other stocks then exit only part of your investments. Further, investment can be made in companies like Marico, Britannia and M&M.
---
Ajay Seth: I am long term investor having following stocks: Kindly advise if I should hold or exit
Titan 50 @ 1180
ITC 250 @ 261
Ajit Mishra: Continue to hold both the stocks as it can fetch healthy return over long term.
---
Suresh Kasliwal: Kindly advise about following stocks.
Ajit Mishra:
Hikal Ltd 50 @ 168: On short-term chart, it's looking weak. Better to exit or else put strict SL at 105
Indian Energy Exchange 64 @ 168: After a swift rebound from its support zone around 115, it's currently consolidating in a narrow range around the support zone of moving averages ribbon. Breakout above 150 will lead to rise in price else consolidation will resume. Support is at 136
Zee Learn 450 @ 42: Hold with strict SL at 25
GNFC 50 @ 500: After a decent correction from its record high, GNFC is currently hovering in a narrow range for past two months or so on chart. At the current juncture, marginal bounce can't be ruled out however upside is capped as it has got multiple resistance around 200, 210 and then at 230. For any upside surge, breakout above all these level is crucial else sideway s to negative trend will continue.
Praj Industries 50 @ 119: Hold with strict SL at 105
Arvind Ltd 50 @ 95: Hold with strict SL at 45 else on any bounce try to exit. Upside resistance is at 55.
---
Manish Mohta: I have following scrips in my portfolio. Please give your expert advice on long term holding for following scrips:
Ajit Mishra:
---
S K Singh: I am holding following stocks. Please advise whether, I should add, hold, or sell them. I can hold them for another six-month period.
Infosys 750 shares @ 565
SBI 700 shares @ 232
Ajit Mishra: Continue holding both the stocks for at least 1-2 years for healthy return.
---
Dr Mohit: I have shares of Spicejet @ 140, South Indian Bank @ 27. I have been holding these shares since 18 months. Kindly suggest what to do! Hope to hear from you soon.
Ajit Mishra: Exit both the stocks.
---
Reno Mammoottil John: Should I hold/quit on the following stocks:
Ajit Mishra:
30 Ashok Leyland @ 135: Hold
60 Jain irrigation @ 136: Exit
55 Tata Steel @ 711: Hold
9 Vedanta @ 224: Hold
---
Anant Kamat: I am holding these stocks from past couple of years. Please let me know if I can continue holding them or exit.
Ajit Mishra:
---
Pankaj Chandra: I am holding the following:
Ajit Mishra:
---
Dr Neeraj Kumar Sharma: I have following shares. Should I Hold or sell?
Ballarpur Industries Ltd 900 @ 2.85
Vodafone Idea 100 @ 15.02
Jaypee Infratech @ 2.50
Shree Renuka Sugars @ 12.01
Ajit Mishra: Hold Idea and exit others.
---
Shanti Raghavan: I have the following stocks. Kindly let me know should I hold or sell. Looking forward to hear from you
Ajit Mishra:
---
Anup Bhura: Dear Sir, please advise on the following stocks:
Ajit Mishra:
Coal India 400 @ 262: Hold with SL at 195
La Opala 200 @ 294: Looking weak on short-term chart, better to exit else Hold with strict SL at 135
ONGC 500 @ 188: Hold with strict SL at 130
Sun Pharma 500 @ 727: Hold with SL at 400
Vakranghee 200 @ 201: Exit
Zee Media 2000 @ 21.80: Exit
---
Prasun Jain: I have 200 shares of PI Industries, 100 of HDFC Bank and 100 for Jindal Steel. Please suggest whether to hold or sell?
Ajit Mishra: Continue to hold PI Ind. and HDFC Bank as both the stocks are fundamentally stable. However exit Jindal Steel on poor financial.
---
Krishan Garg: Should I sell Siemens, Avenue Supermart, Avanti Feeds and Ceat Tyres?
Ajit Mishra:
SIEMENS: After making a record high at 1717.45, it's currently witnessing profit taking, however overall strong on the chart. Hold with SL at 1490
DMART: Strong on the chart, one can hold with SL at 1780.
AVANTI FEED: Holding strong on multiple time frames. Hold
CEATLTD: It has been an underperforming counter for past two years or so on daily chart and still looking weak. Exit else hold with SL at 920.
---
Dr R K Gupta: Kindly advise one-year prospect of these stocks at current prices.
Ajit Mishra:
Tata Steel: Hold
Bhusan Ltd: Exit
Rain Industries: Exit
Graphite India: Hold
---
Ashish Sheth: I have Maruti shares purchased @ 6492. Please confirm if I can sell or hold them to avail maximum profit.
Ajit Mishra: Mostly auto packs are witnessing rebound and Maruti is no different. It has witnessed a sharp rebound from 5450 to 7758 levels and thereafter witnessed an intermediate dip of late, offering fresh buying opportunity for those who missed the chance earlier. Considering its current chart pattern, we expect a strong surge in near term. We thus suggest trader to book part profit at the current levels and Hold rest of the remaining positions with SL at 7000.
---
Kumar Chakraborty: I Hold the shares of the following companies, all stocks are currently in loss in my portfolio since the last 2 years. Should I wait till these stocks recover and sell at profit or exit immediately and invest in blue chip stocks? Please advise some good blue chip stocks with strong fundamentals for long term investment.
Ajit Mishra:
---
Disclaimer: This article is meant for information purpose only. This article and information do not constitute a distribution, an endorsement, an investment advice, an offer to buy or sell or the solicitation of an offer to buy or sell any securities/schemes or any other financial products/investment products mentioned in this QnA or an attempt to influence the opinion or behaviour of the investorsrecipients.
Any use of the information/any investment and investment related decisions of the investors/recipients are at their sole discretion and risk. Any advice herein is made on a general basis and does not take into account the specific investment objectives of the specific person or group of persons. Opinions expressed herein are subject to change without notice.