This simple recipe is the perfect treat for your guests this festive season.
We'd asked you, dear readers, to share your Christmas recipes.
Spoonandpaper Blog shared this recipe. You can share yours too!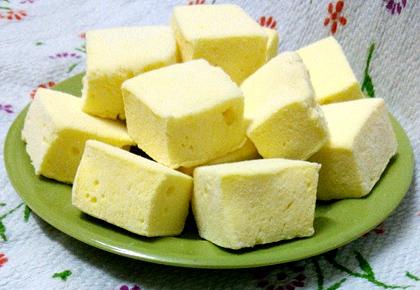 Ingredients:
180 gm sugar
120 gm water
12 gm gelatin
60 gm water
½ tsp pineapple essence
Yellow color (a few drops)
Cornflour for dusting
Method:
Soak gelatin in 60 gm water in a glass bowl for an hour.
Mix sugar and 60 gm water. Bring to boil until you achieve a thick syrupy consistency. Remove from heat.
Pour this mixture slowly into the soaked gelatin and beat with an electric mixer. Start slowly and gradually increase to high speed.
After a couple of minutes, add the essence and color and beat the mixture till soft peaks are formed.
Pour this into a greased tray using a spatula. Let it set overnight at room temperature.
Once the mixture is set, remove it from the tray and place it on a cutting board dusted with cornflour. Coat it with flour on all sides.
Cut into squares and dust with corn flour.
Store it in air tight containers. It stays fresh for 2-3 days in room temperature.
Tip: Use scissors or a pizza cutter to cut the marshmallows. Dust it with flour before using it.
---
Dear Readers, tell us what are you treating your loved ones to this December?
Send us your favourite Christmas recipe and we will publish the best ones,.
Write in to us at getahead@rediff.co.in (subject line: Christmas Recipes) with your NAME, AGE, HOMETOWN and any interesting details about the origin of the recipe.
Don't forget to share a photograph of the recipe, and your pic as well.
We'll publish the best recipes right here on Rediff.com.