Taarini Hans from Faridabad shares her special Christmas Strawberry Yogurt Parfait recipe. You can share yours too!
Send us your favourite Christmas recipe and we will publish the best ones!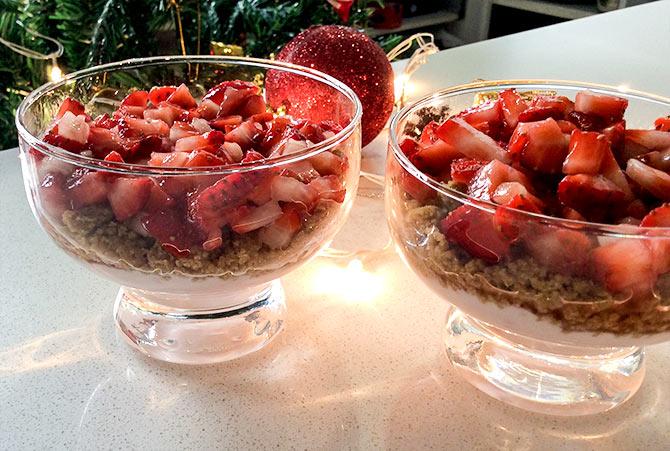 Ingredients:
1½ tbsp butter
14 crushed digestive biscuits
1½ cup chopped strawberry
1 tbsp sugar
1½ tbsp sugar
1½ cup hung curd (yogurt drained of all its water)
5 tbsp fresh cream
2 tbsp strawberry jam
1 tsp vanilla essence
Method:
For the hung curd
In 1½ cup hung curd add fresh cream, strawberry jam, vanilla essence and sugar. Mix well. Your hung curd is ready.
For the biscuit mixture
Take the digestive biscuits and crush them. Add 1½ tbsp butter and mix.
In 1½ cup chopped strawberries add 1 tbsp sugar and mix it.
In a bowl, add few spoons of hung curd, add a layer of biscuit mixture and top it up with strawberries. Strawberry Yogurt Parfait is ready to serve.