Ashish Narsale/Rediff.com brings you amazing gadgets and mobile devices from CES 2022.
Mobile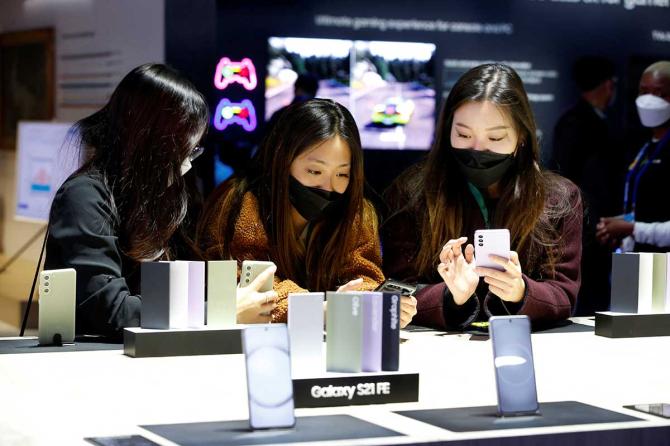 Samsung was there with its Galaxy S21 FE (Fan Edition).
It has a slightly bigger battery and display and a better selfie camera than the existing Samsung Galaxy S21.
---
Laptop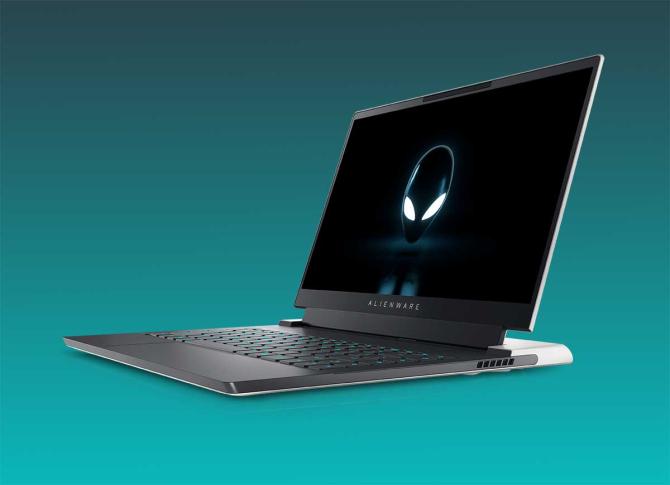 The Alienware x14 is the thinnest portable gaming laptop available today.
It comes with a large battery that allows the laptop to run for 11 hours. It can be charged through its Type-C charging ports.
The display supports Dolby Vision and the graphics have options from NVIDIA, GeForce and Intel Arc.
For sound, there's Dolby Atmos.
---
The XPS 13 Plus is a good-looking, minimalist laptop with a modern design.
It offers larger keycaps, capacitive touch function keys and a glass touchpad.
---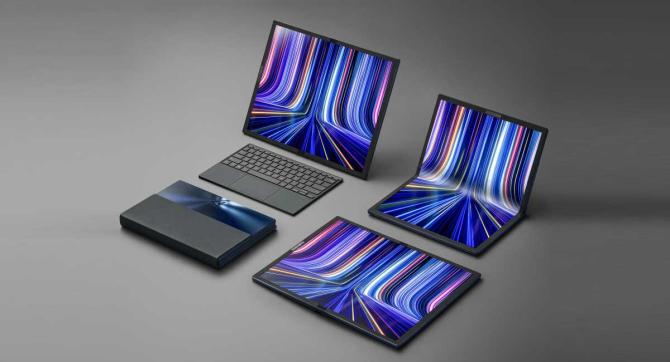 The ASUS Zenbook 17 Fold OLED is a 12.5" compact laptop when folded and a 17.3" tablet when unfolded.
It runs on the 12th Gen Intel Core CPU.
This Zenbook boasts of a Harman Kardon-certified quad-speaker that supports Dolby Atmos.
An ASUS ErgoSense Bluetooth keyboard and touchpad can bought separately and placed on the lower screen for a tactile keyboard experience.
---
Wearable
This MeganeX VR Headset produced by Shiftall Inc has a 1.3 inch Micro OLED display -- with resolution of 2560 x 2560 -- for each eye.
It supports 10bit HDR @120Hz and weighs approximately 250 grams.
---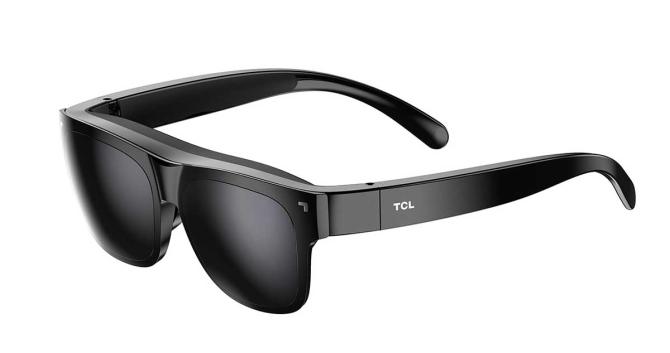 That's the portable NXTWEAR AIR Wearable Display Glasses.
TCL says it offers a cinematic experience with a 140-inch equivalent screen from four meters away.
It can be used for watching movies and mobile gaming and can be the perfect travel companion.
It weighs only 75 grams with the standard lens and comes with two exchangeable front lenses for comfort and style.
---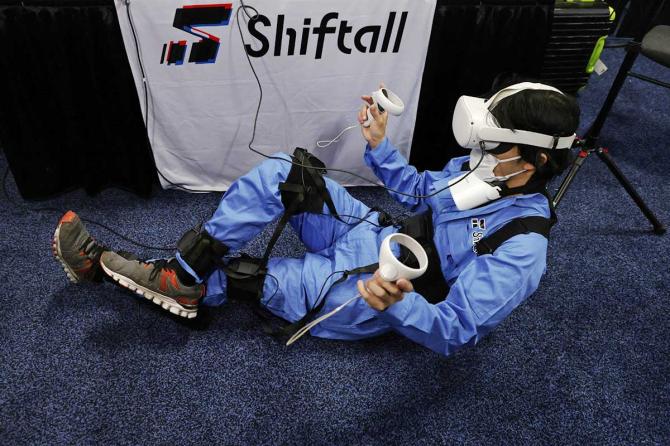 Shiftall Inc's HaritoraX is a motion tracking device for waist and leg movements.
It is compatible with SteamVR and is designed for users of the VR metaverse.
HaritoraX has a built-in battery and runs for 10 hours on a single charge.
It can be combined with wireless VR goggles such as Oculus Quest 2 for wireless full-body motion tracking.
HaritoraX is also compatible with many wired headsets like the VIVE Pro, Rift S, Windows MR glasses and MeganeX.
---
Drone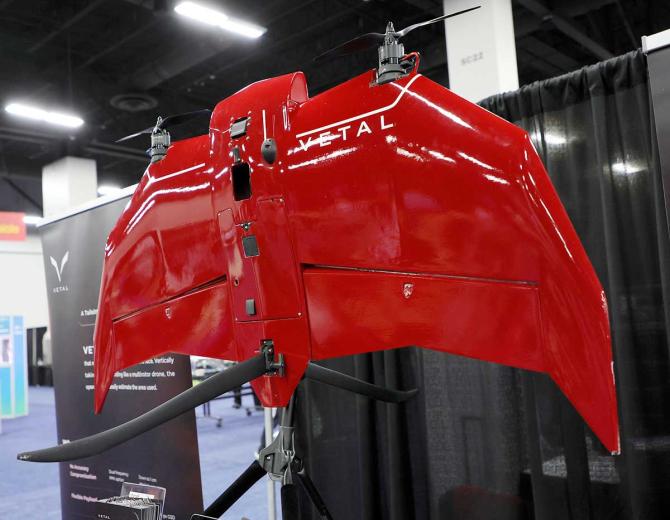 Vetal, a wing-shaped twin-rotor drone, is based on the VTOL (vertical take-off and landing) platform. Powered by HiveGround, it can be used for large scale surveys, agricultural survey, inspection, surveillance and mapping.
It has a modular design; multiple types of cameras, sensors and other customisable gimbals can be easily added or replaced.
It uses military grade technology, machine learning and artificial intelligence-based visual processing.
It can land on a moving object like a ship, truck or train and its stealth feature allows it to be used in an automated mode.
---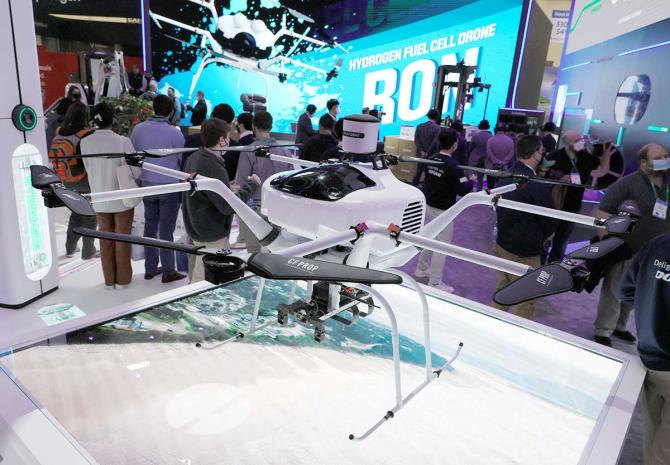 The DS30W, a hydrogen fuel cell drone from Doosan Mobility Innovation, can fly for two hours without needing a recharge.
It is useful for public surveillance and LiDAR mapping of large areas.
---
Smart Device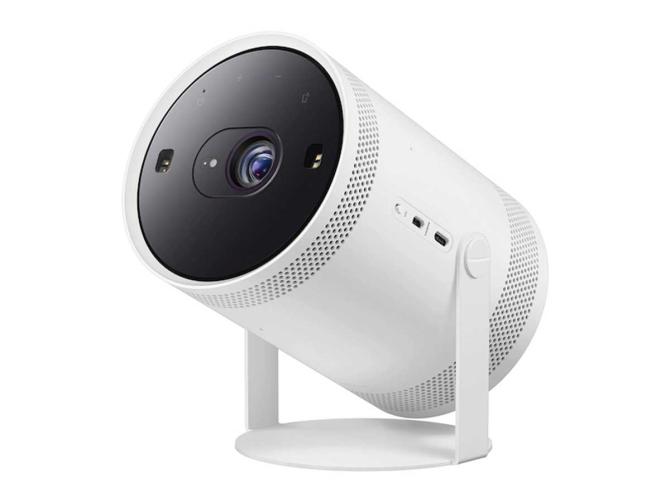 Samsung Freestyle is a portable smart projector.
This connected (via Wi-Fi/mobile hotspot) device supports similar features as that of a Samsung TV and allows you to stream OTT content.
It can project up to 100 inches with resolution of 1080p and offers 360 degrees sound via built-in speakers.
When not in use, it can also work as smart speaker and provide ambient lighting for your desk.
It can be powered by a powerbank via USB, which allows you to take it anywhere.
---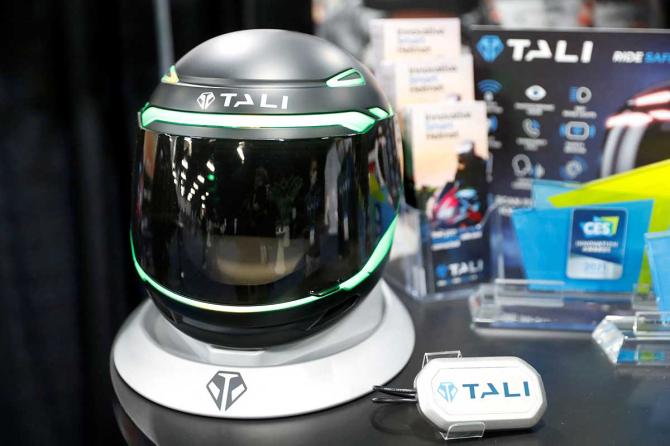 Tali is a connected motorcycle smart-helmet with photochromic visor that adapts to all light situations.
It has an integrated lighting system that synchronises with a motorcycle's turn and brake signals.
It supports hand-free voice commands that allow you to access music, phone calls and smart assistants.
The i-Emergency feature alerts the motorcyclist's family and friends and activates a 100dB siren in case of an accident.
It also supports GPS, a gyroscope and an accelerometer.
---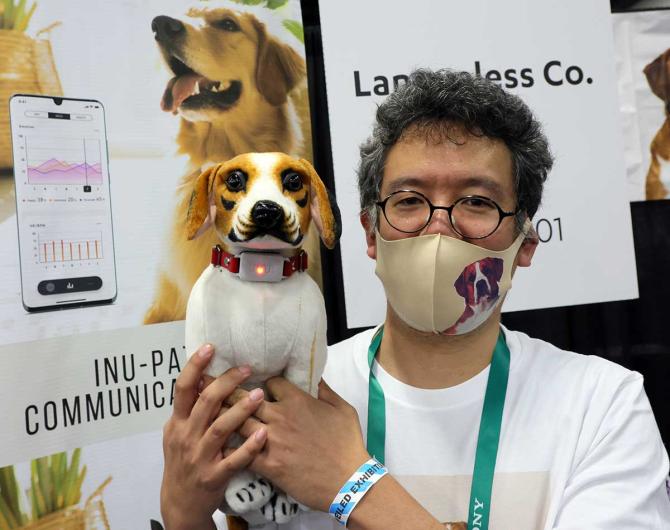 The Inu-Pathy pet collar from Langualess Co aims to help improve human-animal communication.
It comes with an interface that measures the heart rates of pets to determine their moods -- whether they are happy, interested, excited, relaxed or stressed by displaying different colours on the collar.
The connected app maintains a log of your pet's moods which can then be compared to that of other pets.
The data can also used to consult trainers through the app.
---
Other devices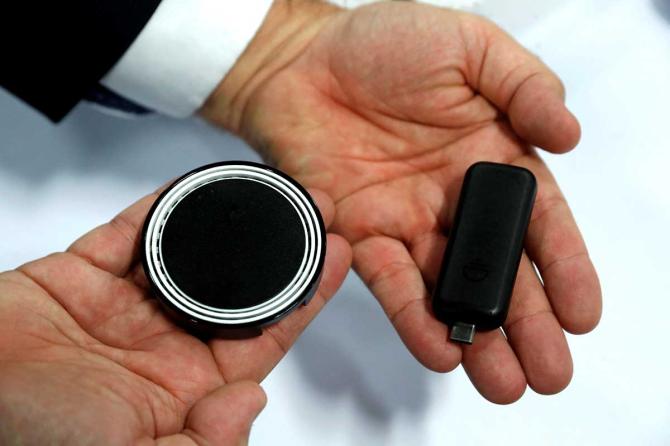 A LiFiMax tab by LiFiComm transmits secure high-speed Internet data through invisible light.
In other words, it uses optical wireless communication instead of radio waves (LiFi technology stands for 'Light Fidelity').
The only drawback is that it does not transmit through walls. As the data transmitted is contained within the room, the privacy ratio is high.
The tech is based on light signals, so it does not face any interference from mobile phones, microwaves or any Wi-Fi network radio wave.
---

Samsung introduced the SolarCell Remote, with a built-in solar panel that can be charged during both day and night.
The remote uses radio frequency harvesting technology -- it collects radio waves from the home internet Wi-Fi router and converts it to energy to charge the remote.
---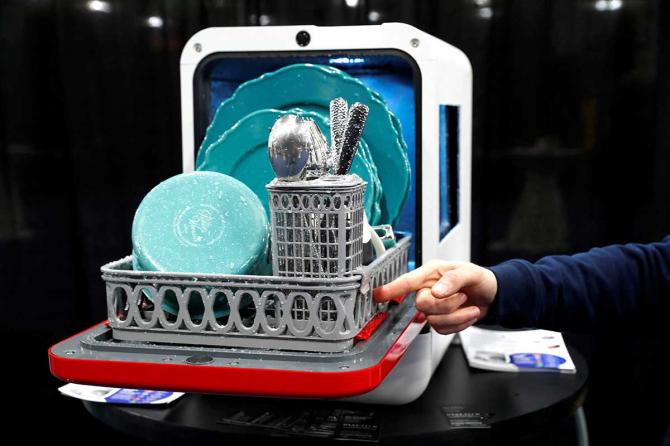 Bob is a mini ultracompact dishwasher from Daan Technologies.
It has its own 3.9 litre water reservoir and the makers say it will use less water than you would generally use for cleaning utensils.
Bob weighs just 10 kg. It is 13.4" wide and can be powered through a standard power plug, which makes it portable.
It has a minimalistic three button control, while a 320px coloured LCD screen displays the operation interface.
It also connects with Wi-Fi to update its firmware or add the detergent cassette (a recyclable detergent container that fits in the machine) to your shopping list.
Other detergents can also be used instead of the cassette.
---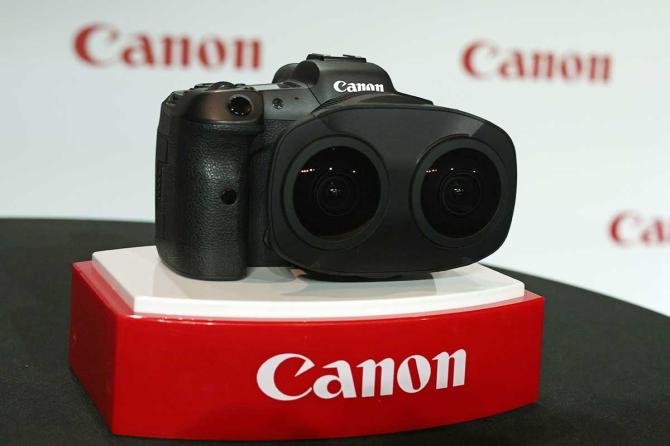 Canon's RF Dual Fisheye Lens
Canon brings world's first interchangeable VR lens that can be fitted to a Canon EOS R5 DSLR.
It solves the problem of having to carry dedicated bulky and expensive VR 3D cameras.
To shoot VR footage, you need to connect the camera through the Canon EOS VR app from your smartphone.