Why are so many of the new IIMs floundering? Anjuli Bhargava digs deeper.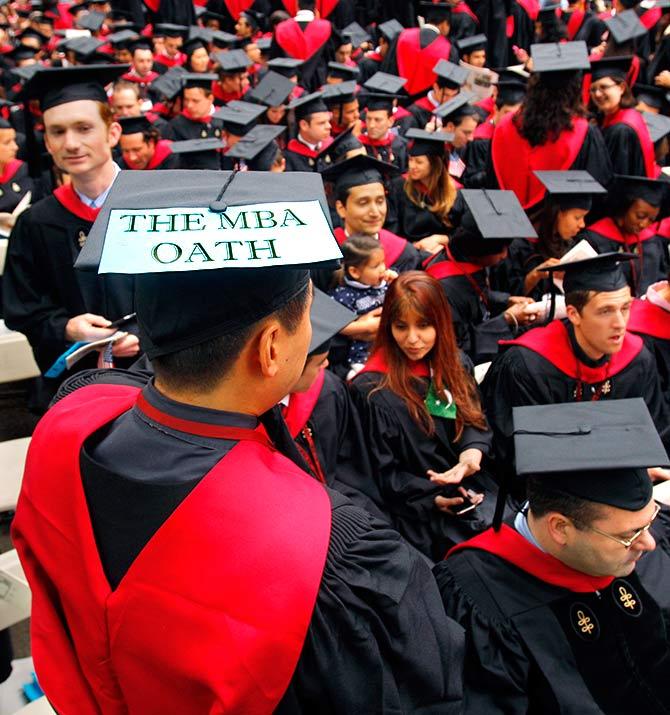 Photograph: Brian Snyder/Reuters
Prior to 1991, India had four Indian Institutes of Management (IIMs) -- popularly known as A, B, C and L, for the cities that host them.
In 1996, two new IIMs were started -- one in Indore and the second in Kozhikode, Kerala.
And then suddenly in a flurry and kind of mad rush, in the 2000s, the government announced another 13 new institutes all across the country, taking the total number of IIMs to 20. The government was giving into a consistent and growing demand for MBA seats.
Through the 1990s, the private sector had been adding a host of MBA institutes to meet the ever-increasing demand but capacity in what the government had to offer had hardly grown -- barring the two new institutes in Indore and Kozhikode. In response to the clamour and demand, the government expanded in what many now believe was a rush and with little thought given to how the quality of the new institutes would be built and maintained.
While in the 1990s, a traditional MBA was the obvious choice for most students who wanted to work in the corporate sector, the MBA itself has taken a beating.
Though many students and youngsters working at firms do at some stage look at a postgraduate degree, it is no longer only general management. In fact, many look at specialising at the postgraduate level for a specific job or career.
While working recently on a piece on IIM Indore, I spoke to a range of people -- including several IIM alumni-- to understand what they think went wrong with the new IIMs and why so many of them were floundering.
If the government didn't take any steps to open new institutes, they were blamed for failing to expand and adding to the pressure on students to compete for the same small number of seats. But when they have added, that hasn't helped matters either.
As with everything, there's a host of reasons, but I narrowed it down to a few critical factors.
Location. Ask anyone and they question what the government was thinking of when they chose some of the new locations. Several of the institutes are based in literally the back of beyond.
In a country where attracting good faculty to the main cities like Delhi and Mumbai is a challenge, expecting senior academics and professors to make Kashipur, Raipur, Bodh Gaya, Sambalpur and Sirmaur their base is plain silly. It's quite evident from the list of towns that the government's choice is driven more by other factors than practicality.
The price for this is now being paid.
If location is a problem, so is the sheer number.
Too many new institutes were announced in very close succession. As a result, almost all the new institutes have failed to build any kind of identity.
As a senior IIM-Ahmedabad faculty member puts it, there is suddenly a plethora of 'nameless, headless and directionless' institutes for students who sit for their CAT to choose from.
While the new IIMs have failed to gain any credibility, some of the older institutes -- private or semi-private -- have managed to bridge the distance and are now well-established names. So, many students prefer an SP Jain in Mumbai, an IMT Ghaziabad or even an MDI in Gurgaon to say, an IIM Kashipur.
As with all government projects and schemes, finding the funds to finance 12-13 institutes at almost one go would always be a challenge. But a bigger constraint is funnelling of funds in the right direction.
If an institute has the right leader with the right intent, he is able to convince the authorities to release the funds. ₹350-odd crore have been invested in infrastructure at Indore since 2008 (two five-year terms of strong leadership) and the institute now has a thriving campus.
But perhaps the single most critical hurdle has been finding this right leader.
Finding good people to head and lead even the best of the pack (read IIM-A) has been a huge challenge. Anyone who has followed the story of appointment of Ashish Nanda and his rather controversial tenure at IIM-A will know what a Herculean task finding the right man for the job is.
In the case of Indore, although the institute was commissioned in 1996, it is only in 2008, once a committed director took up the reins, that any serious institution building happened -- a reputation that typically takes a lifetime to build and only seconds to destroy.