Indian talent may soon be allowed to work in France without a degree from a French institute. Subhayan Chakraborty reports.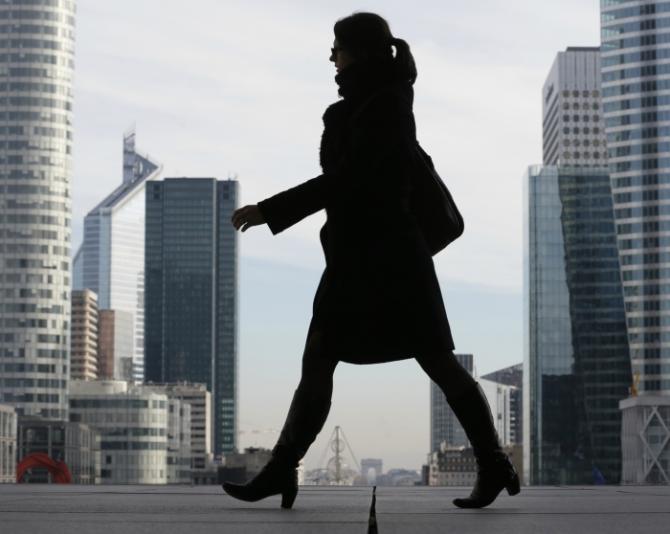 A businesswoman in the financial district of Paris

.
Photograph:

Christian Hartmann/Reuters

.
The government will soon be signing a series of agreements with its French counterpart for allowing Indian professionals to work there without needing an additional degree, and vice versa, senior government and diplomatic sources have said.
A set of Mutual Recognition Agreements (MRAs) for professional courses will be signed in early 2018 when French president Emmanuel Macron visits India. "The MRAs are proposed to be signed in a variety of fields, apart from law and health care," French ambassador Alexandre Ziegler confirmed.
At present, India's large numbers of professionally trained people such as chartered accountants, teachers and engineers are unable to practise their profession in other nations without getting a second degree from that particular country.
The proposed agreement with France will allow Indian professionals to practise in France and other places where French academic standards are accepted, such as Quebec province in Canada, and vice versa, said another senior official from the French embassy.
Hinting other areas of cooperation could also get a boost, he added that the MRAs signing was planned at an education summit being planned between the two nations, which could coincide with the President's visit.
Macron will be accompanied by his ministers for defence and energy-environment, beside a large business delegation.
India currently has only a handful of such agreements with other nations, covering a few disciplines. Such as in chartered accountancy with Australia.
The small list is due to the government being unsure of reciprocal recognition of educational qualifications, owing to a strict policy of not favouring syllabi drastically different from India's.
In 2016, a human resource development ministry-appointed committee had again recommended that for Indian students returning with a foreign professional degree, the present process of seeking approval from the respective professional councils for recognition should continue.
The agreement with France is expected to strengthen India's hand in ongoing trade negotiations, a significant number of which are stuck over the issue of market access for Indian services.
The government has also raised concerns with Singapore, South Korea and Japan that despite signing services' deals as part of free trade agreements (FTAs), India is not benefiting as they refuse to sign MRAs recognising professional degrees issued by Indian educational institutions.
Earlier this year, the prime minister called for the Asean grouping to sign an MRA, once an FTA was signed.
"While most trading partners have asked India to identify premium institutions with which MRAs can be signed, our position so far had been that we can't prefer one institution over the other, since we are a democratic country," a senior commerce ministry official said under condition of anonymity.
The proposed agreement will allow India the space to take a tougher stand, he added. For, the French academic system has a high level of international acceptance and the development would be noted elsewhere.
In the educational arena, the move could see more of Indian students eyeing France, with Brexit-hit Britain and growing cases of intolerance in America having dimmed their appeal.
France is the third most popular destination for students, but only 4,200 Indians are enrolled in French universities, while only a few hundred French students study at Indian ones.
The French government has aimed to raise this to 10 000 Indian students by 2020.
On the business side, Foreign Direct Investment into India from France, the world's sixth largest economy, rose from $598 million in 2015-16 to $614 mn (nearly Rs 4,000 crore) in 2016-17.
Total investment from France since 2000 totalled $5.82 billion into India, the ninth highest for any country.